About the B L O G
Eating With Kirby started in 2011 and is a food + travel blog that includes dining reviews, product reviews, attractions, travel tips and tricks, and event coverage. As one of the top food bloggers and influencers in Metro Vancouver, Kirby's blog is a trusted resource for her point of view and remains a source of information for people wanting to discover the next best thing in food and travel. Her most viewed blog post is on The Bellagio Buffet featuring unlimited king crab with over 400,000 pageviews!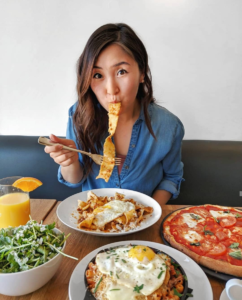 About K I R B Y
Kirby is an OG foodie, before 'being a foodie' was cool. She started her blog 10 years ago after she realized she documented all of her food journeys without a place to share them with others. She is a brand marketer by day, a food and travel writer by night. She strives to provide her readers with the best recipes, reviews, tips, tricks, and news on everything related to eating and travel. Follow Kirby on Twitter, Instagram, YouTube, or Facebook!
If you would like to collaborate or view her Media Kit, please contact her at eatingwithkirby@gmail.com.