Starbucks – La Boulange Flourless Chocolate Cookie
I tried their Chocolate Croissant and it was pretty much the same. It didn't blow me away but it was solid.
Their Gluten Free Flourless Chocolate Cookie is a completely new product exclusive to the La Boulange line. It's even wrapped and sealed to avoid wheat contamination inside the display cases.
Since I am wheat intolerant, I decided to give it a try. It's not cheap. One bag has two cookies and it was $3.95. The cookie is primarily made with egg whites so it tasted quite like a meringue.
Despite it being a tad crunchy on the sides, the center was quite moist and fudgy! I don't usually see a lot of gluten free cookie options around the mall (ex. Timmy Ho's, McDonald's, Cupcakes, Mrs.Fields …etc) so I will definitely repurchase whenever I want a sweet treat.
Service Rating: N/A
Food Rating: 3/5
Price: $
Overall Rating: 3/5
Happy Eating!

when I see something I can't eat because it has wheat 🙁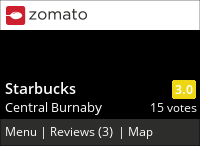 What are the benefits of cbd oil for anxiety USA ?