Havana Restaurant (Commercial) – Strawberry Ginger Mojitos and Truffle Fries
My coworker has been telling me nonstop about how wonderful the Strawberry and Ginger Mojitos are at Havana so needless to say, that was enough to get me to visit.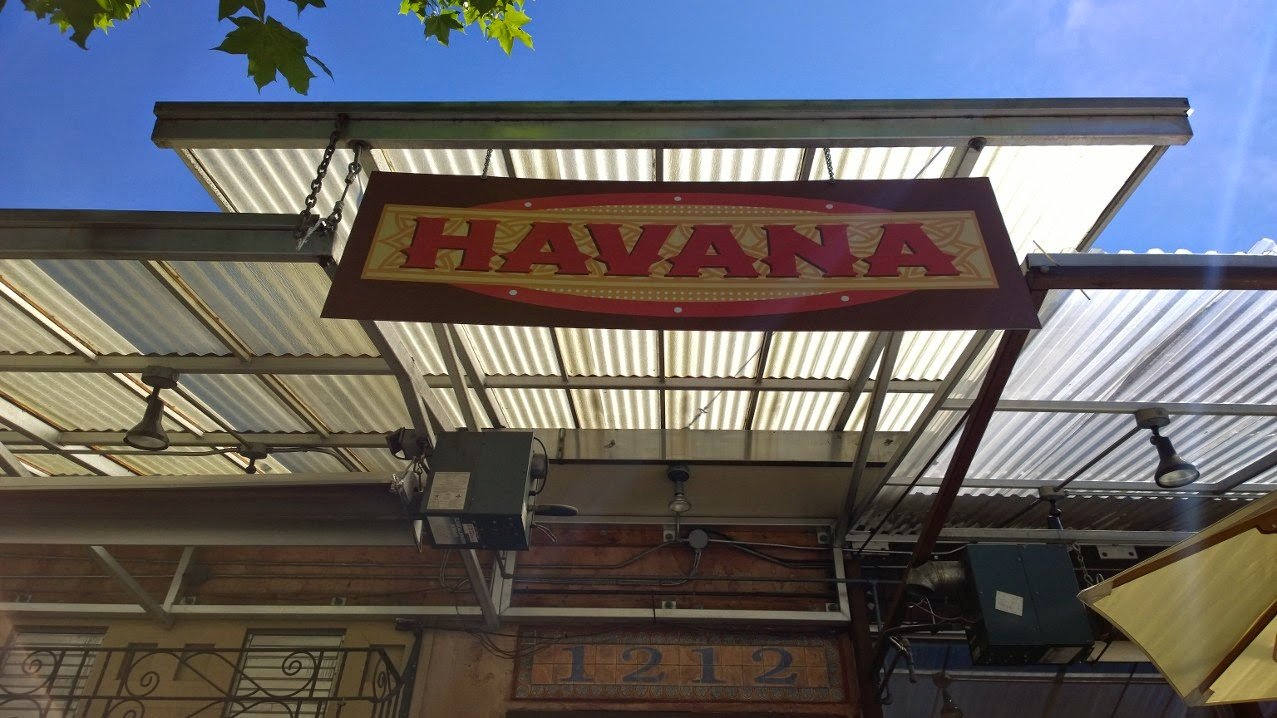 It was a sunny Sunday afternoon so their patio was packed with a twenty minute wait. We endured because who can give up eating on the patio when it's sunny in Vancouver?!!
Do note though, they made all four of us share a table meant usually for two (every other table we saw were also super squished). We definitely invaded each other's personal bubble throughout the whole meal and we didn't like that.
So of course, I had to try the famous Strawberry Ginger Mojito (~$7-8) and it definitely did not disappoint. It's made with Bacardi Superior Rum, strawberries, mint, fresh lime juice, and ginger ale. Definitely one of the best strawberry mojitos I've had. I think it's because of the addition of ginger ale (I like myself some bubbly :D).
These Truffle Fries ($9.95) were absolutely to die for… The combination of parmesan cheese, parsley, and truffle oil is killer on it's own but it's elevated one step further by that smokey dip on the side. Must try item!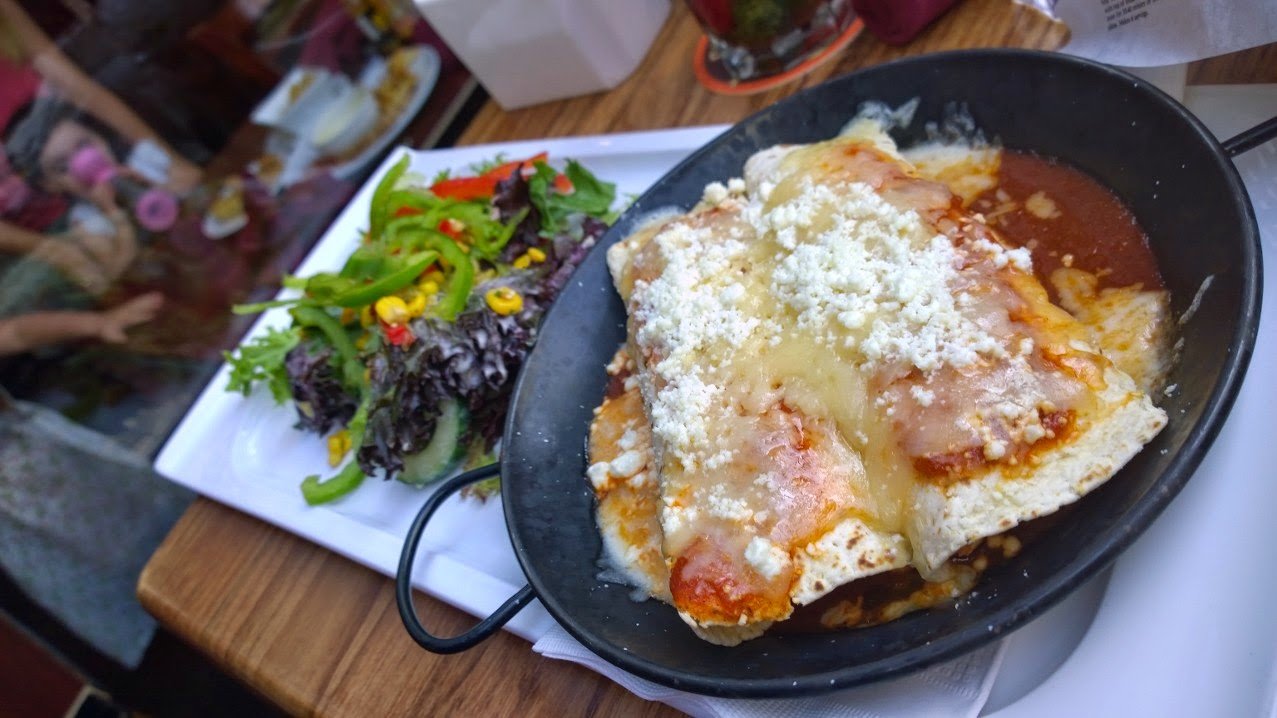 The Enchiladas ($16.95) consisted of two baked tortillas stuffed with roasted plantain, black beans, corn, green onions, and peppers with house made mesa sauce, cheddar and goat cheese.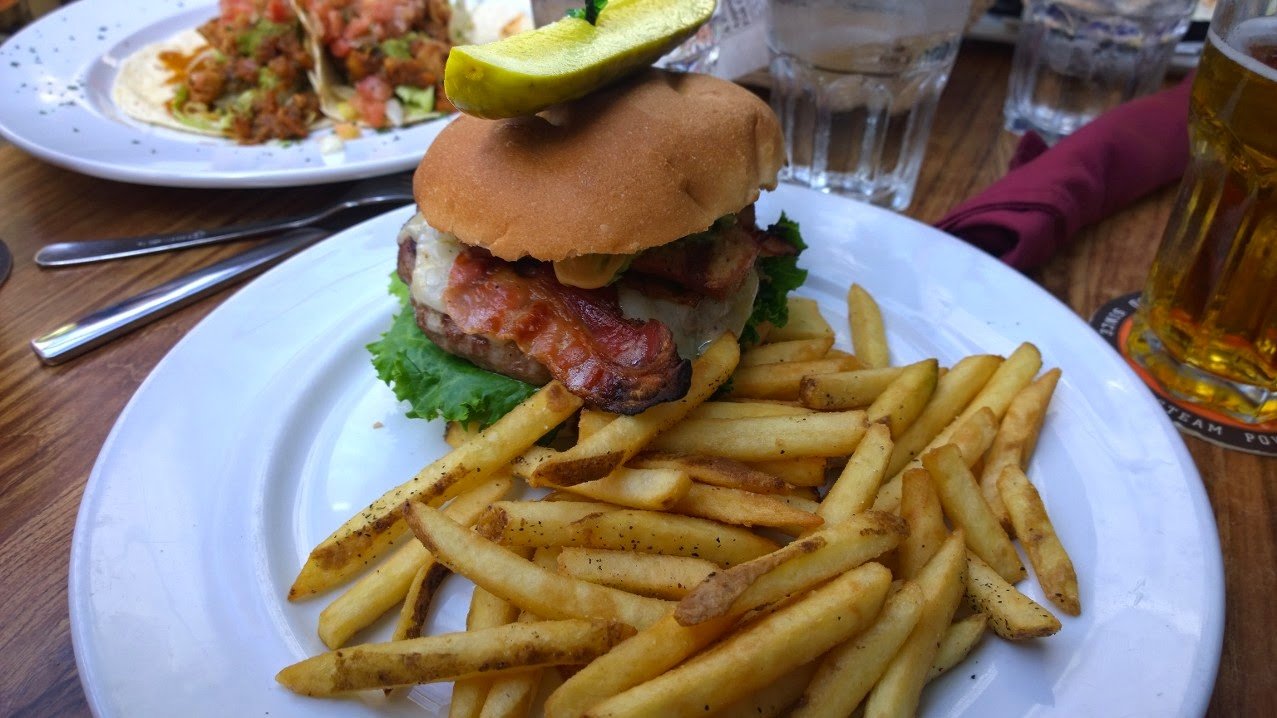 I thought the Latin Burger ($17.95) was a little pricey for what it is but it did come with a 6.oz beef patty, grilled turkey sausage, bacon, swiss cheese, lettuce, mayo, and guacamole. My friend liked it overall but thought the patty tasted like it was steamed instead of grilled which turned him off.
I chose the Chicken Taco ($13.95) which was made with chicken breast marinated in coconut jerk sauce, lettuce, guacamole, and pico de gallo. I was mildly disappointed with this dish because not only was the chicken super dry, something in the taco made it incredibly wet. It was so wet I couldn't eat my second taco with my hand and had to resort to a knife and fork. I definitely will pass on this next time. :/
All in all, Havana is a really cool hip place for cocktails and tapas. I very much enjoyed the mojito and truffle fries so maybe next time I'll stick with their appys instead of ordering their entrees.
Service Rating: 4/5
Food Rating: 3.5/5
Price: $$-$$$$
Overall Rating: 3.5/5
Happy Eating!