Rumpus Room – Calling All Waffle Addicts!
If you subscribe to The Food Network, you've most likely watched the show 'You've Gotta Eat Here!' which features John Catucci eating his way around Canada. When he was here in Vancouver, he visited a bunch of restaurants like Via Tevere Pizzeria, The American Cheesesteak Co, Miura Waffle Milk Bar, and among the comprehensive list was The Rumpus Room. You can watch their segment
here
.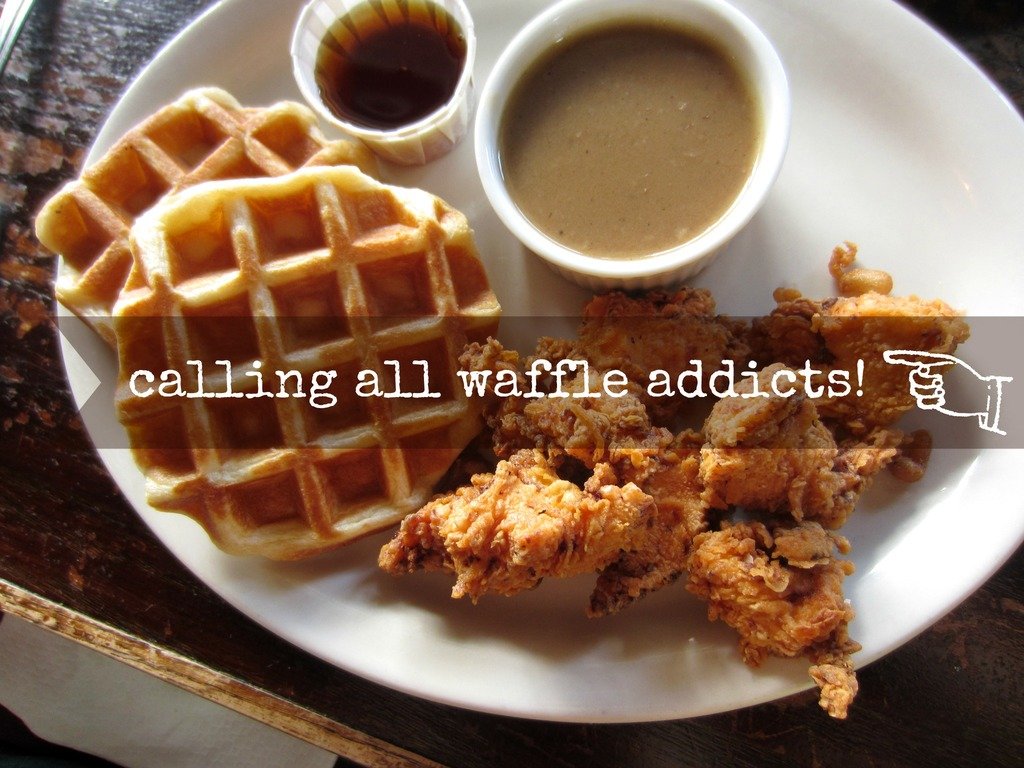 The Rumpus Room is located on Main Street and is hard to miss when you drive by. You will know you're at the right place when you see a fake green grass patio and flamingos in the yard.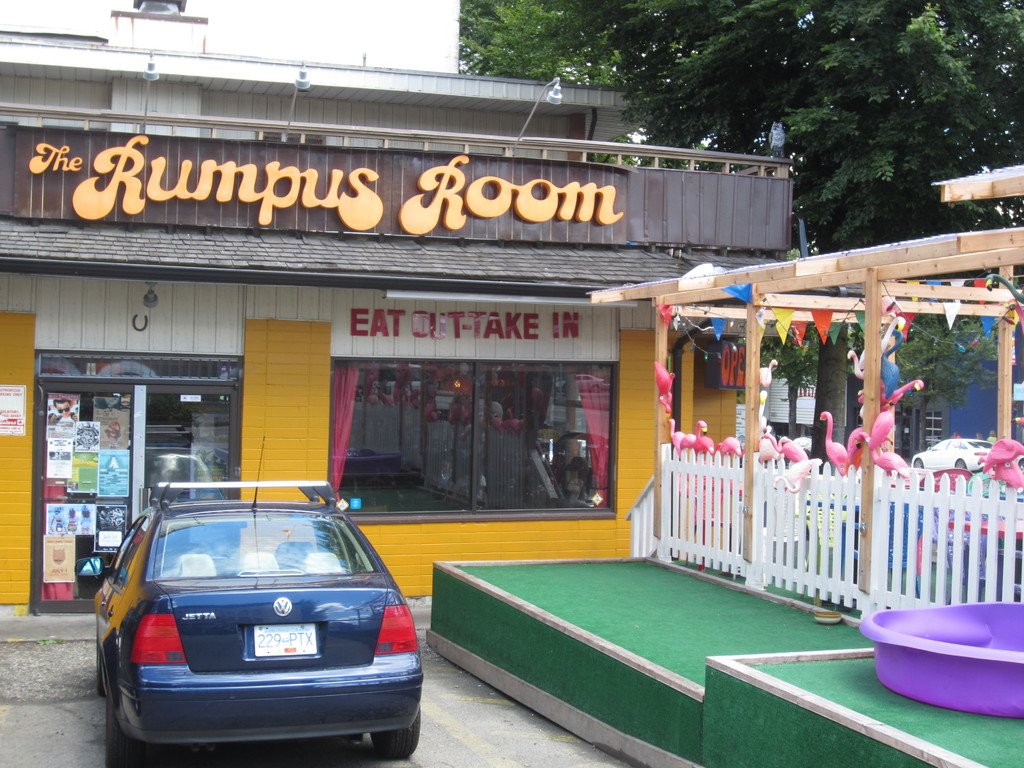 I told you the outside looked catchy! The interior is even more weird and vaguely resembles your friend's grandma's basement.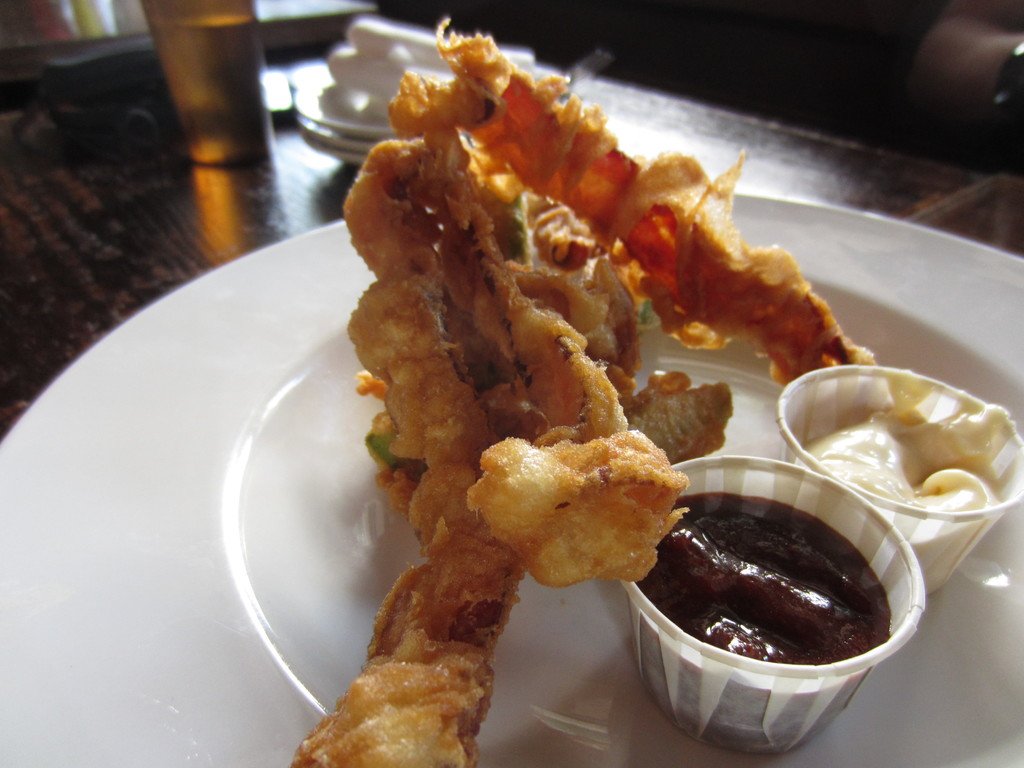 I came here with Curtis from
Foodobyte
and Amy from
Food Queen
and the first thing we had to get was '
Deep Fried Bacon and Avocado ($9.50)
' also known as Sh'bang.
This fat filled appy contained… listen up, tempura battered bacon and avocado with house aioli and hot sauce. I KNOW. Who in their right mind would order this? Actually, more like, who in their right mind would even create and make this?! Daring people that's who. The battered bacon was actually tastier and less greasy than I thought. The avocado was unsurprisingly delicious with its crispy exterior and creamy smooth center.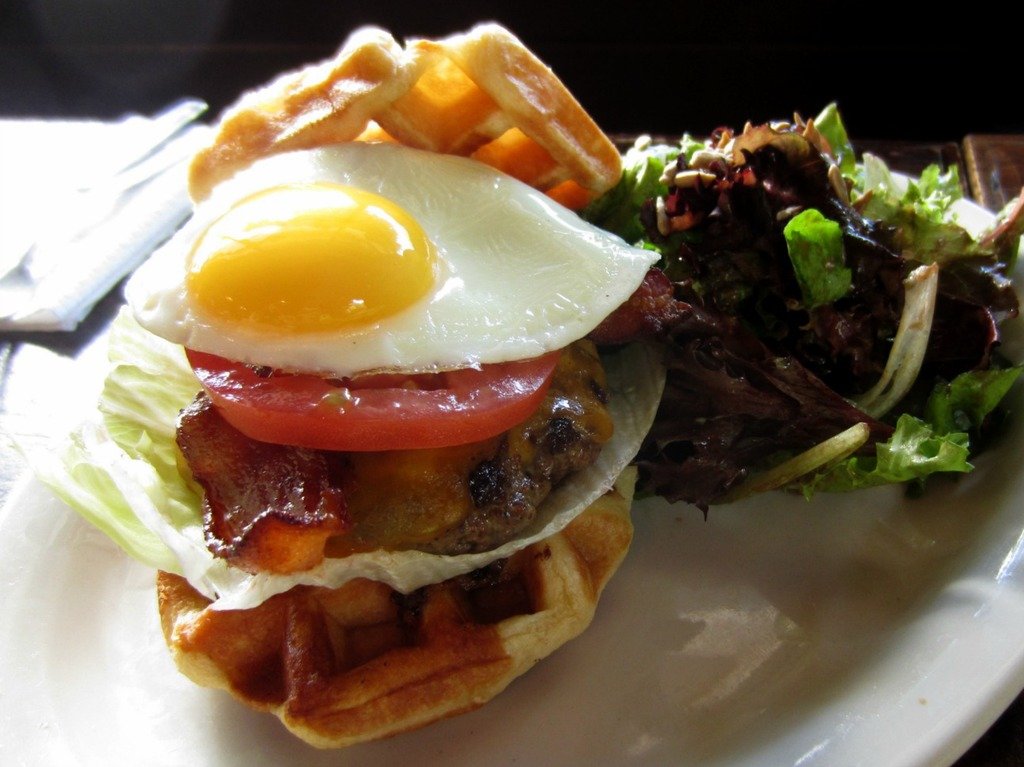 Both Curtis and I ordered the Breakfast Waffle Burger ($14) which contains a house made, hand-pressed all natural beef burger patty topped with bacon, fried sunny side up egg, cheddar, lettuce, tomato, all served inside two freshly made waffles. These are suppose to be served with potatoes but we both opted for the salad. As much as we are adventurous and gluttonous, we need some balance of veggies yo!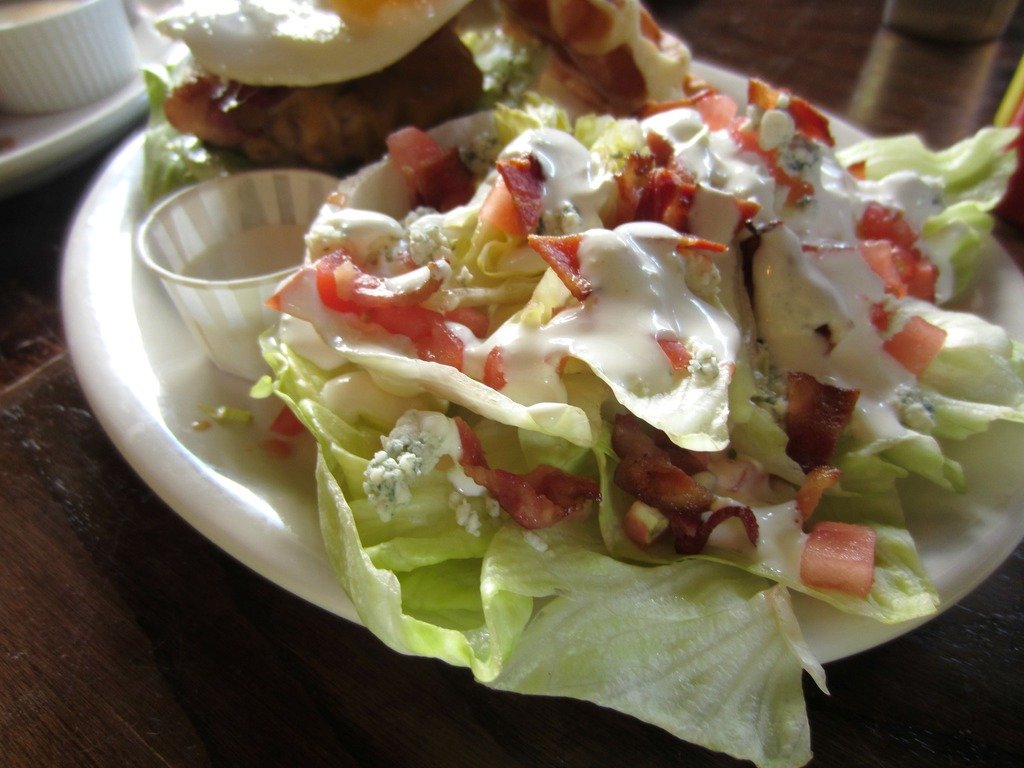 I stupidly made the mistake of getting a Wedge Salad which was another word for more bacon (honestly, I haven't STOPPED eating bacon since I got to the restaurant), blue cheese, and a creamy dressing slathered all over my delicious crispy greens. The salad was delicious but was way over dressed for my liking. Next time, I'll definitely say dressing on the side.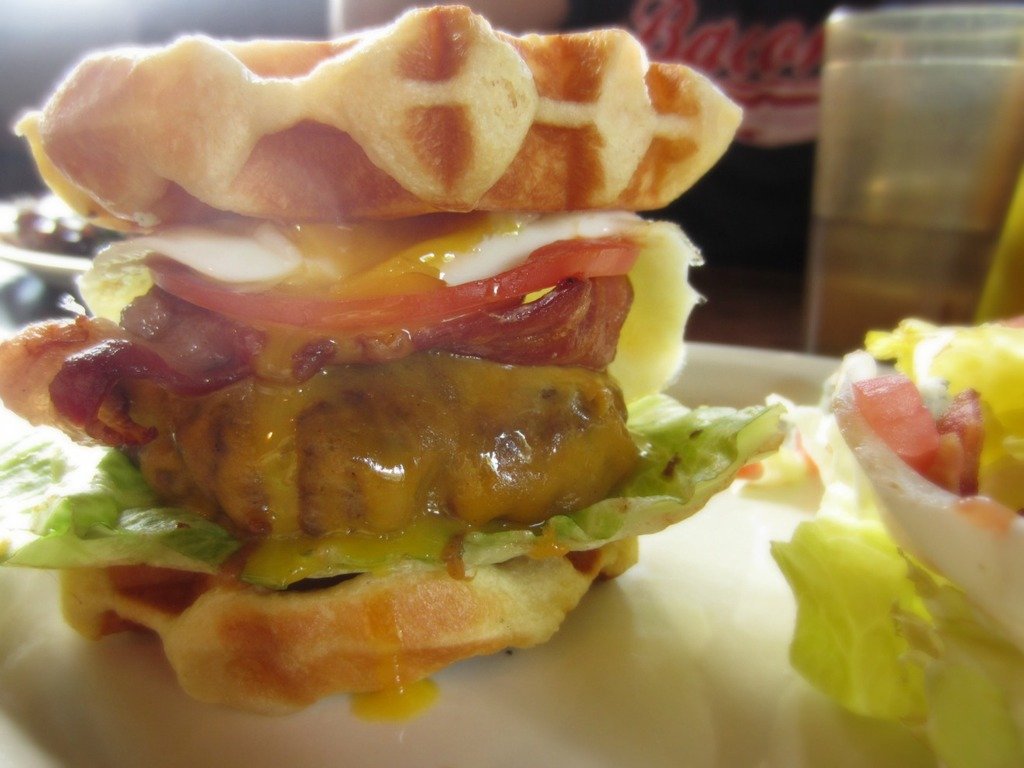 I've been wanting this monstrous baby ever since I saw the segment on TV but because of the fear of having a heart attack, I haven't had the courage to actually try it until now. Boy, was this fantastic. I enjoyed the hint of sweetness from the pearl sugar in the waffles in combination with all of the other savoury components. If you like sweet and savoury things, this waffle burger is the way to go.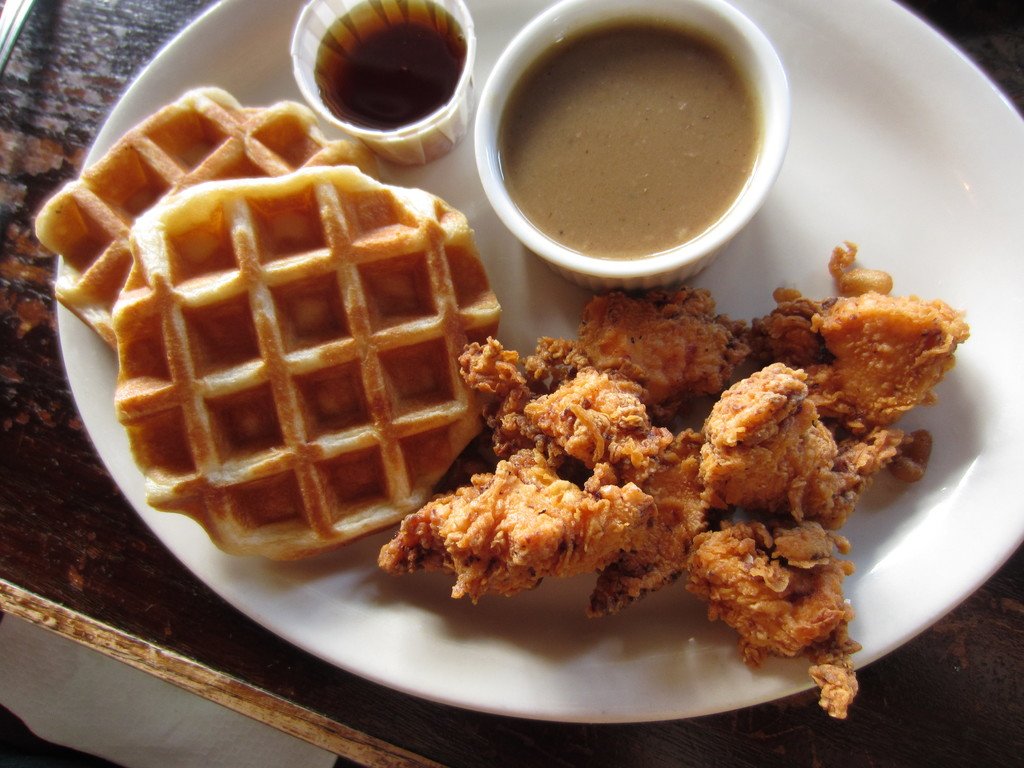 Amy chose the Chicken and Waffles ($12) and it consists of buttermilk marinated deep fried chicken breast with two waffles, maple syrup, and gravy. She enjoyed this dish but found it lacking in quantity considering the not cheap price tag. For two dollars more, she said she should have gotten the waffle burger instead.
Based on these reasons:
you can get waffles with everything! Honestly! It's a side.
Waffle Burger here is massive and will give you a happy self inflected food coma for the rest of the day
cool atmosphere, tons of board games around
Service Rating: 3/5
Food Rating: 4/5
Price: $$-$$$
Happy Eating!