The Red Wagon – Jack Daniel's Maple Syrup…Enough Said.
I feel like I am probably the last food blogger in Vancouver to try the ever-so-famous "Pulled Pork Pancakes with JD Maple Syrup" from Red Wagon after having seen it on Triple D's (I'll tell you what it is later).
It sounds like a crazy and odd combination, but people have been raving about these heart attack inducing pancakes for a long time now so the claim has to be somewhat true.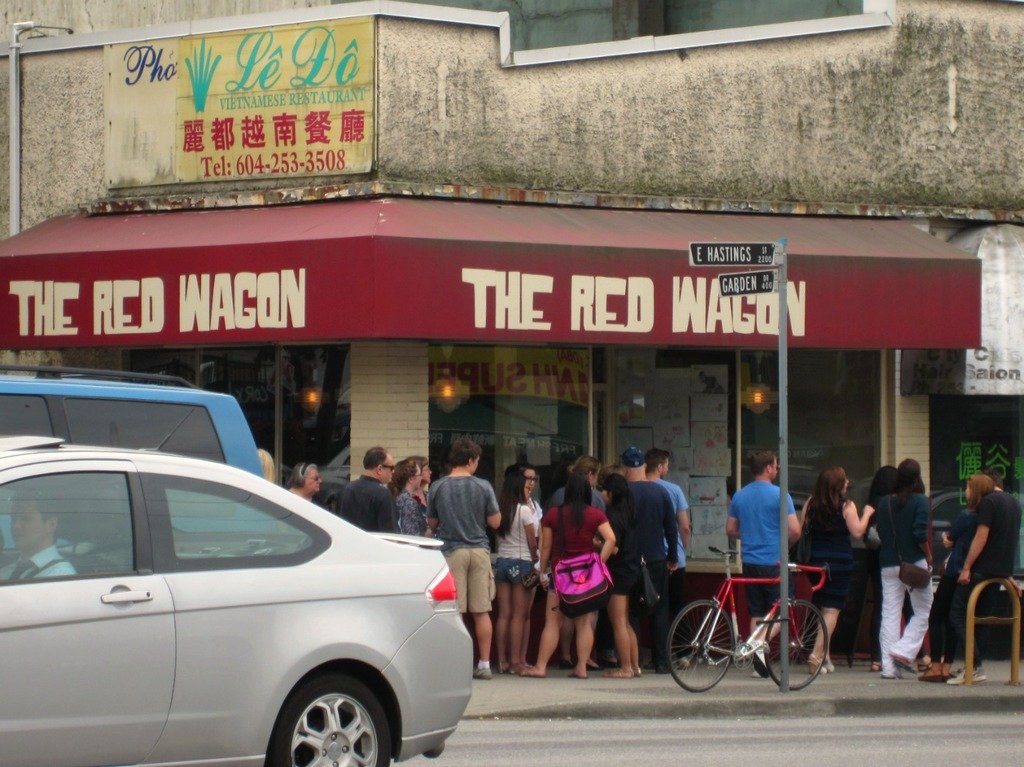 Meta Knight and I got to The Red Wagon Cafe at 1:30pm hoping to catch the end of the lunch rush. Little did we know, the line up NEVER stops.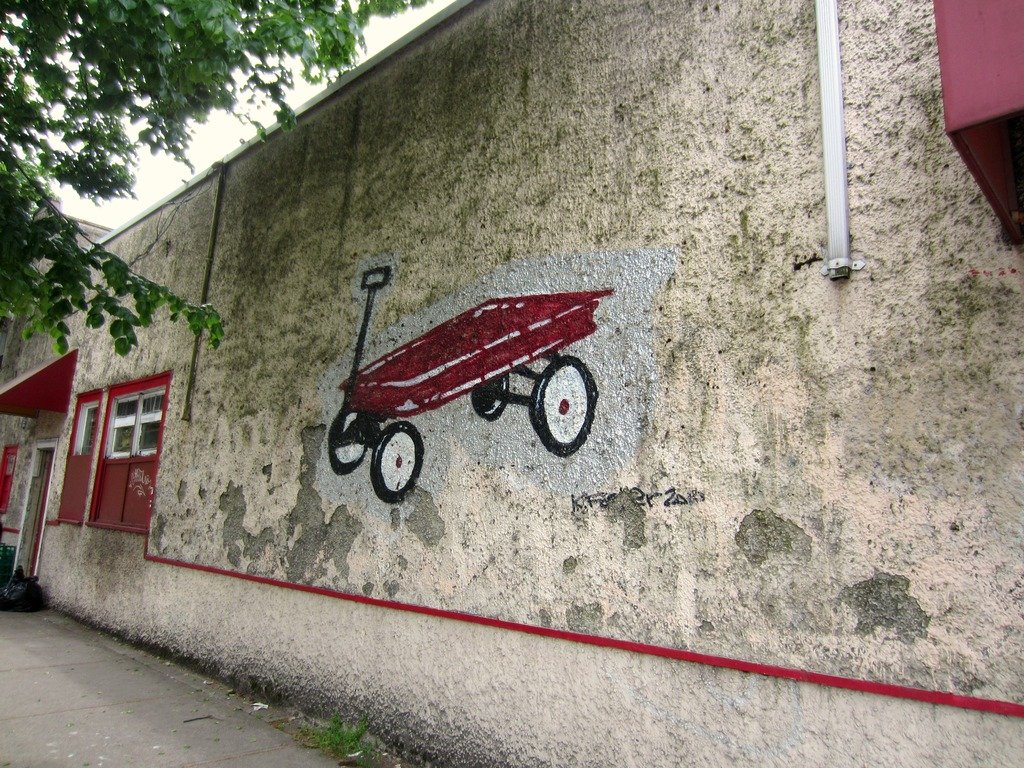 I liked how there was a red wagon drawing on the side of the restaurant. Very cute.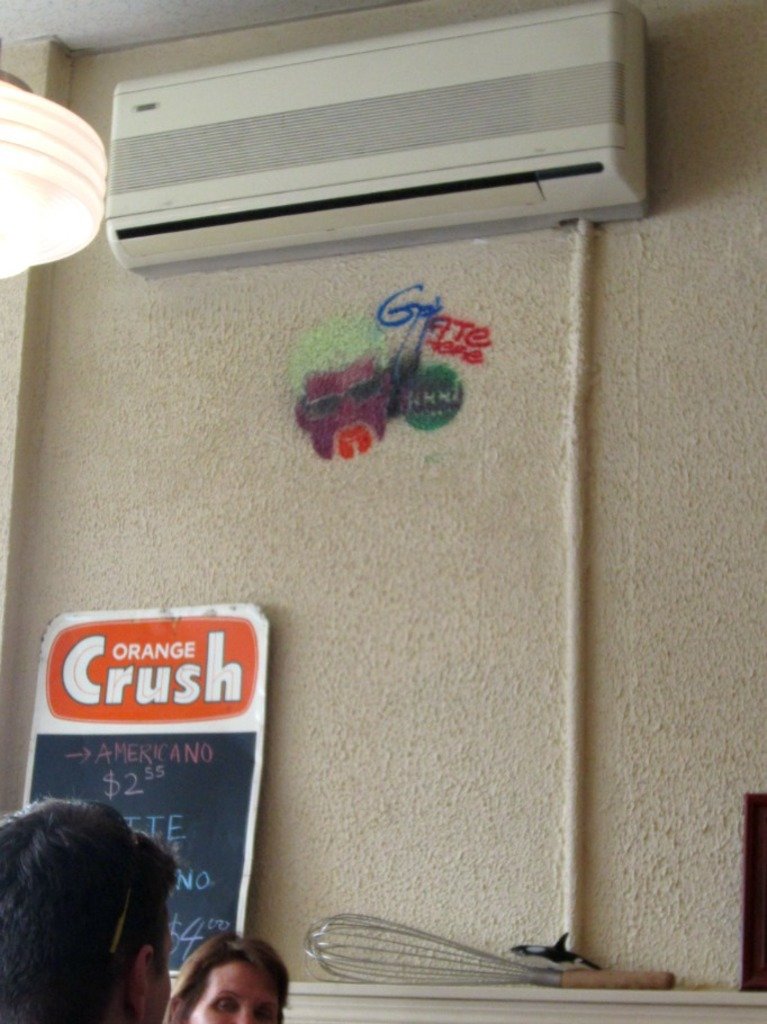 So, Triple D's stands for "Diners, Drive-Ins, and Dives" which is a TV show on the Food Network that features Guy Fieri and his food adventure across North America to find the coolest diners and restaurants around. He did a segment on the Red Wagon and his logo/imprint is now sprayed on the wall for all to witness.
You can check out the Red Wagon clip on Triple D's here. After watching how they make their pork belly, I don't think I will ever attempt to consume it.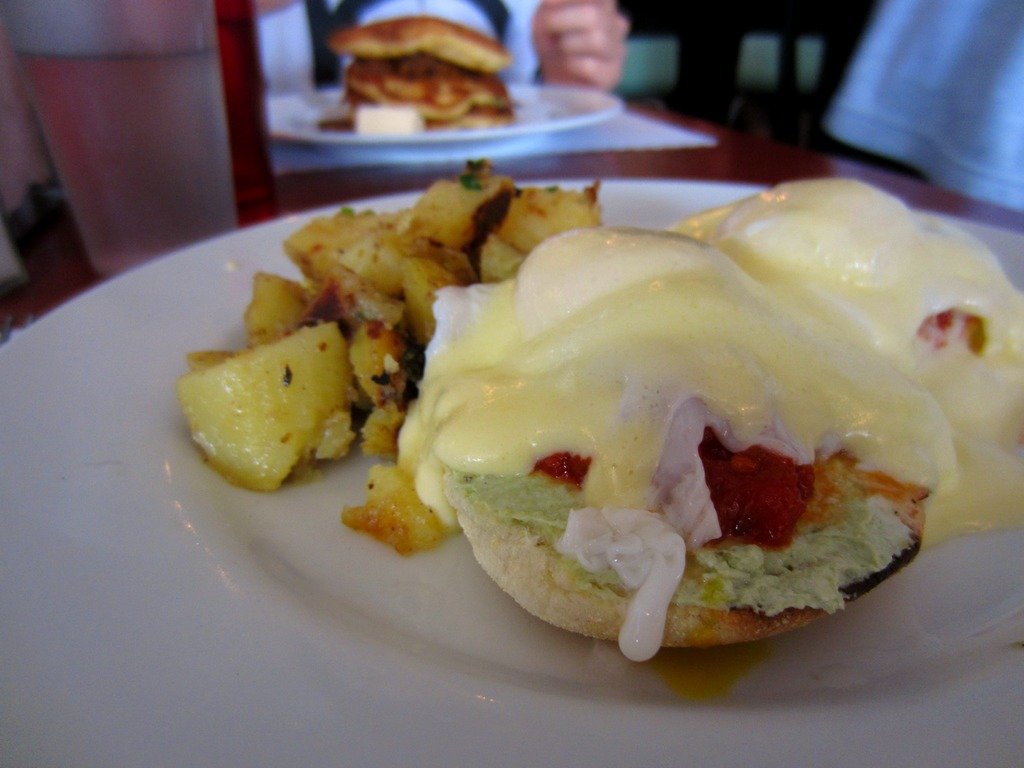 This was the Avocado, Tomato and Goat Cheese Benny ($10.25) and to be honest, this was not what we expected. I expected large thick slices of tomato and avocado on top of the english muffin instead of mashed avocado and tomato paste so that threw me off a bit. As well, we both thought the strong tomato paste overpowered the entire dish.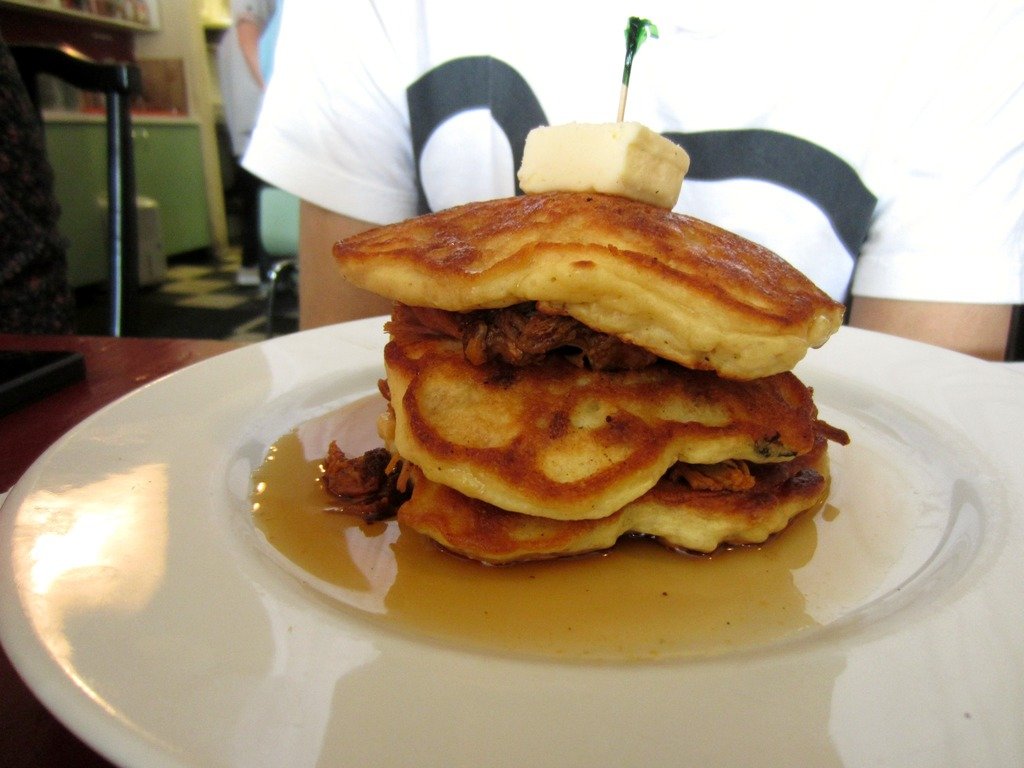 This is the dish we both have been waiting for… the Pulled Pork Pancakes with JD Maple Syrup ($13).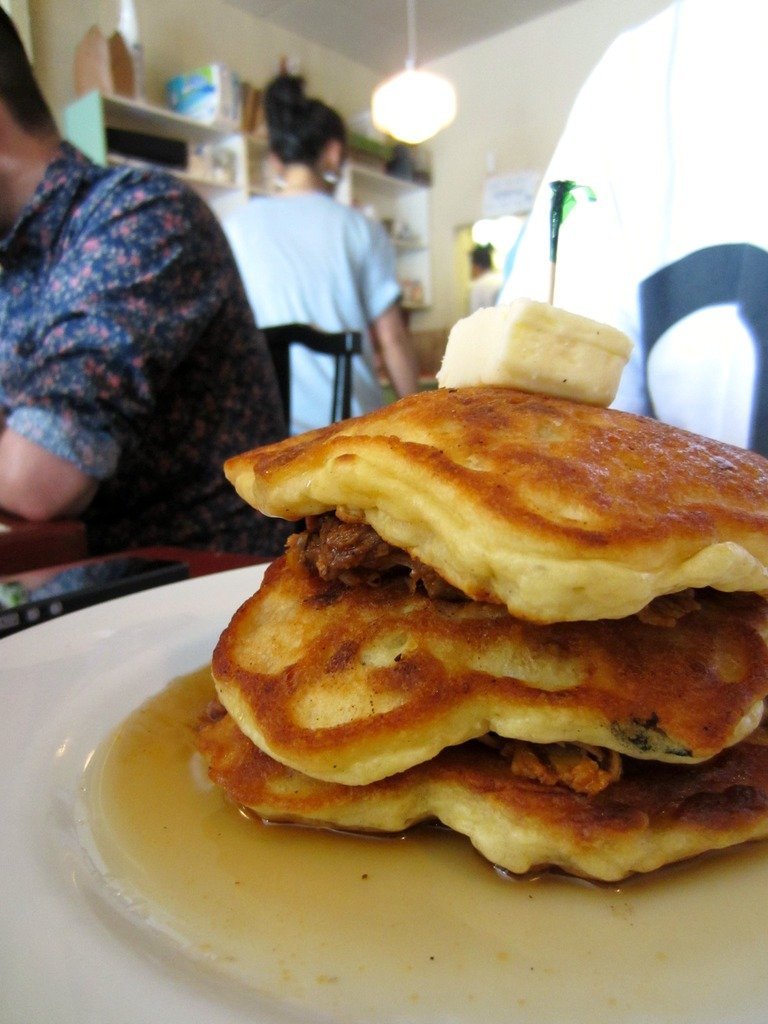 These pancakes were honestly the bomb. The minute we got this we could instantly smell the JD but the taste was strong without being overbearing. The ultra thick and fluffy pancakes were perfect syrup soakers because by the end of it, all of the maple goodness was infused into the pancakes.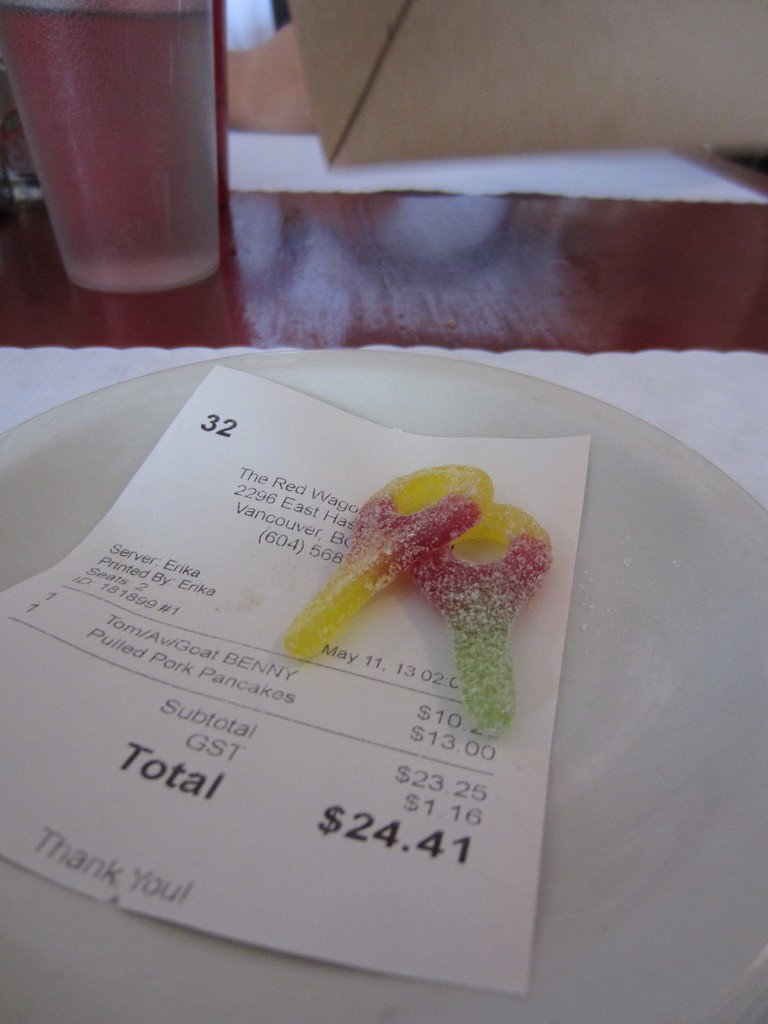 The meal was not cheap because it did come up to $14 per person. But it is not any more expensive than a brunch at White Spot or Boston Pizza. The bill comes with two little candies.
Service Rating: 3/5
Food Rating: 3/5
Price: $$
Overall Rating: 3/5
Happy Eating!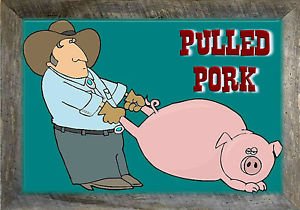 courtesy of http://www.ebay.com/itm/MAGNET-Humor-Fridge-Funny-Pig-PULLED-PORK-/251109666233