L'Opera Patisserie – J'adore Paris
I want to go to France… No, scratch that. I NEED to go to France. Before yesterday I never had this dying urge to go Paris but after having macarons and pastries from this little boutique patisserie called L'Opera, I think I just about have to.
This little patisserie is located on Minoru across from Mui Garden in Richmond. It is an unexpected location for a Parisian style patisserie but nevertheless, I felt like I was transported to Paris right when I stepped through the door.
You are hit with chandeliers and beautiful red and gold wallpaper right when you walk in. They did an AMAZING job with the decor of their patisserie.
Their croissants looked amazingly flaky and scrumptious. Mind you, these are not cheap pastries, but this shouldn't deter you from trying it out because these croissants put the Costco ones (you know the ones I'm talkin' about) to shame.
They use no preservatives or artificial flavours in any of their products, and they strive to use only all natural ingredients. The macarons? Made from all natural purees and fruit.
Their desserts range from $5-6 which is similar to the ones would you get from Thomas Haas.
They offer high tea for $25 per person from Tuesdays to Saturdays. I definitely have to come back again to try their high tea…
Needless to say, I was mesmerized by the adornment of the entire place from its chandeliers to the ever so pretty cases used to store their orange madeleines.
My pile of goodies from L'Opera. I adored the small details such as the logo sticker and the logo imprinted bag.
I ordered the St. Honore ($5.80) which was described as 'burnt/carmelized sugar puffs' with flaky puff pastry'.
These little burnt sugar bombs had a deceivingly large amount of vanilla bean custard in them so when I bit into it, it just exploded into awesomeness. The burnt layer of sugar on top added another texture to be enjoyed with the soft cream puff.
I normally refrain from eating croissants due to the fact that they are not filling, yet filled with empty calories. However, I couldn't resist with this one because the Croissant (~$2-3) just looked so beautiful.
My favourite was the mango flavour because it was a burst of real mango in every bite. I almost didn't choose this one because I was afraid it would be artificial mango but once she reminded me that nothing is artificial in their store, I got it and I'm so glad I did.
What a nice surprise to see a full raspberry inside the rose raspberry macaron! As well, I found a blueberry inside the blueberry fantasy macaron.
Overall, it is apparent that I am already a huge fan of theirs and I will continue to visit their store for pastries and desserts. No need for me to go all the way downtown for Thierry anymore! If you go to L'Opera, you MUST try their macarons. I cannnot describe what it is about their macarons that make them so tasty but just trust me in that they will knock your socks off.
Service Rating: 5/5
Food Rating: 5/5
Price: $-$$
Overall Rating: 5/5
Happy Eating!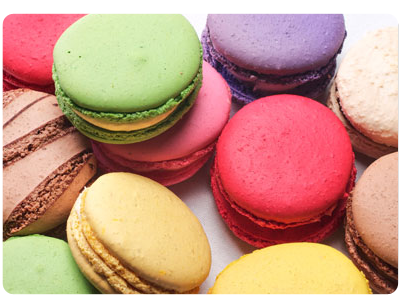 courtesy of http://www.insidevancouver.ca/2012/03/14/celebrate-vancouvers-first-macaron-day-on-march-20-2012/