Tropika (Aberdeen)- Yummy Roti, Coconut Fried Rice, and Satays
I have been to Tropika in Aberdeen Center numerous of times but it has failed to be my go to place for Malayasian and Thai food because of its comparatively expensive price.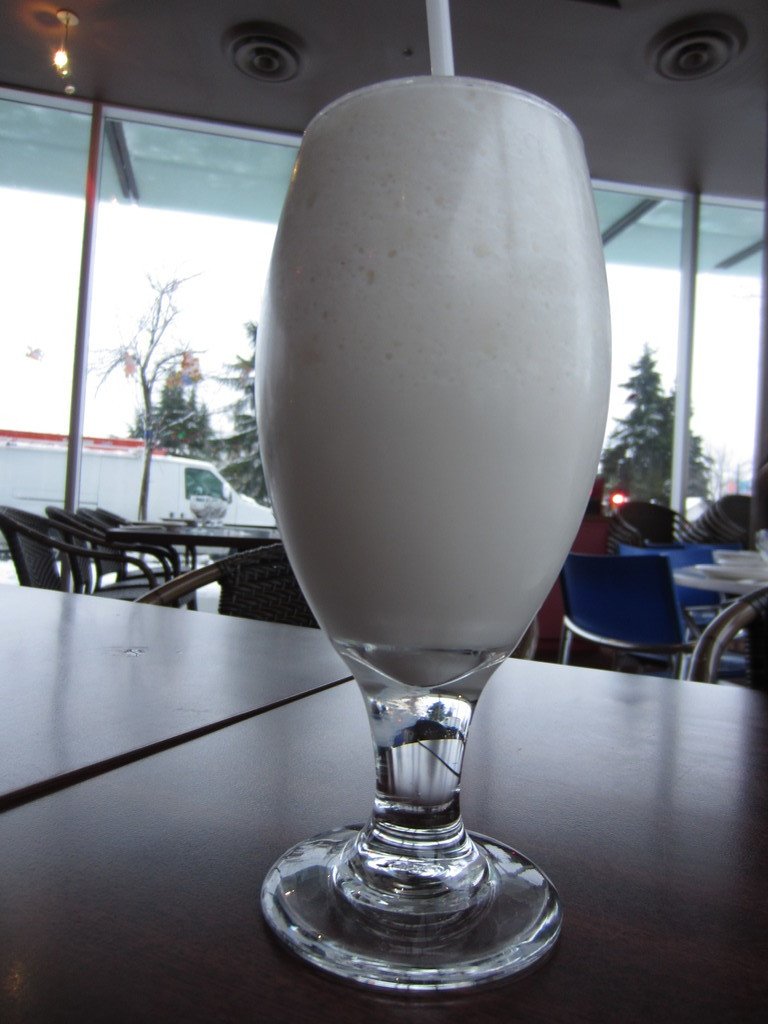 I forgot what this non-alcoholic drink is called but DirtyGirl loves it a lot. Its her favourite drink to get here.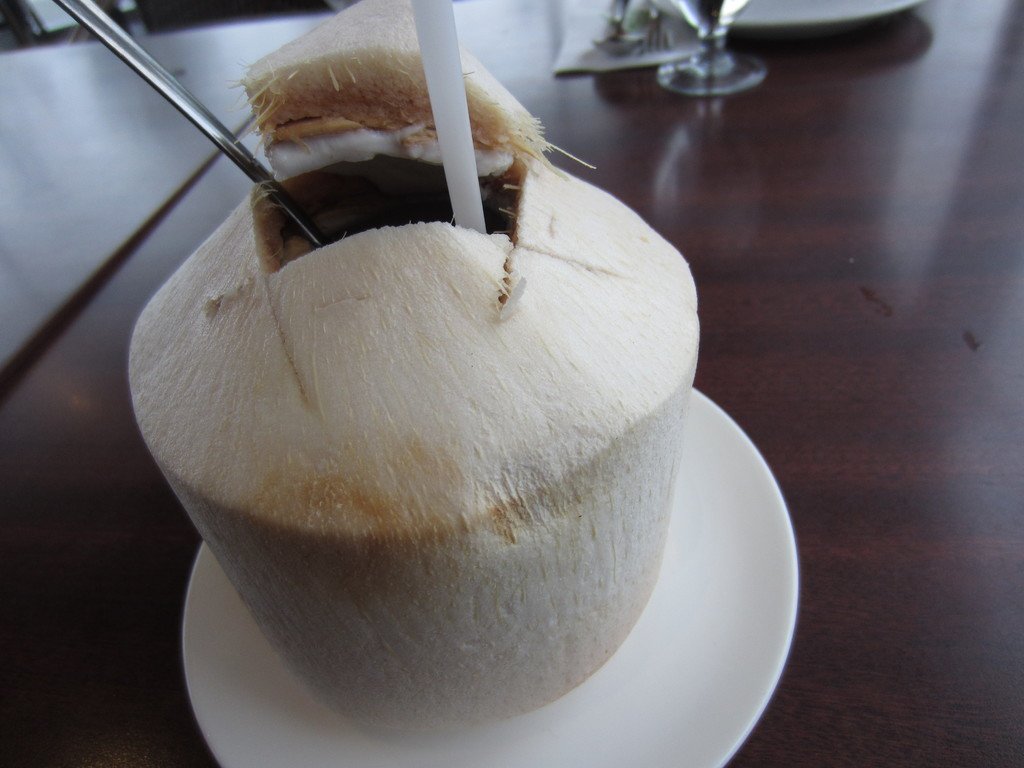 I opted for the Coconut as I love the refreshing taste of fresh coconut water. It's also tasty and fun to scrape the meaty white flesh after drinking!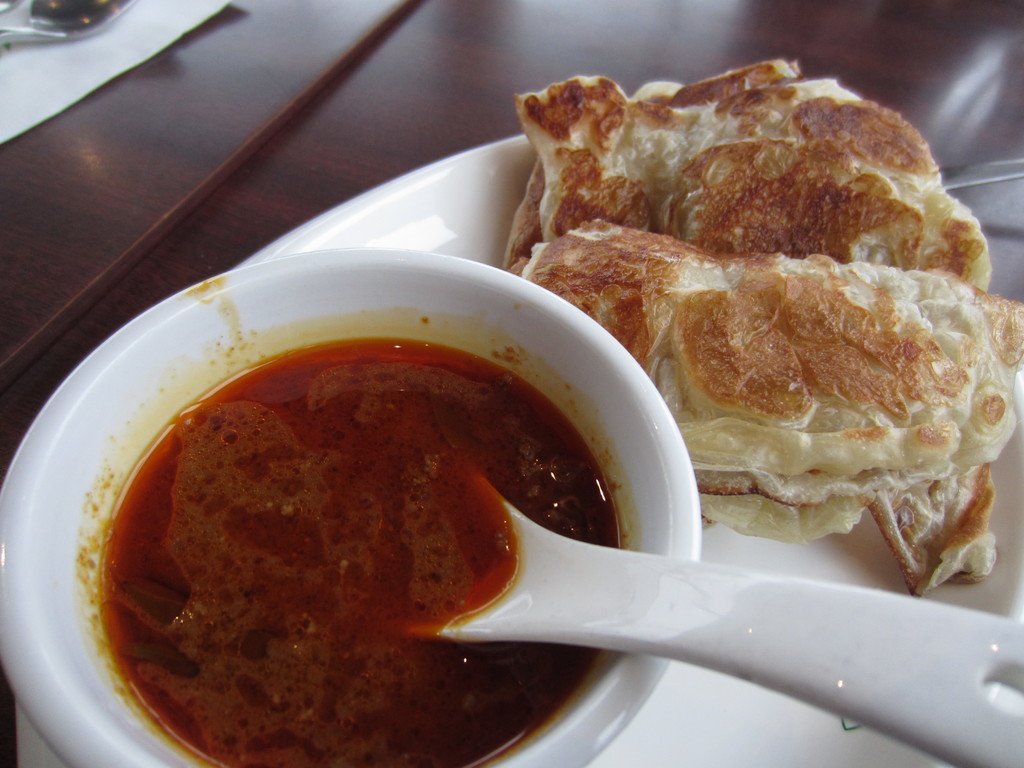 We got two orders of Roti ($5.90 for two orders). and it came with a small curry dipping sauce.
The roti was hot, flaky, and buttery…everything I want in a roti. I actually think this roti is the best I've had in all Malaysian/ Thai Restaurants in Vancouver.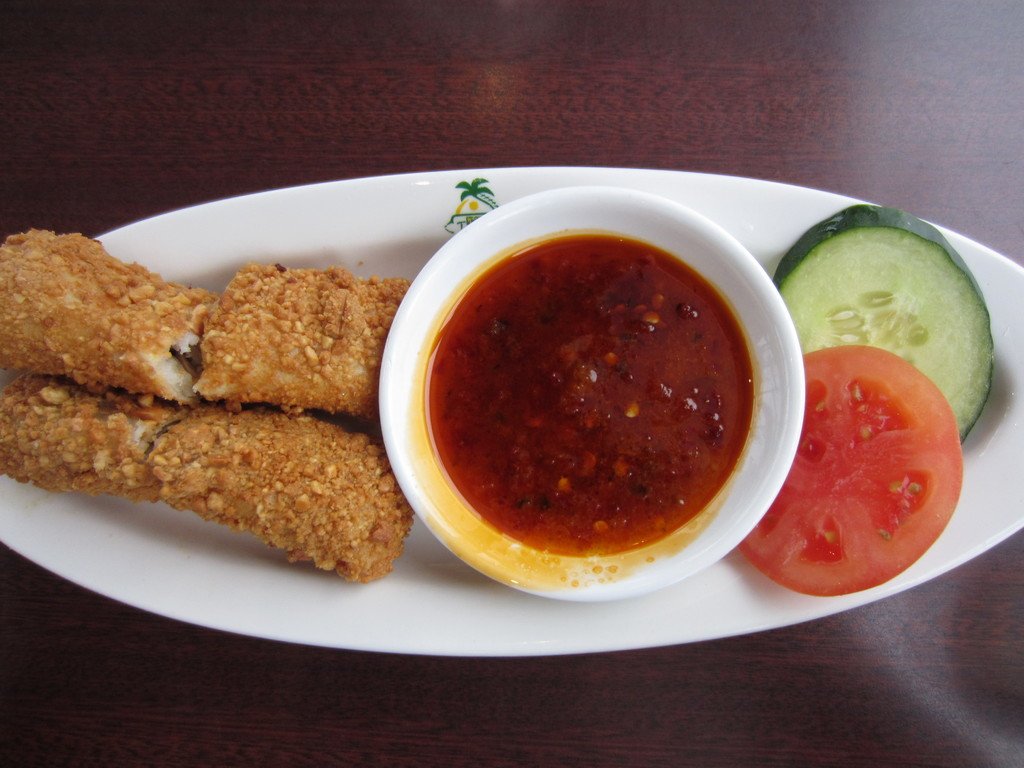 We wanted to try something new so we got the Indonesian Spring Roll ($5.00). Bad mistake. Don't get this! The exterior is not crispy nor crunchy, the dough was too thick, and the crushed peanuts around the spring roll didn't mesh well with the filling.
DirtyGirl recommended the Grilled Pork Cheek ($8.95) so we got this as well. I found it way too expensive for what it is but I can't deny that the pork cheek was pretty good. Not AMAZING, but just pretty good. They gave us two versions of pork cheek. The side you see here is the grilled pork cheek and is on the menu.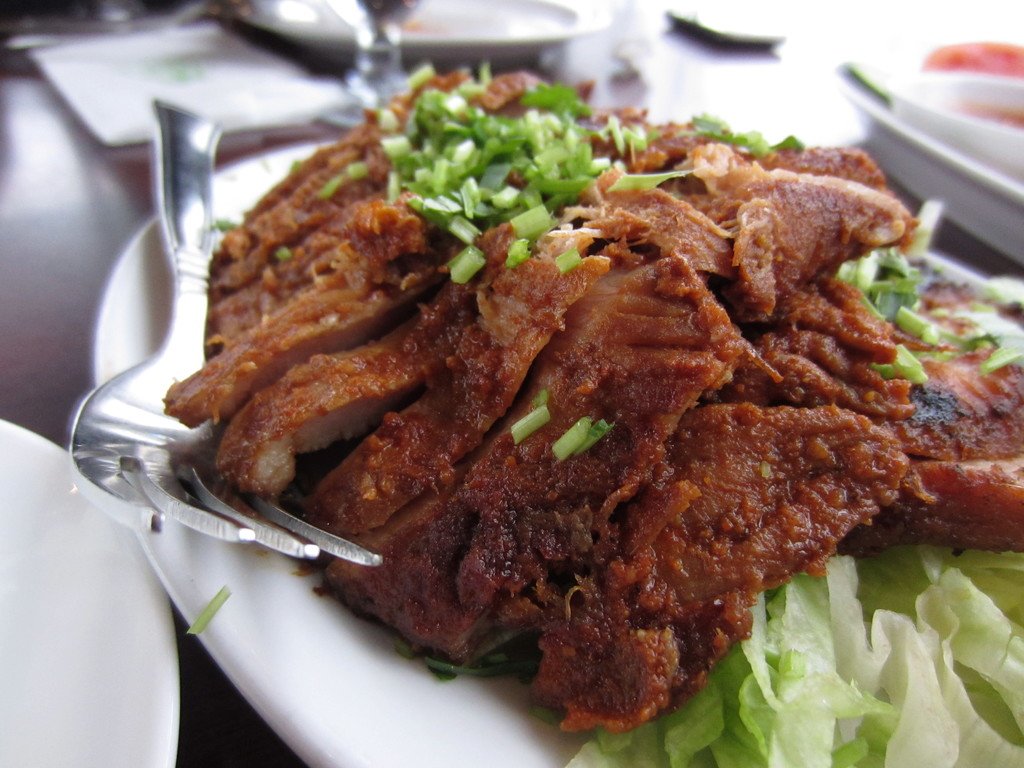 This pork cheek was not grilled but instead oven roasted and is not on the menu. It has a fattier taste and is a lot more tender, which is to be expected as grilling meat sweats a lot of fat and oil during the process.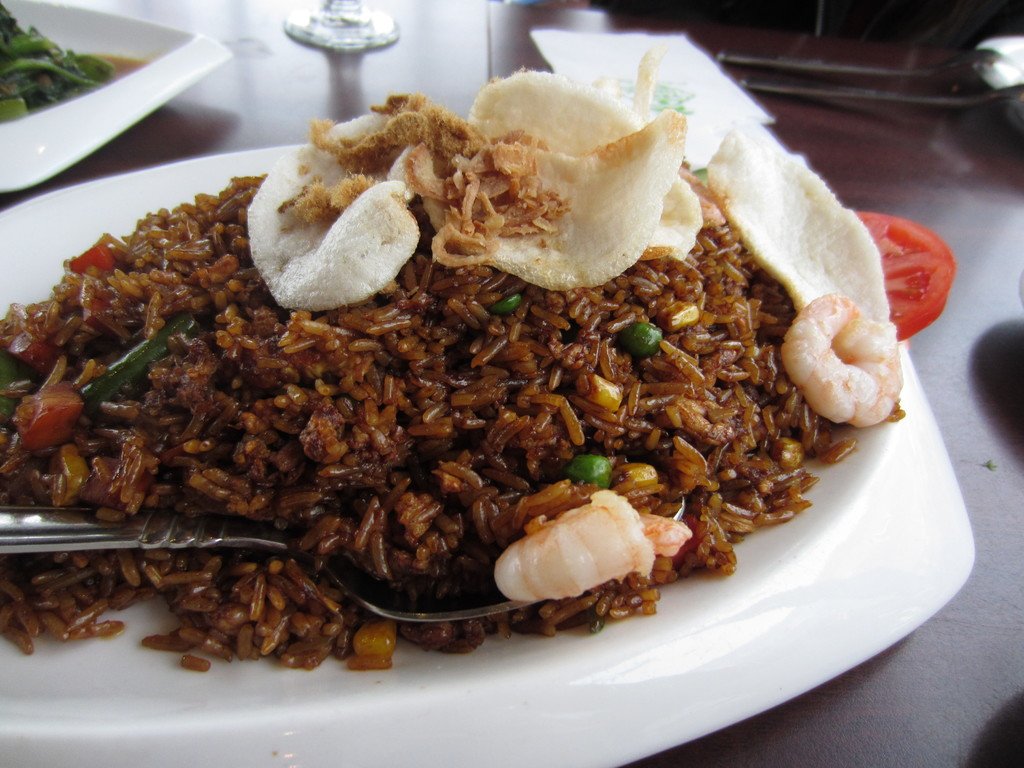 Their Nasi Goreng ($13.95) is super delicious and I get it almost every time I come.
Our only veggie dish of the day! Sambal Kang-Kong ($13.95) is also known as 'Tung Choi' and 'it is part of a Malay-Chinese recipe, consisting of a delectable blend of water convolvulus and a spicy Belachan sauce.
I was super hesitant to order this at first because I usually always go with the Pineapple Fried Rice, but this Coconut Fried Rice ($14.95) now takes over as my favourite rice from Tropika!
The Coconut Fried Rice looks aesthetically unappetizing but don't let that fool you. The gross looking white coconut sauce on the top is the best part and is fantastic mixed in with the coconut fried rice inside. Despite the bland looking fried rice inside, it is actually incredibly aromatic.
As if we needed more food for three people, we also ordered the Pork, Chicken, Beef Satays ($1.30 ea) with peanut sauce.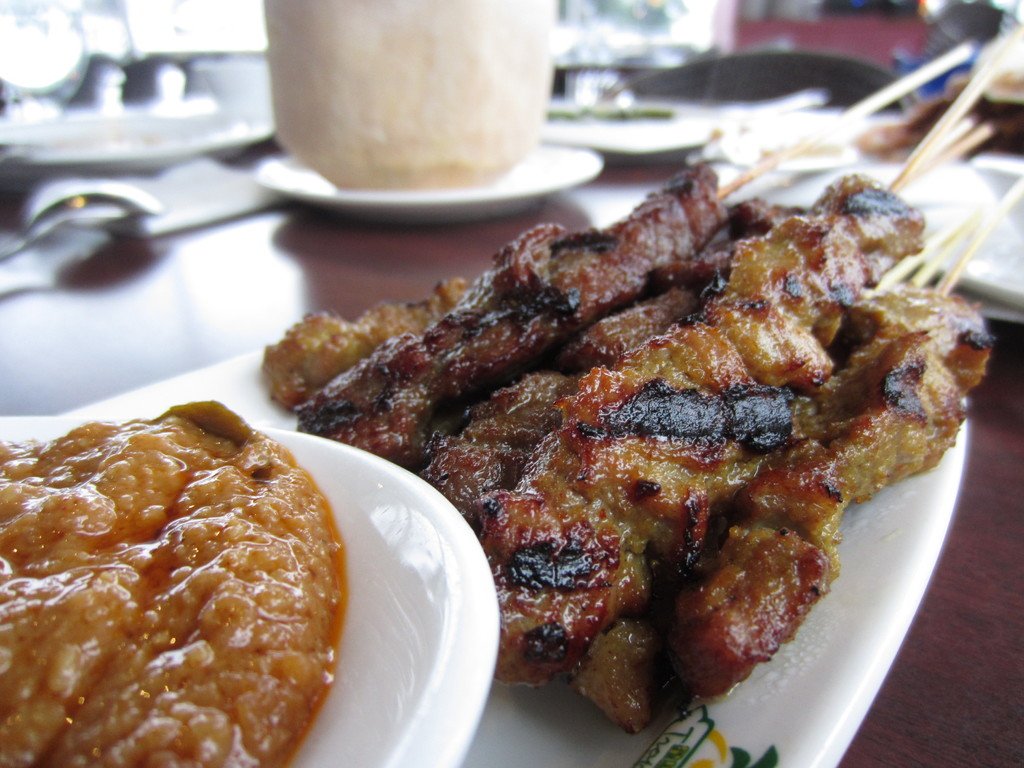 I thoroughly enjoyed all of the meat skewers and all of them were juicy and well seasoned. Thumbs up!
Overall, Tropika delivers exceptional Thai and Malyasian food but it just might hurt your wallet a little bit if you decide to sample a lot of food and order drinks as well.
Service Rating: 3.5/5
Food Rating: 4/5
Price: $$$ ($20-30)
Happy Eating!
courtesy of http://app.cheezburger.com//tag/leonardo-dicaprio/?OnoBetaOptInRedirect=true&SecretHostnameOverride=chzsomuchpun.wordpress.com