La Casita- $5 Burritos on Mondays
La Casita is located in Gastown, a few blocks away from the Waterfront skytrain station. Diana (foodology) told me about their '$5 Monday Burrito Specials' so we all decided to go after our meeting.
They gave us complimentary chips and salsa before our burritos came. The green salsa was mild and had a really tasty herby flavour to it. The red salsa was spicier so I didn't like that one as much.
Diana ordered Combo #2 ($11.00) which consisted of tortilla soup and two flautas (they looked like taquitos). She enjoyed the soup and when I saw how fresh and delicious it looked, I regret not getting it as well!
I ordered the Chicken Burrito ($5.00) and when it came, it looked a bit sad on its own with only a little pile of what I assume is slaw on the side.
But when I started eating it, it was actually really delicious! I didn't think I would enjoy a burrito with mostly chicken because it seemed too heavy but that wasn't the case here. The tender chicken was sauteed with bell peppers, onions, and then combined with melted cheese.
I so far have not tried anything other than their burrito so I wouldn't mind coming back again to try their other offerings.
Service Rating: 3/5
Food Rating: 3.5/5
Price: $-$$
Overall Rating: 3/5
Happy Eating!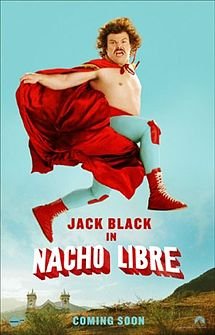 courtesy of http://en.wikipedia.org/wiki/Nacho_Libre