Top Gun J&C Restaurant- Stuffed Chicken Wings, Tea Leaves, and Har Gows
I rarely go to Top Gun because it is one of the pricier dim sum restaurants in Richmond. This restaurant is part of Top Gun Group and is a sister restaurant or Garden City Hot Pot, Richmond Sushi, and Kingsway Sushi…etc.
Lil Sis said her father gets a discount here so we came here for a filling dim sum following our work out session.
Their Tea ($1.20/person) is a bit different from the majority of other dim sum restaurants. Each individual gets to select their desired tea leaves and they are given to you in loose leaf form. Then you just pour some tea leaves in your mixing cup, pour some water on top, and then drain it with the lid.
They have their teapot on top of a candle which kept the water nice and warm.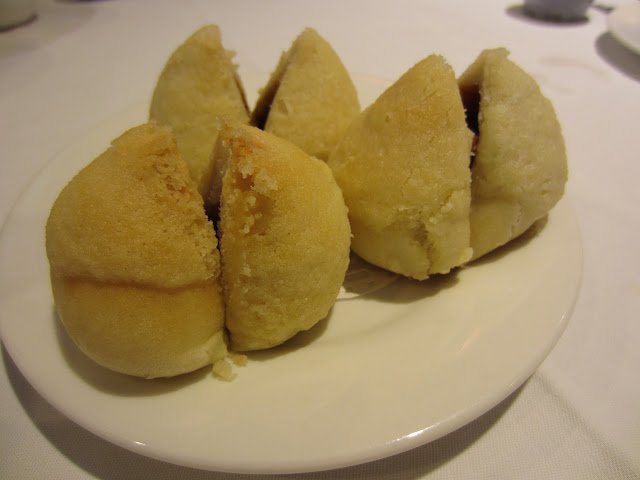 I find that the Baked BBQ Pork Bun ($4.95) is usually a hit or miss with me. This one was unfortunately a miss because it didn't taste like it was fresh from the oven. As well, the sugar crust topping was overly sweet and masked the savoriness of the BBQ pork.
We went Har Gow ($5.75) crazy that day and ordered two orders of it for four people. Actually now that I think of it, it's not that crazy. Shrimp dumplings are the best! These ones were good but the skin didn't have the chewy, bouncy texture I was looking for.
Oh yeah, we also asked for XO sauce but theirs weren't any good.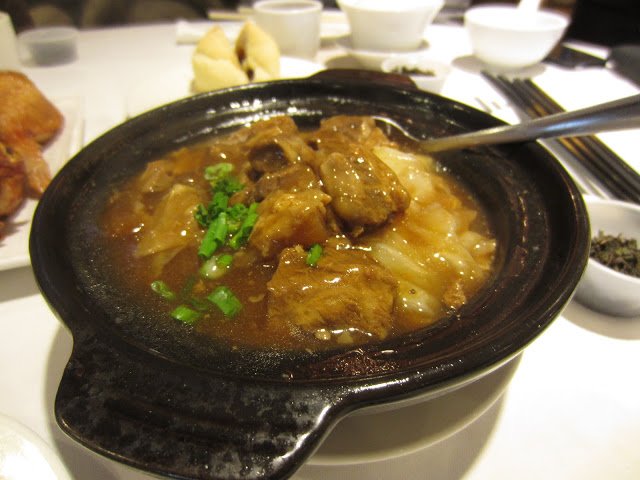 I'm proud to say I suggested this item and everyone at the table raved about it!! It's called something like Beef Brisket and Tendon with Clear Noodle ($11.95). It is the priciest dish we ordered but we all thought it was well worth it.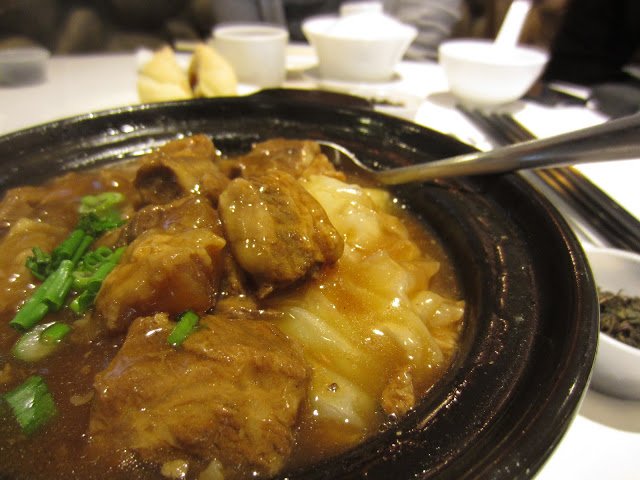 We all thought the beef brisket and tendon was tender and very flavourful. What won us over was the amazing beef brisket sauce that poured over the clear noodles. Every inch of that flat clear noodle soaked up the yummy sauce and it made for a very guilty pleasure. 😀
Lil Sis suggested the Stuffed Chicken Wings ($3.75/ea) so we ordered one for each person. These are essentially deboned chicken wings that are stuffed with sticky rice. The entire thing was super delicious but I found it too pricey to order again. I would probably get this only once in a while.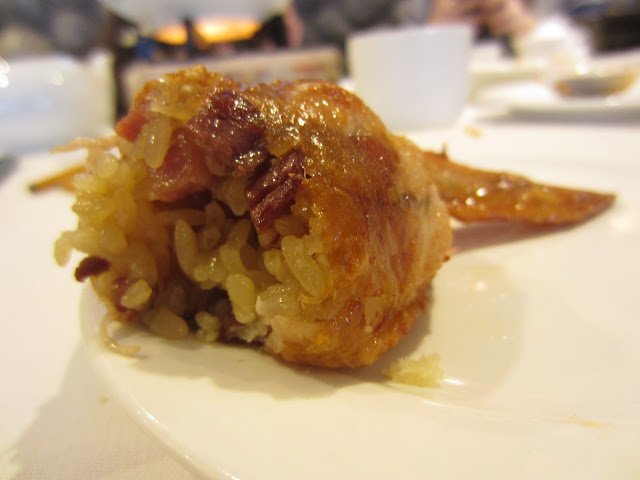 As you can see, the chicken wing was stuffed to the max.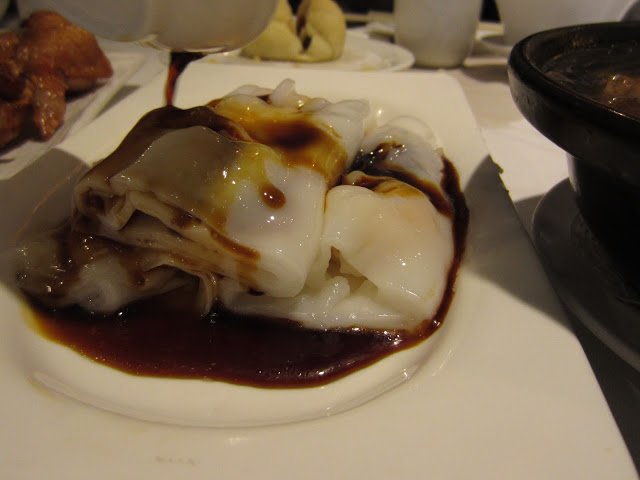 Last but not least is the Rice Roll with Shrimp ($6.50). I tasted like the chefs just made it so the texture of the rice roll was incredibly smooth and soft. Thumbs up!
Based on these reasons:
worth it if you have their 'gold card' which entitles you to 20% or 30% discounts off select items
quality is above average
love how every person gets individual tea leaves (I always bring the unused tea leaves home!)
Service Rating: 2.5/5
Food Rating: 3.5/5
Price: $$ ($10-20)
Happy Eating!

courtesy of https://www.eatingwithkirby.com/wp-content/uploads/2012/11/1345856805968_5865529.png