Gokudo Shabu Shabu Hotpot- This Shabu Shabu is Not Too Shabby!
I knew Gokudo Shabu Shabu Hotpot existed in Richmond but for whatever reason, I never made the trip to try this place out. One day, my good ol' friend Cupcake told me once again about his great experience at Gokudo and I thought, this is it, I MUST try this place out soon once and for all!
I arrived around 6pm-ish with two of my friends and we had to wait a good 15 minutes for a spot. We were all surprised at how busy it was despite the early dinner time.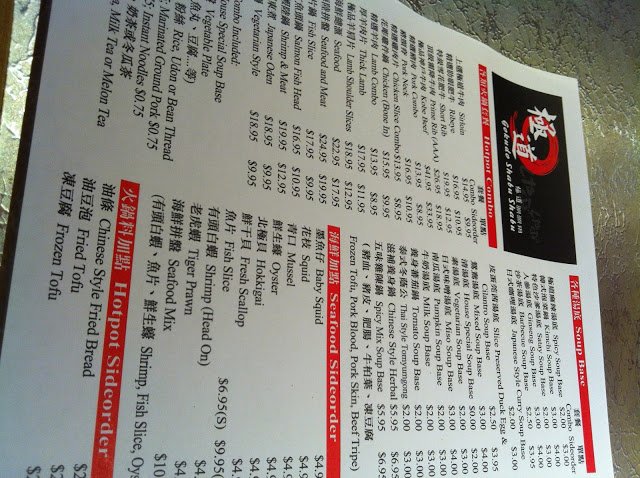 You can choose to order soup base and side orders separately, but I say just go with the Hotpot Combo since the work is all done for you and you just have to choose your meat, drink, and carb type.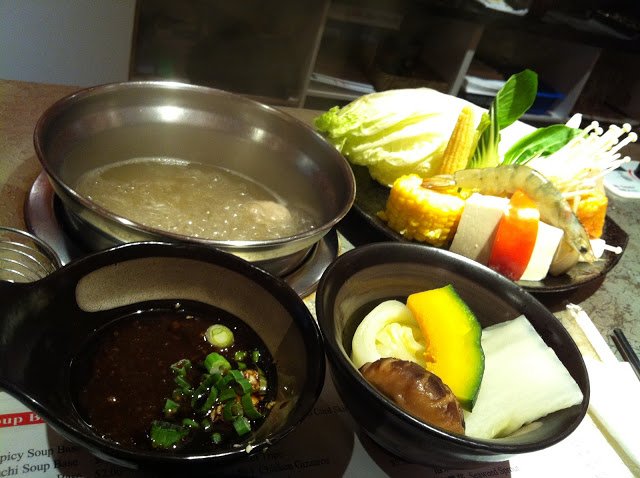 I went with the Lamb Hotpot Combo ($13.95) which consisted of their 'House Special' soup base (tasted like chicken broth), a plate of veggies/frozen meatballs, dipping sauce, carbs (I chose udon), a drink, and a plate of meat.
I was pleasantly surprised at how generous they were with their meat. My meat plate is on the right side and to be honest, I only finished half of the meat because it was too much for me. >.<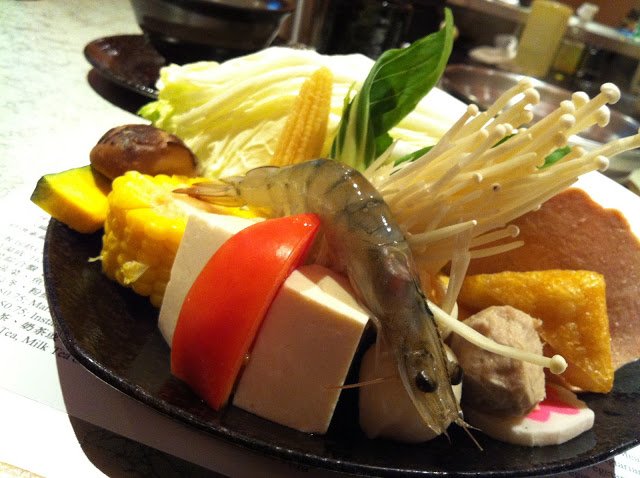 The veggie plate had plenty of chinese cabbage, pumpkin, mushroom, corn, tofu, tomatoes, meatballs, baby corn, and a raw prawn. I actually really enjoyed Gokudo mainly because of this veggie platter because all of the ingredients were really fresh. As well, I am a variety type of girl so this 'everything in little portions' was the perfect approach for me.
I didn't go crazy over the 'House Special' soup base because it just tasted like a better version of chicken broth. However, it is never a bad thing to eat a little healthier. Who needs thick satay soup when this clear soup cooks your food just as well? 😛 I'm sure a lot of people (who <3 bold flavours) disagree with me on this but health conscious girls know what I'm talkin' about. Holla!
As for my beverage of choice, I went with the Melon Tea which was highly recommended by Cupcake. It was my first time trying it but I gotta hand it to him, I really enjoyed the refreshing light taste! I would have preferred a cold refrigerated can but drinking it at room temperature was still okay.
Sorry for the overexposed pictures by the way. I realize iPhone pictures can never replace camera photos!
Service Rating: 3.5/5
Food Rating: 3.5/5
Price: $$ ($10-20)
Overall Rating: 3.5/5
Happy Eating!