The One Restaurant- Fried Chicken Nuggets. Check. GINORMOUS Bubble Tea Slush. Check.
I honestly don't know how many "The One" Restaurants there
are in the lower mainland but my guess is at least four. This particular "The One" restaurant is located
on Kingsway and is famous for their popular mega tall bubble tea slush.
Yoshi ordered the
Chicken
Nuggets with Rice ($9.75)
and it came with four side dishes. The side dishes
were super tiny and I recall him only liking a few out of the four varieties.
He really enjoyed the chicken nuggets as they were crisp on
the outside and tender on the inside. He didn't like the fried basil so I ate
all of his 😛 I loveeee fried basil!
For his drink, he chose the
Fresh Taro Green Milk Tea ($4.50)
and this was surprisingly incredibly good!
There was no doubt that they used fresh taro, and in my opinion, it tasted a
billion times better than the powdered kind.
If I'm not mistaken, Meta Knight ordered the
Deep Fried Fish with Vegetable and Rice
($11.95)
which he thought was quite pricey for a bubble tea restaurant.
However, when he saw the ginormous portion of fish, he no longer criticized the
price. 😛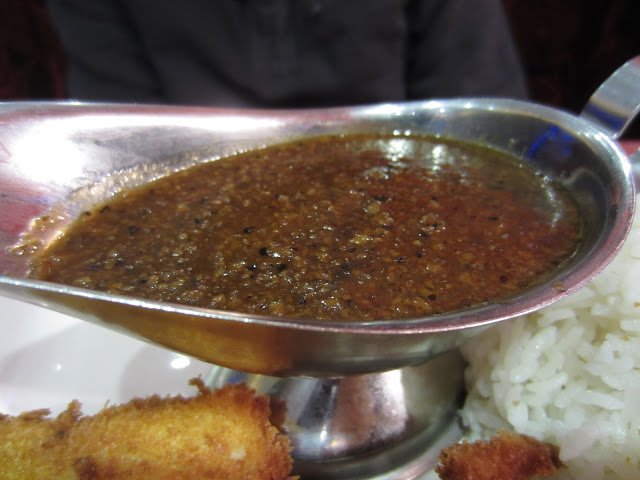 The black pepper sauce that he chose was extremely peppery
(a bit too peppery for his liking) but provided a nice sauce for the otherwise
dry fish and rice.
As you know, I am such a noodle person… so I opted for the
Deep Fried Chicken Nuggets with Noodle Soup
($10.50).
I should have shared this with someone because the portion was
HUGEEE!!! The bowl of plain noodles itself was already more than enough to satisfy
me…
But with the chicken nuggets, I fell into a food coma.
Since it was Meta Knight and my first time here, we decided
to go for one of those huge slushes that people always rave about.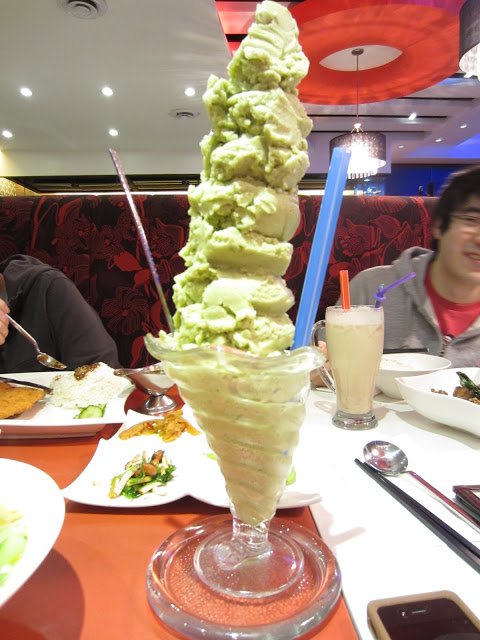 We shared the
Japanese
Green Tea Smoothie ($6.25)
and boy was it huge. The slush was more than
double the average size of bubble tea slush and if you let it sit for too long,
it will start melting all over the place. Thus, we had to instantly cup another
glass over it, and break it off to prevent any spill-age. It was a cool
experience but the green tea flavour was not very prominent and I remember it
being too icy and bland.
Lil Sis went for the
Beef
Curry with Rice ($9.75)
and it also came with rice and four side dishes.
When I asked how it was, she only said, 'it's good' and shrugged
her shoulders so I think the curry sauce was just o-kay.
mega tall slushes

quite pricey for a bubble tea restaurant

food and drinks are decent
Service Rating: 2.5/5
Food Rating: 3/5
Price: $$ ($10-$20)
Overall Rating: 3/5
courtesy of http://www.wordans.com/custom-t-shirt-design-details/food-drink-design-i-love-bubble-tea-142927