Berry Greek Yogurt Parfait w/Honey Recipe
Ever since I came back from Asia a month ago, I wanted to
get back into the lifestyle I had before I left which was exercising often (3-5
times a week) and eating healthy. However, I gotta admit, it has been hard. My willpower has given in a few times so I've experienced quite a few food comas since I've been back. BUT. No more.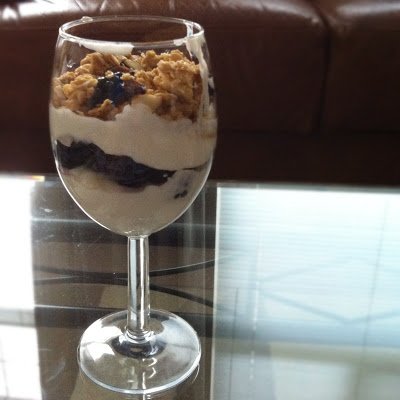 I am confident and determined to set myself back on
track and resume a healthy lifestyle! From now on, I will try to cook and bake
as often as I can with as little artificial, sugary, and fattening ingredients
and I'll also share my recipes with you guys. My first recipe is quick, simple,
and delicious as a snack or breakfast. It's called
Berry Greek Yogurt Parfait w/Honey
.
You only need five ingredients for this recipe. See? Told you
it was simple.
You need some 0% fat greek yogurt and granola. I'm using greek
yogurt because it provides double the protein of most regular yogurts (and thus
can also be a post-work out snack!). Greek yogurt is also a great source of
calcium, probiotic bacteria, and has less fat than regular yogurt.
You will also need a honey bear :P, a cup or glass, and
whatever berries you have on hand. I happened to have blackberries so I made it
a blackberry parfait. 😛
First step is to fill the bottom of the glass with greek
yogurt, and then drizzle it with copious amounts of honey. I find greek yogurt
to be too sour and bland on its own so I always like to put a little bit of
extra honey in mine.
Next, sprinkle on some blackberries (or whatever berries you
are using).
You just repeat the previous two steps again so put another
layer of greek yogurt, honey, and then berries.
The last and top layer is the granola. Try to find granola
with lots of nuts, seeds, or raisins as they are healthier than just plain
clumped oats. I used regular granola that I got from Superstore and mixed in a
handful of sliced almonds for an extra crunch.
FYI- I have been eating this for breakfast for the past
three days now! It's really healthy and keeps me satisfied until lunch. No need
for greasy breakfasts anymore!
Try this recipe out and let me know what you think!