Pig On The Street- The Joy of Delicious Double Smoked Bacon
People who know me understand I have a (sometimes unhealthy) obsession with bacon. I love bacon with my eggs in the morning, I love bacon with my chocolate in my crepes, and now
I love bacon in a flatbread wrap from a food truck.

I was in downtown getting a haircut so I decided to use this opportunity to try out this new food truck that specializes in, what else? BACON!
Honestly, this truck was the smallest food truck I've ever seen! There were two people cooking up the food and one taking orders and as you can see, they barely have enough room to turn around. I saw that the guy taking orders was sitting on a cooler as his chair. All I can say is… props to you guys. I hope this bacon food truck concept becomes really successful so they can afford to upgrade into a bigger truck. 😛
All of their bacon is local and they try to use as many locally sourced ingredients as possible. They also make their flatbreads from scratch!


I had a hard time choosing what to get but I ended up ordering the Pig LT ($9.00) which consists of double smoked bacon, tomato, avocado, farmhouse cheddar, bacon and maple mayo, and greens (arugula). I realize it doesn't look very big in the picture but this wrap was pretty large. It is definitely big enough to satisfy an average person's appetite.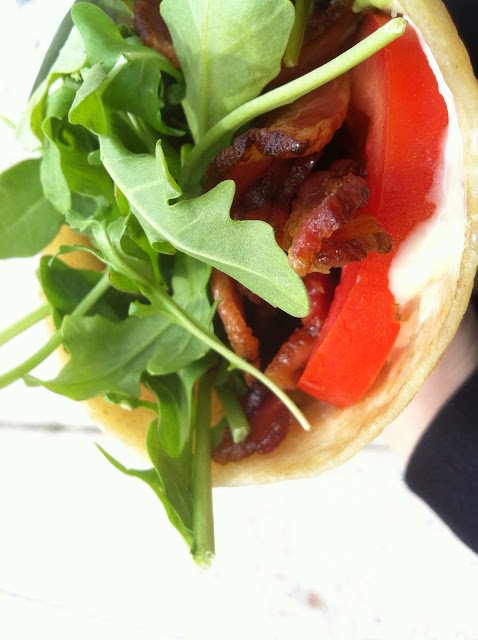 Now. The Bacon. I didn't have particularly high expectations for this wrap but it blew my mind. The bacon was unlike any bacon I've ever tried. It's the super good kind of bacon that I've always wanted to purchase at gourmet food stores but end up leaving it because I can't afford it. I also liked how the tomato, avocado, and greens cut the greasey feeling you normally get from eating bacon.
I have too many good things to say about this wrap but I don't have enough room to write them all. Last thing I want to compliment them on is their homemade bacon and maple mayo (!!!). This sauce is what gave me the explosion of flavours because it provided a subtle yet delicious blend of sweet and savoury.
Overall, I think this place….. wait…. do I really need to explain why you should come here? If you like bacon, come try it out at least once and support them so they can get a bigger truck! (I don't actually know if they even want a bigger truck.. I'm just sayin') 😛
Service Rating: 3/5
Food Rating: 4.5/5
Price: $
Overall Rating: 4/5