Easy And Delicious MOCHI Brownie Recipe
Hey everyone! Ever since I went to the famous Japanese little cafe called Basho Cafe and had their 'mochi mochi brownie', I wanted to recreate it. Their mochi mochi brownie was like a typical brownie but with a delectable mochi chewy consistency. Recently I passed by an Asian grocery store and saw they had glutinous rice flour on sale. So I thought, what better time than now to give these mochi brownies a try?!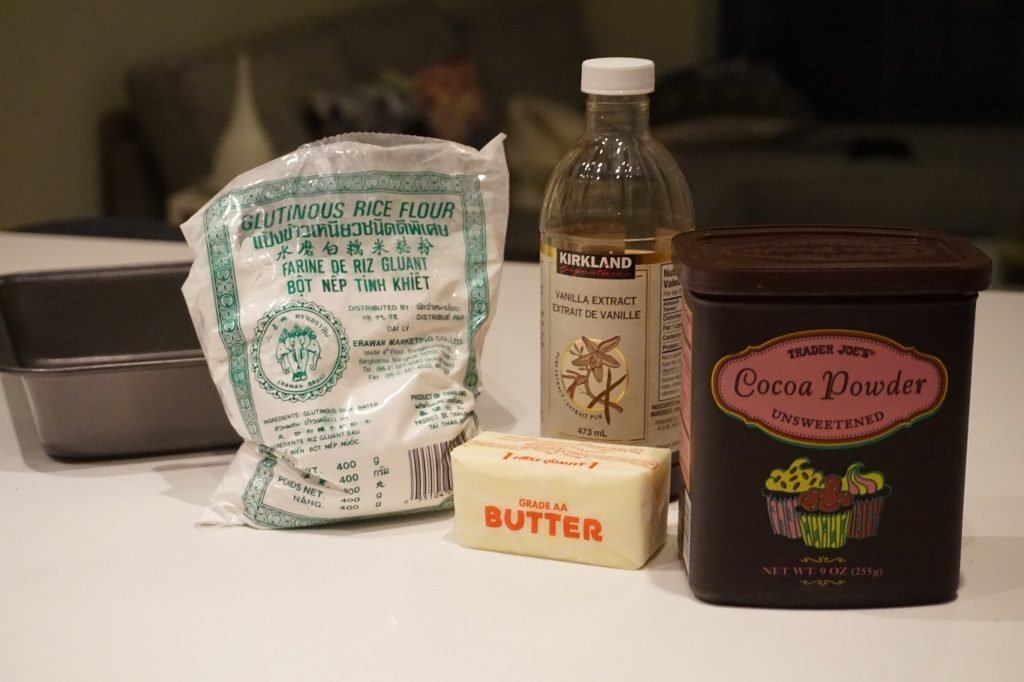 I'll list out all of the ingredients on the bottom but essentially these are the most important ones you might need to get if you don't have them already in your kitchen. Butter, unsweetened cocoa powder, glutinous rice flour (aka mochiko), vanilla extract, and a square 9′ x 9′ pan.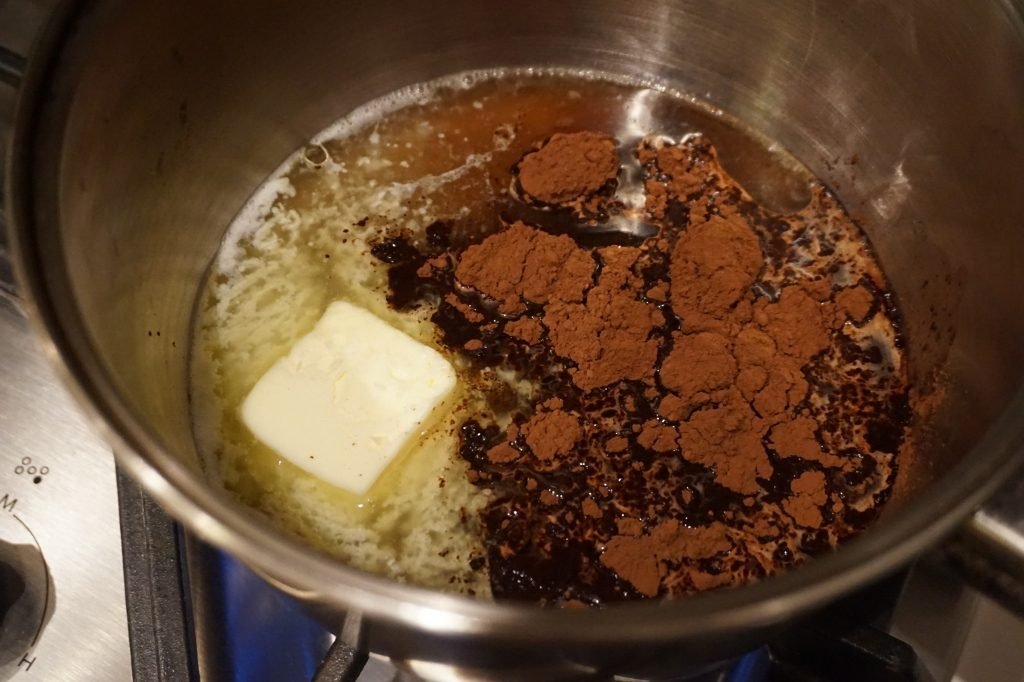 You first want to preheat your oven to 350°F/175°C.  Then get started by heating up 1 cup of water, 4 tbsp of cocoa powder, and 3.5 tbsp of butter in a pot.
Whisk, whisk, whisk until there are no lumps and everything has melded together. Take it off the heat.
In a large mixing bowl, combine all of the dry ingredients (2.25 cups of glutinous rice flour, 1.25 cups of sugar, a pinch of salt, and .5 tsp of baking soda.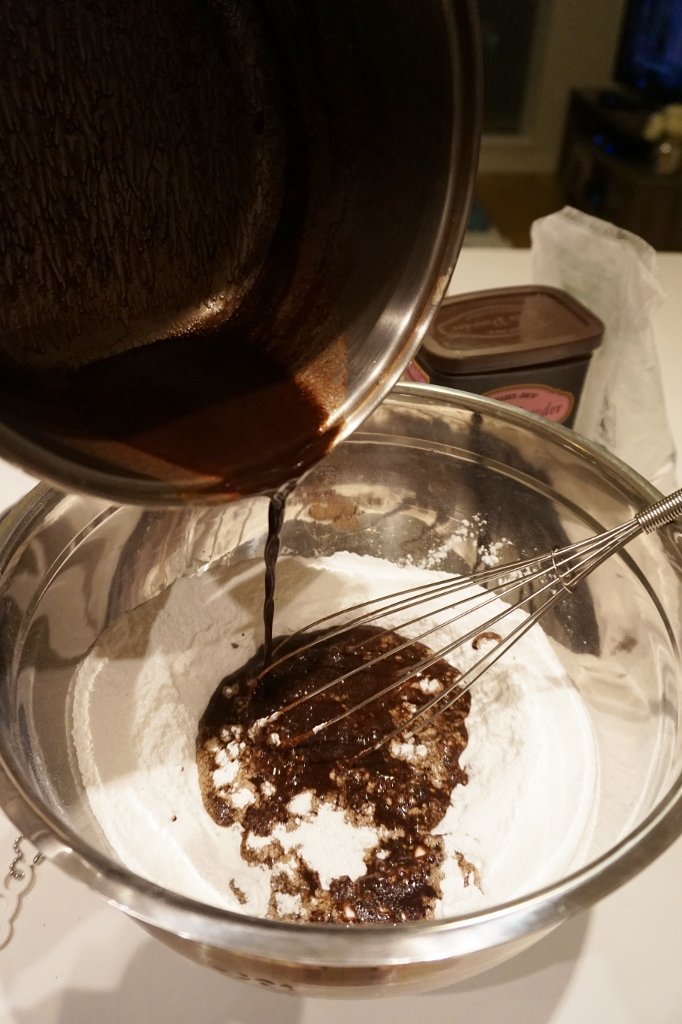 Pour in the liquid ingredients in to the dry ingredients and mix well.
Then add 2 large eggs and a splash of vanilla extract.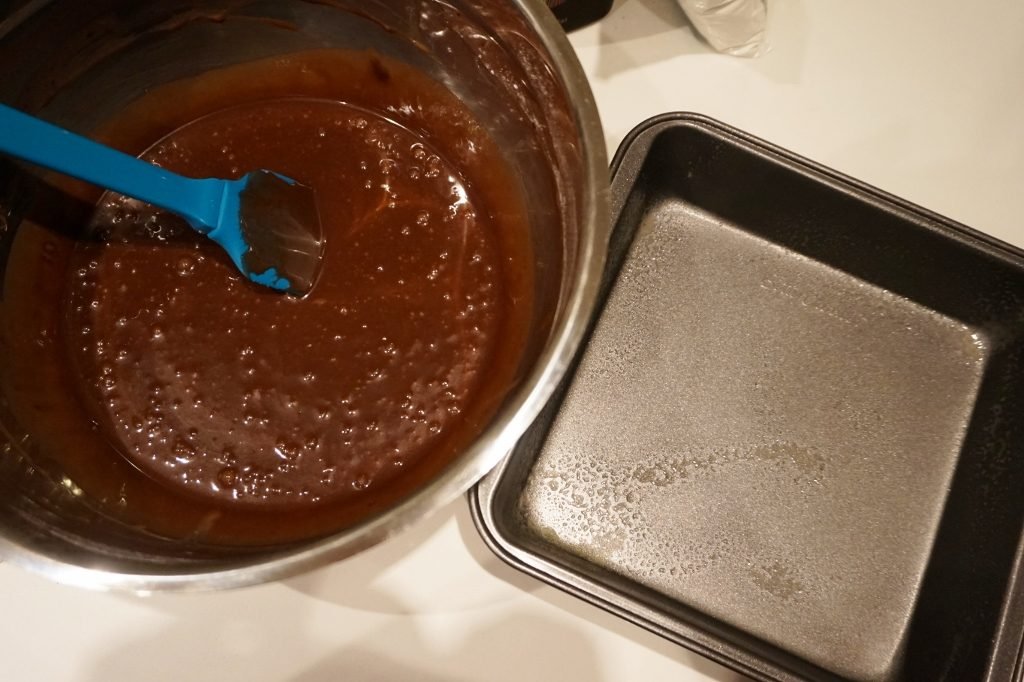 I whisked mine like crazy so it had some air bubbles (as you can see) but I just knocked the pan a couple of times on the counter to release them before pouring them into the pan.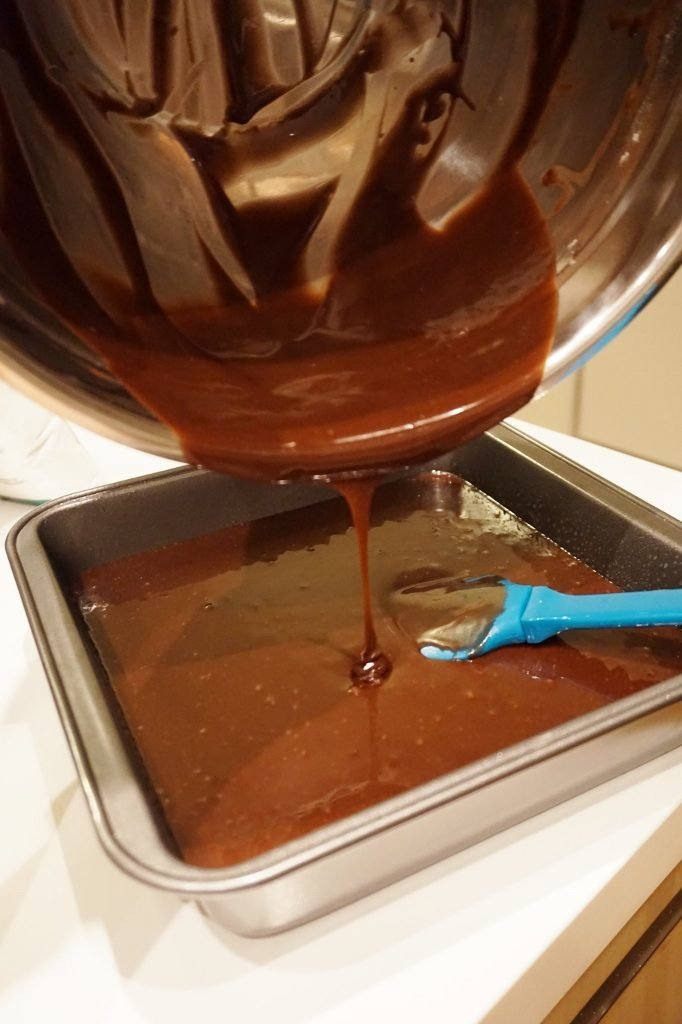 Make sure to either line your pan with parchment paper or spray it with oil before pouring into the pan! No one wants a sticky situation to clean up after. 😀
Ta-da!!
In the preheated oven, bake the mochi brownies for 45-50 minutes. Test its doneness by doing the toothpick trick (insert a toothpick and if it comes out clean without wet batter on it, it's done!).
What you will end up with is a DELICIOUS yet simple chocolate brownie that tastes like a mochi ball. I love how it's not overly sweet and foodcoma-like even though the chocolate flavour is strong from the cocoa powder. The texture itself will just keep you coming back for more.
The amount of mochi brownies I ate that day….
While it looks fudgey, it's actually not. The best way to describe it is that it's very 'bouncy'. If you've tried mochi before, you'll know what I'm talking about. I cut mine into 9 event square pieces and I thought they were the perfect size for a midnight snack or breakfast, or afternoon tea, or…. oh who am I kidding? I eat them at every meal.
I really encourage you to give it a try if you like the Basho Cafe mochi brownies or just want to experiment with different variations of this dessert. I'm going to attempt to make matcha mochi brownies next time, or regular chocolate brownies but with individual mochi balls inside!
Easy and Delicious Mochi Brownies
Ingredients:
1 cup of water
4 tbsp of cocoa powder (I recommend the unsweetened kind, like this Hershey's one here)
3 ½ tbsp of butter
2 tbsp of vegetable oil
2 ¼ cups of sweet rice flour
1 ¼ cups of sugar
½ tsp of baking soda
a pinch of salt
2 large eggs
a splash or two of vanilla extract
Directions:
1. Preheat oven to 350°F/175°C. Combine water, butter, oil, and cocoa powder in a pot over medium heat. Make sure to whisk the cocoa powder until there are no lumps and everything has melted together.
2. In a large mixing bowl, combine all of the dry ingredients and then stir in the cocoa liquid mixture. Stir to combine.
3. Add the eggs, vanilla extract. Make sure to combine evenly and that there are no lumps.
4. Pour the mochi brownie batter into a oil sprayed or parchment lined pan.
5. Bake in the oven for 45-50 minutes.
6. Remove from the oven and let cool (10 minutes) before cutting into even squares.
7. Enjoy!
Happy Eating!
Let me know in the comments below what you think of this recipe! And as always, follow me on Instagram for more delicious eats!