Sura Korean BBQ Cuisine- Not as Great as It Looks
There is a new Korean restaurant at Aberdeen (in Richmond) that just recently opened up and I went with a couple of friends to check it out. It replaced the old Tropika (which I'm still sad about) and completely renovated the interior.
They have a lunch special which is a set menu consisting of all the items below. It seemed like a pretty sweet deal because you get about 15 different items for 15 bucks.
Here is a closer look at exactly what was included in the set menu that we chose. We went with the Course SU ($15).
Our Daily Congee and Green Salad was quite unamusing. The congee was favoured with red bean which was kind of cool but weird at the same time.
I quite liked the Mung Bean but most of my friends didn't particularly enjoy them. They just taste like gelatin strips with sesame oil.
The Sweet and Sour Pork didn't have enough sauce and wasn't crispy on the outside.
The Spicy Squid Salad was INCREDIBLY spicy and had barely any squid. We also had a couple of Banchans (little side Korean side dishes) but it didn't have any of the common sweet potato or seaweed so nobody really touched it.
The Potato Pancake is pretty much the Korean seafood pancake without any seafood. Not very good at all.
The Grilled Atlantic Croaker had a lot of bones in it so only a couple of people ate it. Shinto just ate them with bones and all so I guess they're technically edible.
At this point, nothing that came before this was very good so I was happy to see the Bulgolgi. The meat wasn't bad and the sauce was quite good with rice.
The Pork Belly was another item that was also pretty good but nothing spectacular. It would've been cool if we could grill our own pork belly though and eat it hot because this dish was pretty lukewarm when it was served to us.
The Soybean Paste Soup, was super spicy but good with rice.
Tea in the rice stone bowl.
Two of my friends ordered Bulgolgi Bibimbap instead of the set course and because the waitress mixed it with spicy sauce before we could stop them, it was too spicy and they didn't like it.
All in all, my friends and I all think that while it was a cool idea to have a set course for lunch, the quality just didn't cut it. We most likely will not be coming back.
Service Rating: 2/5
Food Rating: 2/5
Price: $-$$
Overall Rating: 2/5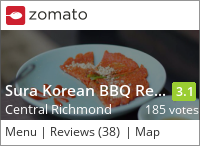 Happy Eating!