[Guest Post] The Diamond – Mingle. Drink. Drink More.
Hi everyone, I'm officially hijacking Kirby's blog for a quick guest post! Those of you that follow her posts regularly (and if you aren't, why not!) might know me as "FW", but that is neither fun nor easy to remember, so I will introduce myself here as Fon.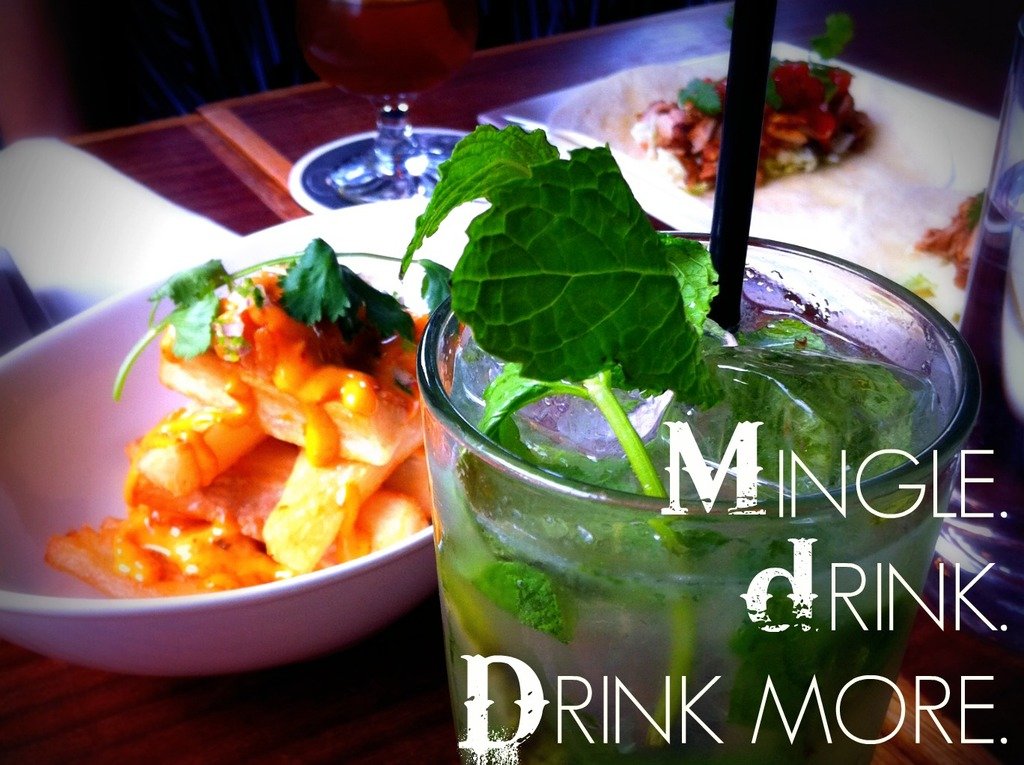 Amongst the many things Kirby and I have in common (our birthday being one of them), is an affinity for good food and novel restaurants. Needless to say, I've promised her many guest blogs that never quite materialized until this one, so hope you enjoy it!
——————————-
A couple of nights ago, following a long discussion of where to go for dinner, I found myself in Gastown with the idea that the area is a pretty fail-safe bet for reliable food and creative drinks. We headed toward The Diamond as we had heard good things about their cocktail menu.
The entrance to The Diamond is easy to miss if you aren't looking – we walked right past and didn't find it until we looped around the block. Beyond the big green doors lies a dark set of stairs that opens out into a brightly lit dining room with lots of windows and a view of Water Street below.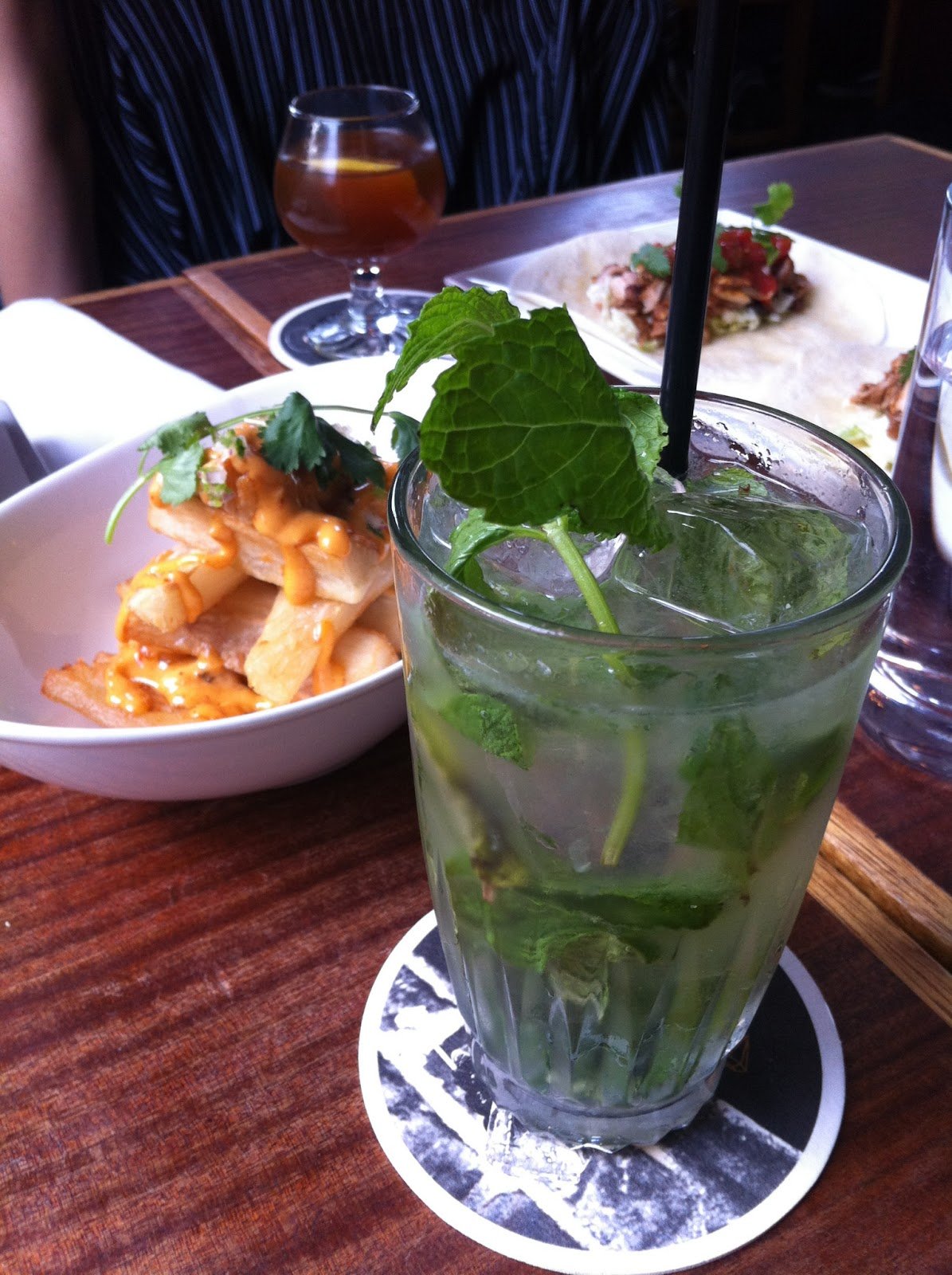 Colin's Lawn: Sake, Lillet, Lemon, Mint, Ginger, Sparkling Wine
The Diamond boasts an ample list of creative cocktails and ordering drinks was a no-brainer as it was one of the main reasons we had come here. I ordered a Colin's Lawn upon the recommendation of the waitress for a light refreshing drink, and it was exactly what I had in mind! I love mint, sake, and sparkling wine, and this went down very easy – I could easily have downed a couple of these.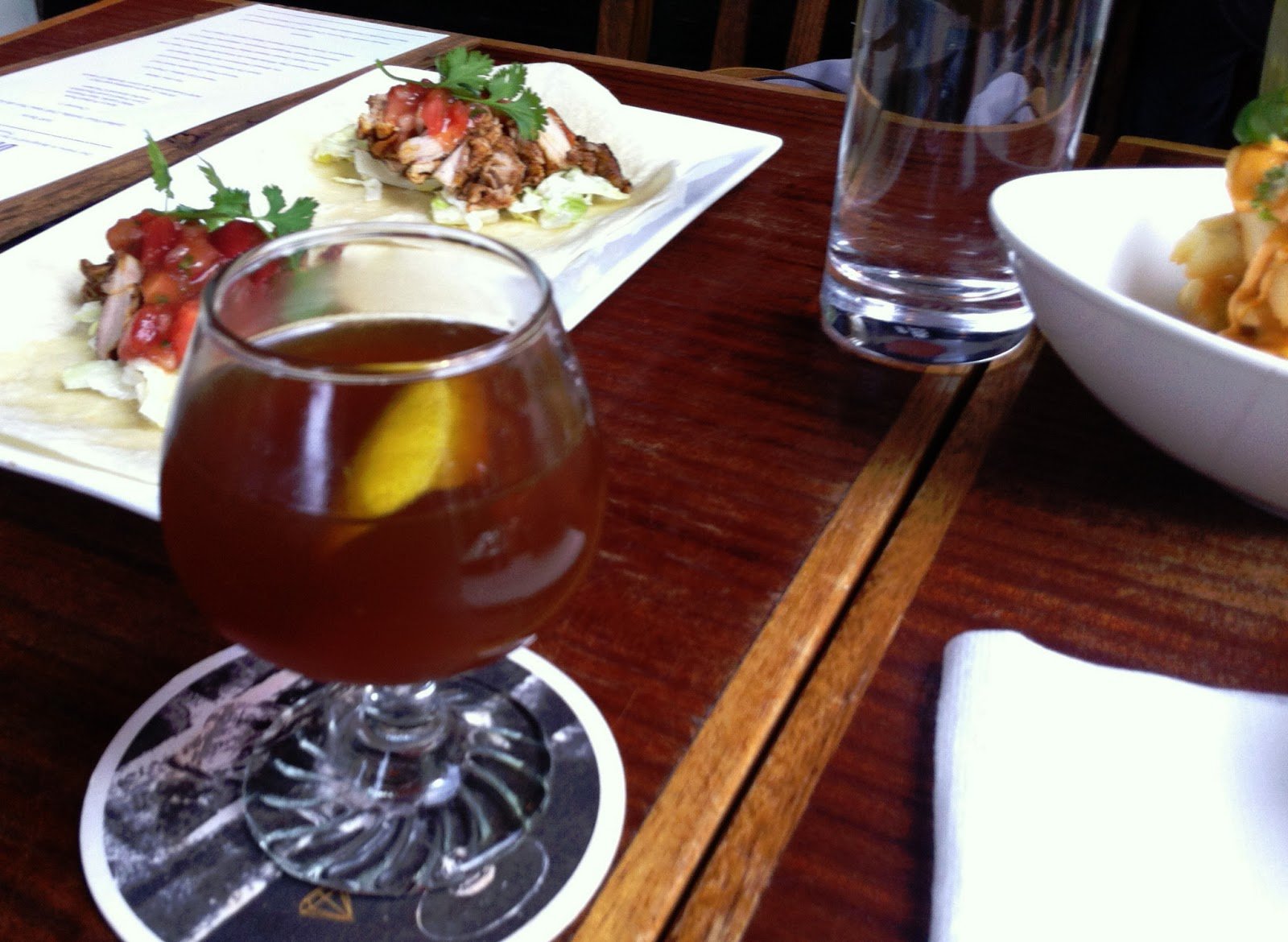 New Toronto: Bourbon, Italian Vermouth, Fernet Branca, Honey, Lemon Twist
My companion for the night ordered the New Toronto. It came in a very small glass the size of a tennis ball, but did not skimp on the liquor as it packed quite a punch. Not bad if you like your drinks strong.
Yucca fries with Chipotle aioli
Food at The Diamond comes in the form of tapas to share. We ordered three between the two of us and could easily have had more. The first item we tried was the yuca fries. Yuca is also known as cassava, and is a starchy tuber that is actually used to make tapioca! The taste and texture was very subtle, and yet undeniably different from potato. I really enjoyed these – worth a try if you've never had it before (they are only $4.50, after all).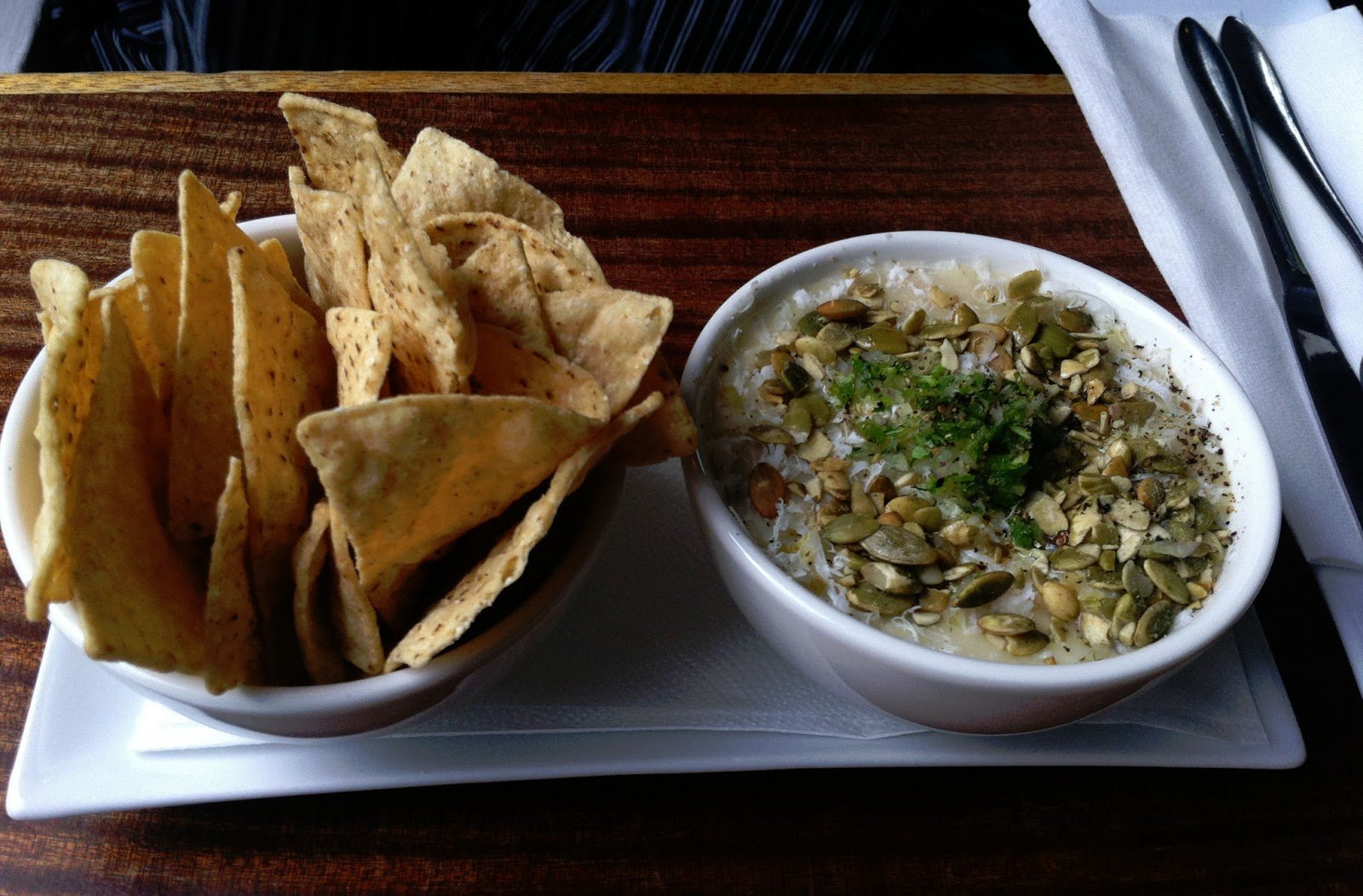 4 Cheese dip, White bean and artichoke hearts
The four cheese dip was warm and creamy, satisfying my love of warm and gooey foods. This was very hearty, filled with beans and giant chunks of artichoke hearts. The tortilla chips were pretty standard and we ran out long before the dip was gone, but that didn't stop us from polishing off the rest with our forks.
Soft tacos with Ancho spiced chicken
The soft shelled tacos came in a minimum order of two, and we went with the Ancho spiced chicken as our filling. The chicken was tender and adequately spiced – no complaints here.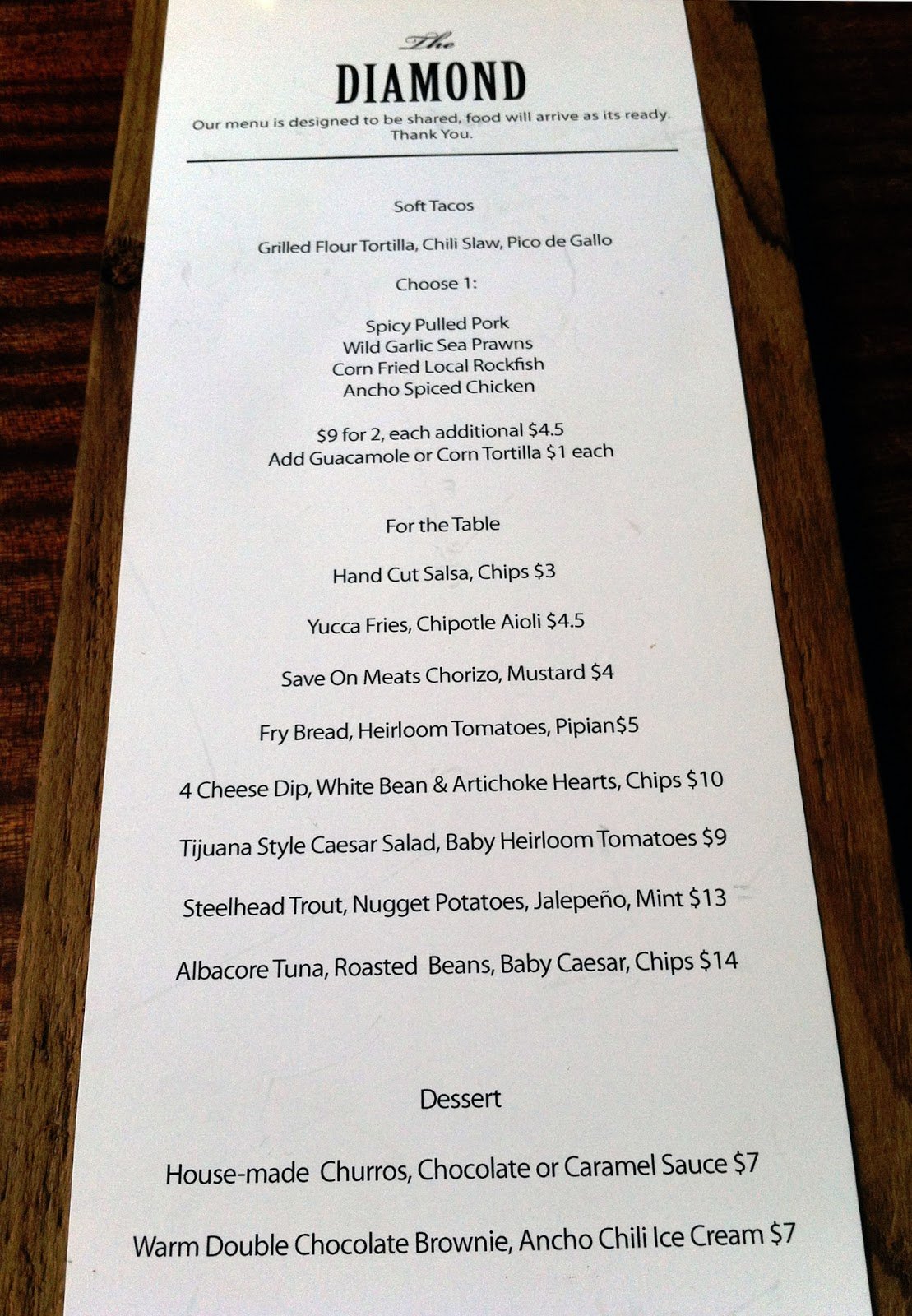 The Diamond embodies the Gastown vibe and was exactly what you would expect from an establishment in the area. Drinks are priced in the range of $10-12, and here is their tapas menu for you to view. I would definitely recommend it as a fun place for drinks and a small bite, but if you are looking for a full meal, there are plenty of other options nearby.
One last note – rumour has it that a secret room lies behind the brick walls at The Diamond. If you've been lucky enough to see it, I'd love to hear about its mysteries – perhaps the dining experience hidden there is the true diamond in the rough!
Service Rating: 4.5/5
Food Rating: 3.5/5
Price: $$$ ($20-30)
Overall Rating: 3.5/5


Happy Eating!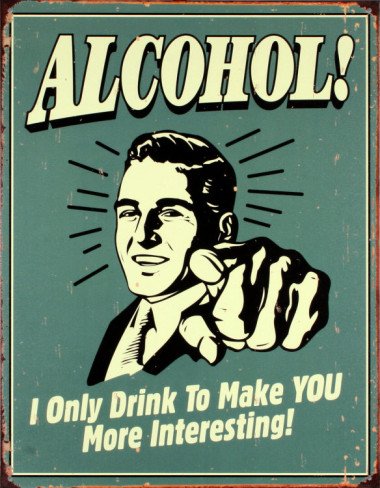 courtesy of http://chronicle.com/blognetwork/tenuredradical/2011/09/drinking-again-forget-the-sats-how-many-days-was-your-kid-drunk-last-week/