Jumbo Sushi – Specialty Rolls Galore
There has always been this one sushi joint in Richmond that I've wanted to try out but never made the attempt to because of its skeptical exterior and slightly odd name.
Recently, blog posts have been popping up on this place saying their specialty rolls are the bomb so I had no choice but to try it out myself to see if this was true! 😀
Jumbo Sushi is located on No.3 Road across from Richmond Center. It's in a tiny unattractive strip mall with limited parking so it is very easy to miss.
Once inside, you can see all the cool specialty rolls they offer plastered on their wall. Both Meta Knight and I quickly noticed that the service was not very friendly but maybe we came on an off day. We'll give them the benefit of the doubt.
The Caterpillar ($5.95) looked absolutely scrumptious with its layered avocado look and masago topping. Inside consisted of unagi and some other ingredients I can't quite remember (sorry!).
The Whitecaps Roll ($7.95) contains unagi, tempura, topped with chopped scallop and a special sauce. It was very refreshing and delicious without any soy sauce.
They have weird names for their rolls and this is one of them. It's called OMG Roll ($6.95) and it contains prawn tempura, cream cheese, and smoked salmon. Say wha?! I have never seen a combo of ingredients like this before and luckily it did not disappoint us one bit!
I believe this is the Canucks Roll ($6.95) *insert sigh here since we won't be ordering it this playoff season*. It contained tuna tempura on the outside as well as spicy tuna on the inside. It was an interesting combo but probably not one I'll get again. I thought the tuna tempura was just slightly on the dry side.
Overall, Jumbo Sushi has some pretty unique sushi rolls that are worth checking out if you are in the area. Their rolls are actually not jumbo by any means so I don't know why it is called Jumbo Sushi. O.o Nevertheless, they have an awesome promotion of buy one roll, get the second one 50% off so you can enjoy some fine sushi without raping your wallet.
Service Rating: 2/5
Food Rating: 3/5
Price: $$
Overall Rating: 3/5
Happy Eating!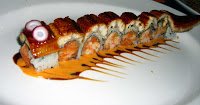 <– cool!!
courtesy of http://www.cari-vicarious.com/2010/01/sumo-sushi.html