Heirloom Vegetarian – Upscale Veggie Food.
I've had my eye on Heirloom for a few months now. Yesterday, NatureGal and I finally made it happen and dined there on an early summer evening.
Heirloom is a vegetarian restaurant that also serves up vegan and gluten free items.
It is located on Granville and 12th. There are a lot of parking spaces around (I found some free parking spots on 11th) so its pretty easy to get there.
They recently changed their menu so some of the items that we wanted to get were no longer on the menu. As well, on the day we went, their deep fryer was out so we couldn't order the Avocado Frites or Pakoras… BOTH of which we were planning to get!! :'(
I wanted to get the Blue Lemonade but they were out of blue algae crystals so they changed it to a Hibiscus Rooibos Lemonade ($5) instead. The drink was made with organic maple syrup, lemon juice, hibiscus rooibos tea, and sparkling water. I found the taste to be a bit bland but it was indeed refreshing.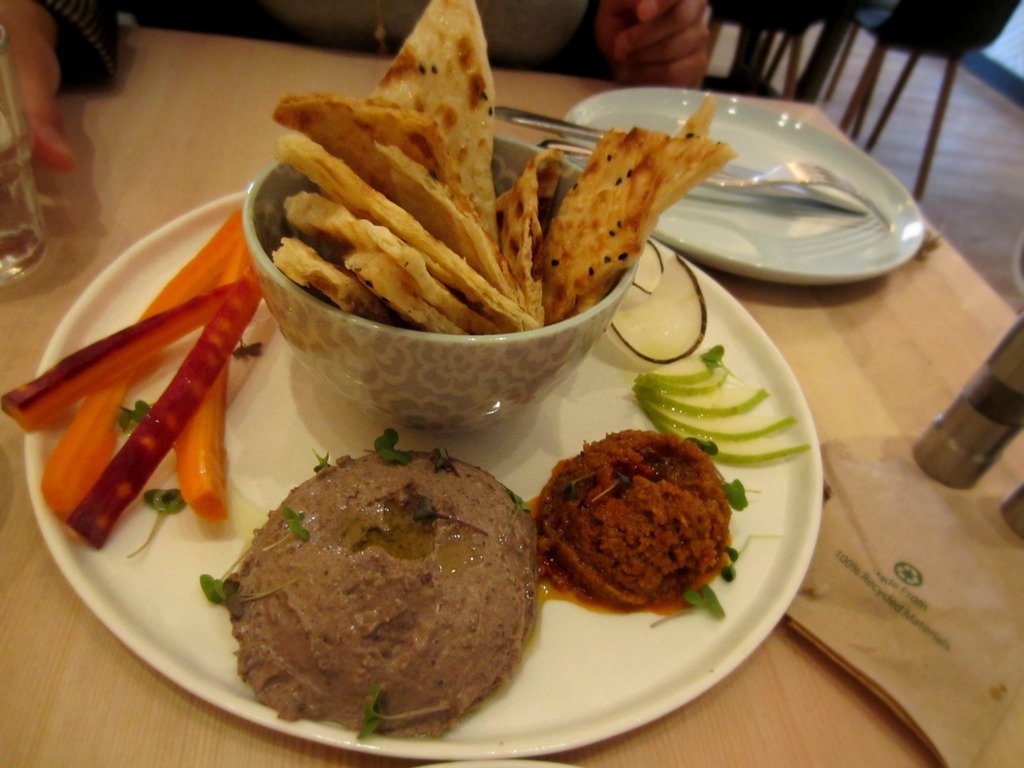 One thing I really did not like about Heirloom was that their appetizers were essentially the same price as their entrees. This appetizer called Heirloom Dip was $14.75, which in retrospect was way too expensive. For 15 bucks I could get a lot more in quantity without sacrificing quality at places like Foundation or Nuba.
Nevertheless, we ordered it and it came with black bean hummus, sundried tomtato and olive tapenade, sliced apples, carrot sticks, and sangak chips. I wasn't a fan of the tapenade but the hummus was pretty nice.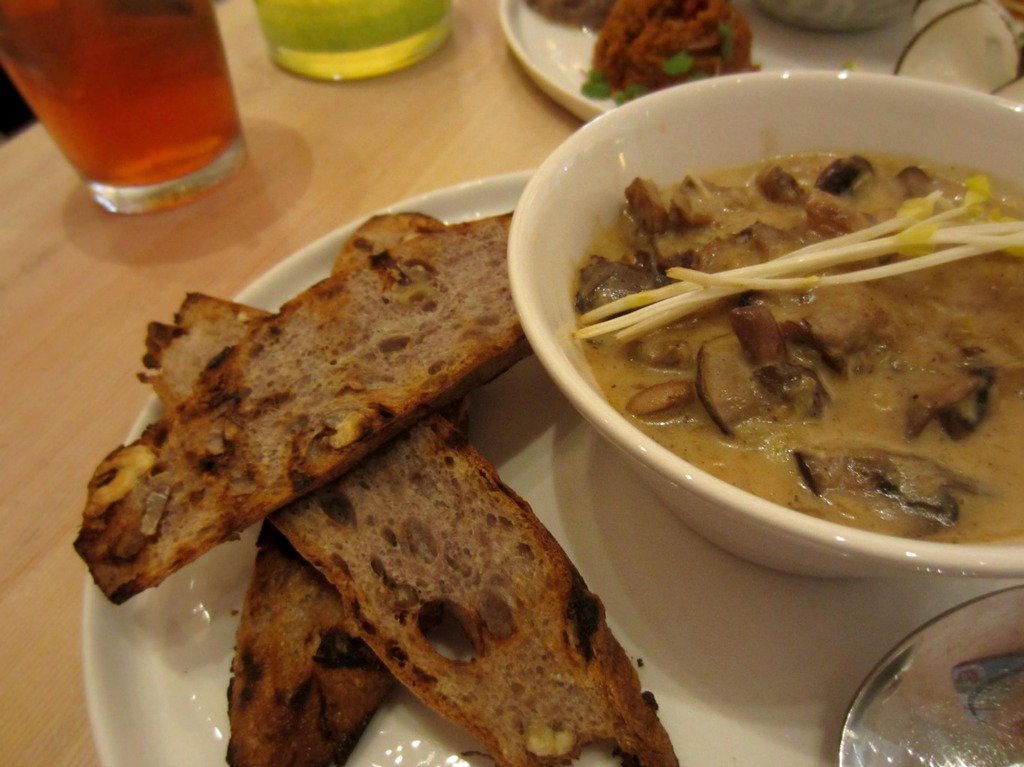 Next up was the Mushrooms ($12.50) .This was by far the best dish of the night! The combination of coconut cream, fennel, garlic, dry cider, and shiso really showcased the earthy flavours of the wild mushrooms. The walnut onion baguette was also nice and toasty which made for a terrific fungi scooper.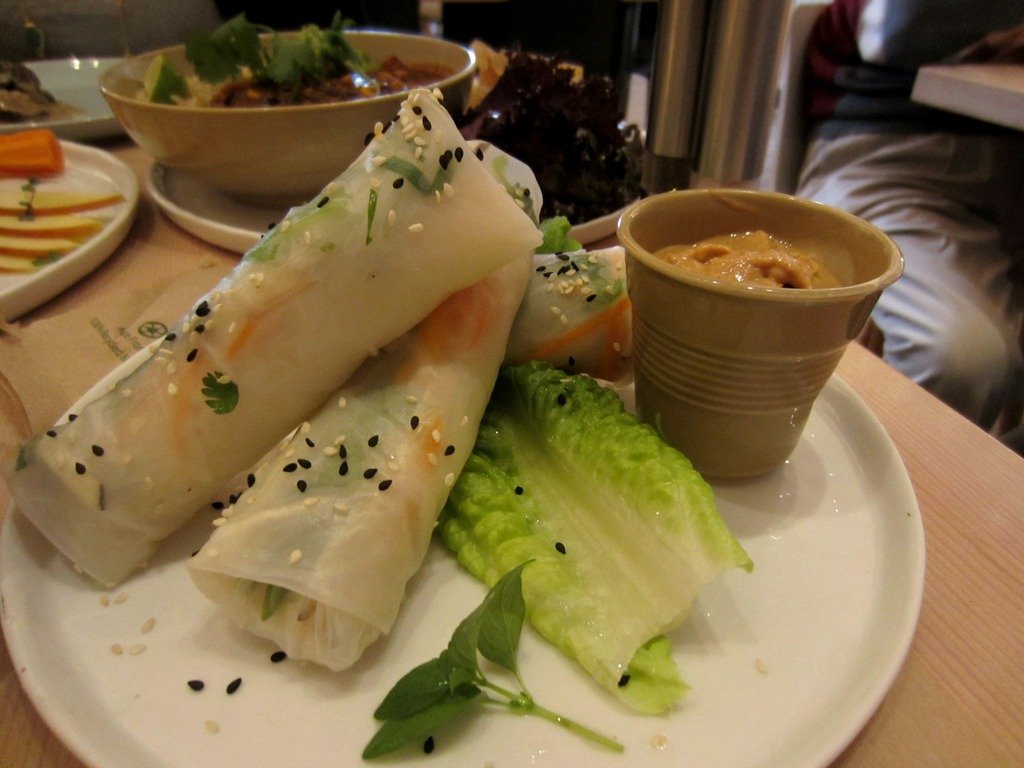 Although it looks mighty colourful and visually appealing, the Spring Rolls ($11.75) were surprisingly disappointing. The vermicelli took up most of the spring roll and it was way undercooked. Also, the sweetness of the yellow peppers threw me off a bit and didn't work quite well with the peanut sauce.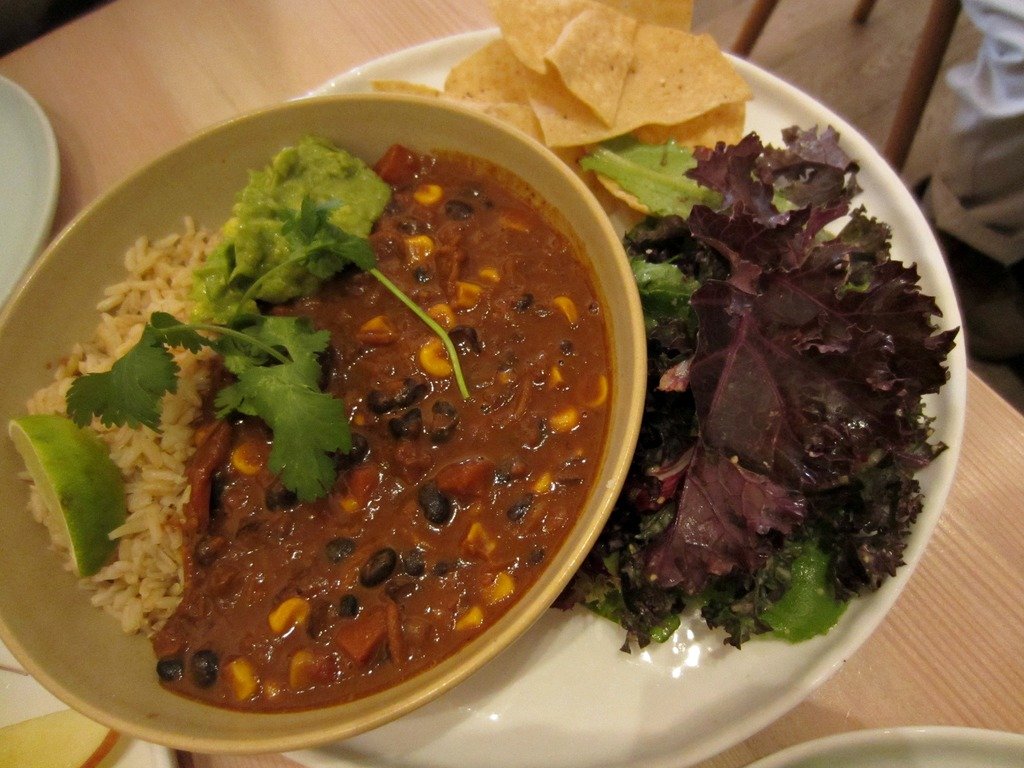 Last but not least is the Chili ($16.50) and it came with basmati rice, tortilla chips, and a side salad. This was quite enjoyable but it was not stellar enough to warrant the price.
Based on these reasons:
nice place to take a date to
vegetarian, gluten free, and vegan options
easy to find and tons of parking spots around
way too expensive for what it is
Service Rating: 3/5
Food Rating: 3/5
Price: $$-$$$$ ($20-40)
Happy Eating!