Soho Tea Room- Crispy and Surprisingly Juicy Potstickers
Misu told me about this new bubble tea place that opened up on Cambie Street so we decided to come here after work a few nights ago. Upon first glance, I quickly realized that Soho is a sister restaurant of Flo Tea Room. Even the font of the logo is the same!

We shared the Salt and Chili Chicken Knee ($6.00) and it was pretty good. The chili gave the chicken knee a good kick without making us breathe fire. I think the dish would have been perfect if they fried it a little bit longer to get a better crisp on the batter.
Soho Tea Room has been advertising their 6 pcs Pork Potstickers ($5.00) and they have also been quite well received by diners according to their reviews. Even when ordering these, I was a little skeptical since I expected them to be store bought and pan fried from frozen.
I was pleasantly surprised by the juiciness of the potstickers and the crispy skin. The quality of these potstickers were comparable to ones you'd get at a Shanghai restaurant. Thumbs up!
Both Misu and I ordered the Coconut Taro Smoothie ($4.50). It took FOREVER for it to come out but it was rather creamy, smooth, and delicious. Okay, long story short. It took over 35 minutes for any of our food or drinks to arrive and we had to rush them twice. We were frustrated with the slow service and I personally was ready to cross them off my return list, but then, something miraculous happened. To apologize for their lack of service, they didn't charge us for one of our drinks!! This NEVER happens to me at an Asian restaurant as it is pretty much an unwritten rule that you will never get compensated for poor service.
Sure their service was slow. But overall, the food was decent, the smoothie was delicious, and they acknowledge and apologize for not-up-to-par service which is extremely rare at bubble tea restaurants.
Service Rating: 2.5/5
Food Rating: 3.5/5
Price: $-$$
Overall Rating: 3/5
Happy Eating!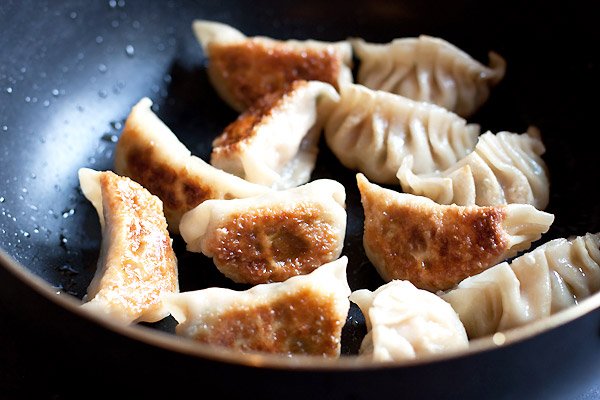 courtesy of http://rasamalaysia.com/gyoza/