Slickity Jim's Chat 'N' Chew- Fun Gus and Sweet Fancy Moses
Slickity Jim's Chat 'N' Chew is a little place located on
Main street. I came here with the girls before I left for international
exchange and we were surprised to see a line up forming in front of the
restaurant for brunch.
I did try this place out for dinner one time and
I thought it was a pretty neat place. The interior is funky and the
names of their dishes are definitely unique.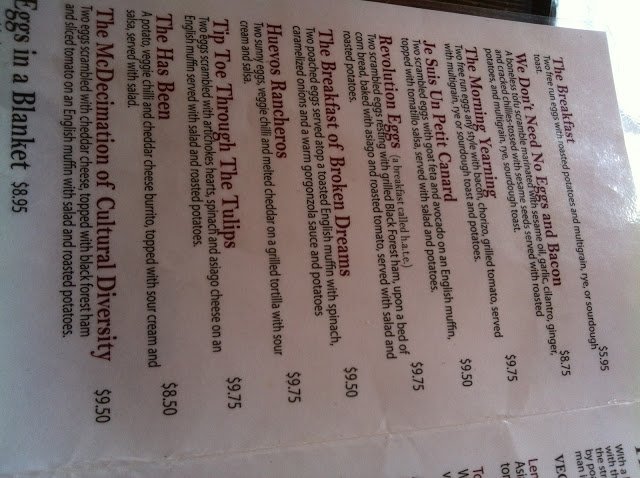 We took forever choosing what to eat because everything
sounded so delicious! It's the innovative names I tell ya! Great marketing
strategy!
I chose the Fun Gus
($11.00) eggs benny and it came with sautéed mushrooms/ bacon atop two
poached eggs, English muffins, and lovely hollandaise sauce. I wanted to
substitute the roasted potatoes with grilled tomatoes but sadly they didn't
have that option. 🙁
The eggs were perfectly poached and had a really runny yolk
which is my favourite, however, I wasn't completely blown away by this dish. I
thought they could have been more generous with the mushrooms and bacon. As
well, there was not a lot of hollandaise sauce and that usually is my favourite
part of eggs benny so I was a bit sad.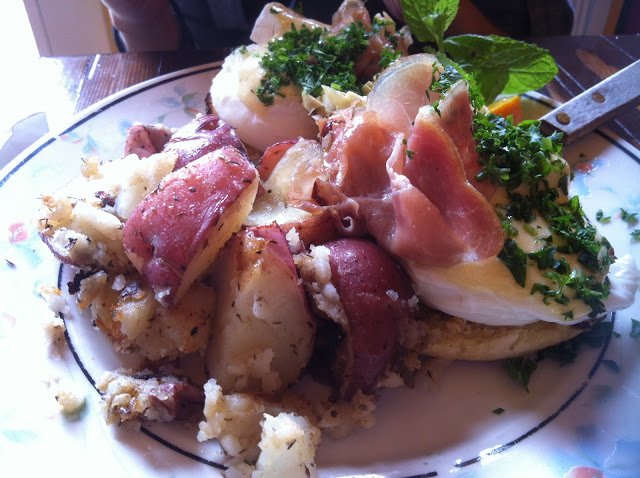 The Sweet Fancy Moses
($11.00) consisted of prosciutto, brie, and artichoke as toppings. FW thought
it was pretty good as hers seem to have more toppings.
Overall, the ingredients looked fresh and it tasted good.
However, this would probably not be my go-to eggs benny place.
Because of these reasons:
dishes are a hit or miss

not enough hollandaise sauce! :'(

unique and interesting concept and atmosphere

prepare for line ups and long wait times for food
Service Rating: 2.5/5
Food Rating: 3/5
Price: $$ ($10-20)
Overall Rating: 3/5