Gin's Kitchen & Cafe- Fails To Impress
Trixie told me about this new sort of "hole-in-the-wall'
restaurant in Richmond that supposedly had really cheap $4.95 lunches. Since we
were both feeling particularly cheap that day, we decided to try it out.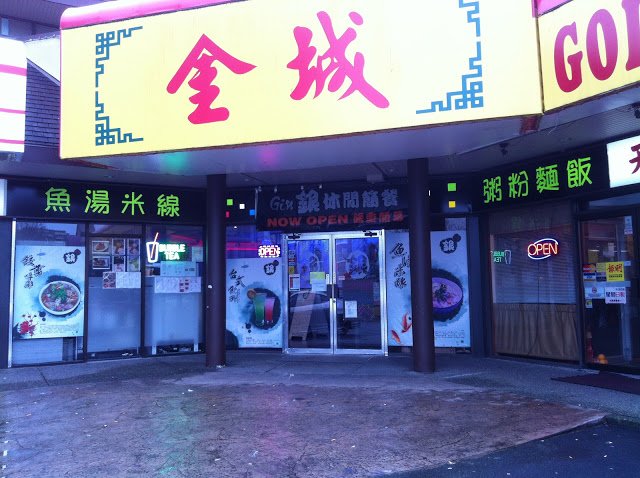 Upon first glance, it really did look like a
hole-in-the-wall. The name of the restaurant (in English) is not visible and it
is squished in between two larger establishments so you probably wouldn't
notice this restaurant at all when walking by.
The interior looked a lot prettier than I imagined and it reminded
me of Liu's Taiwanese Restaurant (
post
).
We first ordered a
Matcha
Green Milk Tea (~$3.75)
to share. When it arrived, both of us could already
tell that it wasn't going to be good. Isn't Matcha green milk tea suppose to be
green? I guess this goes to show that they don't use real Matcha powder.
Regardless of the colour, the drink was incredibly watery, flavourless, and
downright bad. It tasted exactly like the Matcha green milk tea I had at Accord
Food House (
post
).
I ordered the
Curry
Beef on Rice ($4.95)
but it was a MAJOR disappointment. The 'yellow sauce'
tasted so bland that it might as well be called 'white flour sauce dyed yellow'.
Trixie ordered the
Chicken
Steak with Instant Noodles in Soup ($4.95)
and this dish specifically
indicates that it will need 20 minutes to prepare.
Trixie said she tried the chicken steak here before and
thought it was quite delicious.
The chicken steak was indeed quite good, but it did not blow
me away. The chicken steak was overall quite oily and I would have preferred a
little bit more crispiness from the skin.
I guess for $4.95, you get what you pay for. The service was
a bit slow during our whole meal and the food was disappointing so I doubt I'll return. If I hear they have improved, then MAYBE I'll give them one
more try.
disappointing drinks (not cheap either)

don't order the Curry Beef on Rice

inexpensive and cheap lunch
Service Rating: 2/5
Food Rating: 2/5
Price: $
Overall Rating: 2/5