Victoria Chinese Restaurant- Better Stay Away And Go Elsewhere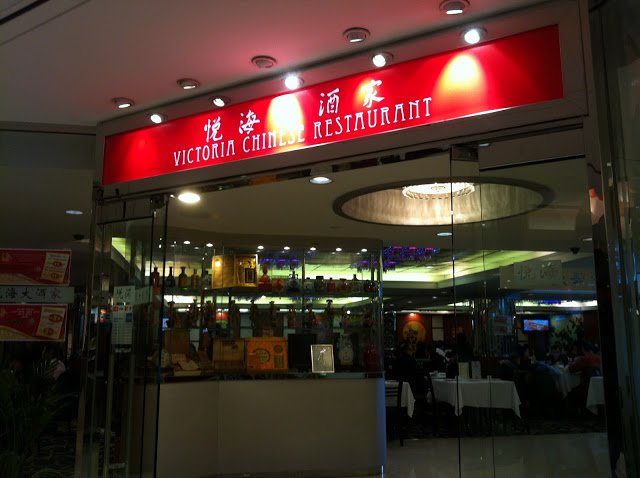 Victoria Chinese Restaurant is located in the same complex
as the Hyatt Hotel and I heard it used to be a very grand Chinese restaurant a
decade or so ago. I was excited to try this place for dim sum, but it failed me
and it is nothing compared to the better dim sum restaurants in
Vancouver/Richmond.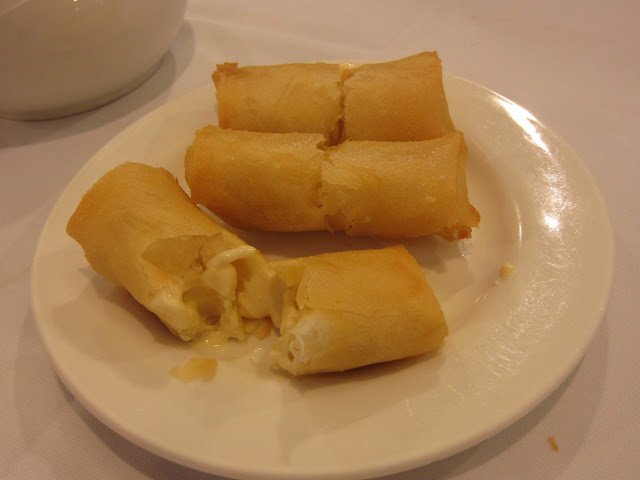 Tea is $1.25 per person which is reasonable. First came the
Shrimp Salad Roll ($4.65) and when this landed on our table, I was taken aback
by how there was absolutely no garnish on the plate. I really am not a picky
person when it comes to dim sum, but if it costs five bucks, I
expect it to look a little more presentable than this.
The spring roll skin was crispy and nicely fried. The filling
however was pretty bad. All I could taste were globs of heavy mayo and there
were barely any shrimp.
On their menu, this is called Shrimp Cannelloni ($6.75) but
most people may know this as "shrimp in rice roll" or something like that. As
you can see from the picture, there is clearly a reoccurring theme of
unimpressive presentation. This was ok but definitely not worth $6.75.
We saw many tables order the Pan Fried Pork Dumpling ($5.25) so we gave it a try. It came with red vinegar for dipping.
The dumplings looked great and were pan fried to a crisp on the bottom. I quite enjoyed it but it wasn't anything spectacular.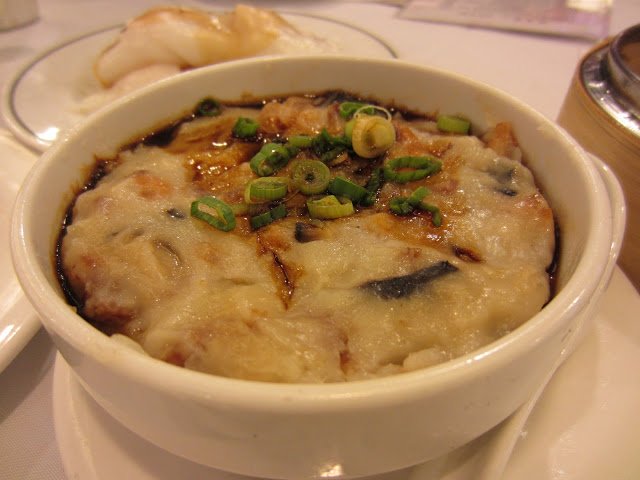 I liked the Steamed Turnip Pudding ($4.95) because it had
good large chunks of turnip inside as well as preserved sausage, Chinese
mushroom, and dried shrimp. I think this would have been better stir fried with
XO sauce but this is a good healthy alternative.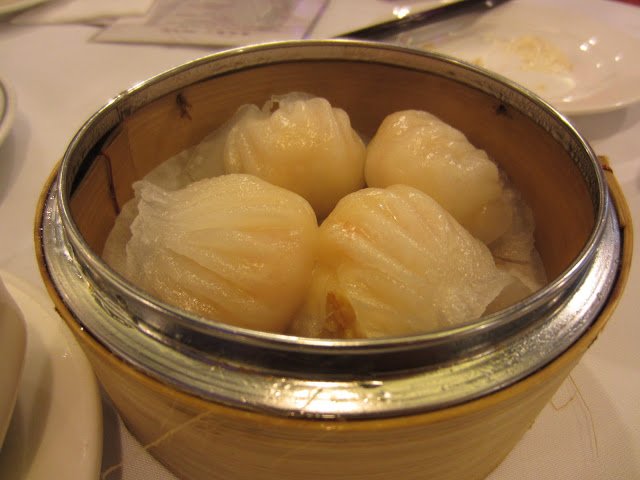 Their Shrimp Dumpling ($5.25) was a major disappointment.
The skin of the dumplings stuck together and tore before we even touched it,
and instead of being soft and chewy, they were hard and dense. Usually at dim
sum restaurants, the staple items are Har Gow (shrimp dumpling) and Siu Mai
(pork dumpling) so I feel like if you can't even get these two items right, I
don't have much confidence in any other dishes.
For carbs, we ordered Steamed Pork Ribs on Rice ($5.95). The
black beans complemented the spare ribs and the sweet soy sauce gave the rice a
good flavour.
I didn't try the Pan Fried Pork Pot Stickers ($7.95) so I
can't really comment on it, but from the looks of it, the skin was thick and
dense.
For dessert, we gave the Sweet Glutinous Rice Dumpling
($4.35) a try and it is essentially a mochi ball filled with black sesame paste
and rolled in finely crushed peanuts.
These were served warm so the black sesame paste was gooey
and melty when I bite into it. Overall it was good… but it could not
compensate for the other bad-to-mediocre dim sum dishes. There are soooo many better dim sum restaurants out there so I definitely will not be returning.
very inattentive service

better stay away if you want good quality dim sum

prices are not cheap considering the quality

a few dishes are ok: sweet glutinous rice dumplings and pan fried pork dumpling
Service Rating: 2.5/5
Food Rating: 2/5
Price: $$
Overall Rating: 2/5
<– now that's nice presentation