Pinkberry (Metrotown)- It's Cute, It's Tasty, It's a Bit Pricey
Pinkberry just opened up a new location at the Metrotown
food court and I went (on two occasions) to try out how their frozen yogurt
compares to the other franchises like Qoola and Yogen Fruz.
Their store and colour scheme looked so cute! Quite girly
too in my opinion 😛 Clearly females are their target market.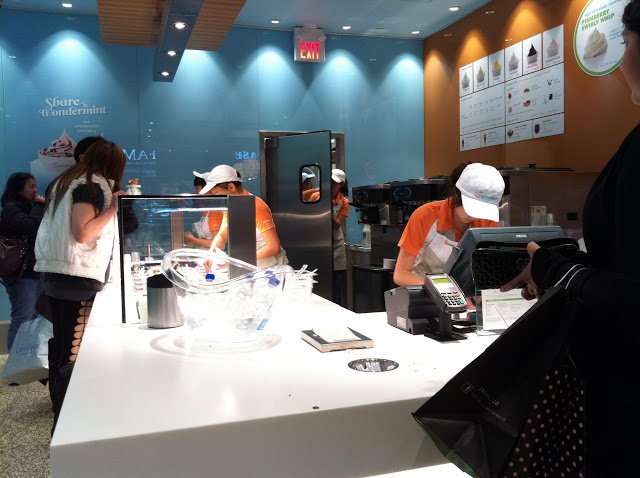 The line starts at the end of the row and you first choose
your flavour of frozen yogurt, then your toppings, and then you pay at the end.
They have a variety of very delicious toppings to choose
from! The way they work is that when you choose a size, you also have to choose
whether you want "toppings" or not. If you choose "toppings", then you get to
pick whatever toppings you want so as "it fits in the cup comfortably". They have a bunch of cut up fresh fruit, mochi, swirl
pearls, chocolate pieces, brownie bites, syrups, waffle pieces, etc.
On my first visit, I ordered the
Mini ($2.95)
size because I only wanted a small snack. It came up
to about $3.50 with tax and I thought it was a pretty good deal because I got a
lot of toppings with my yogurt! I chose
green
tea
as my flavour and
mochi (as
always), two types of swirl pearls (same as the Qoola ones- post here), a waffle
piece, and chocolate shavings
as my toppings.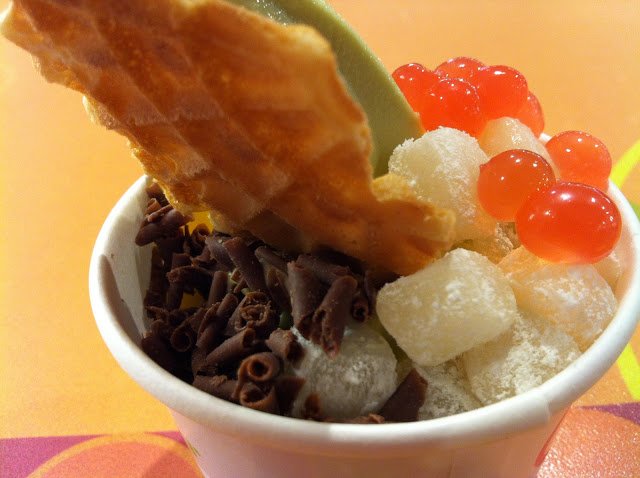 The yogurt at Pinkberry tasted more tart to me but I'm not
sure if it's their yogurt base or the green tea flavour. I liked it though. The
ingredients were all fresh and I liked how the swirl pearls popped in my mouth!
It's so fun. 😀
On my second visit, I came here with Meta Knight and we
ordered a Small ($5.55) size to
share. Boy, what a difference in price!! It came up to around $6.50 with
taxes… it's almost double the price of the Mini and only a tiny bit bigger in
size! Not happy. She also didn't swirl it as high as the other person from my last visit. I know, I'm very picky when it comes to frozen yogurt.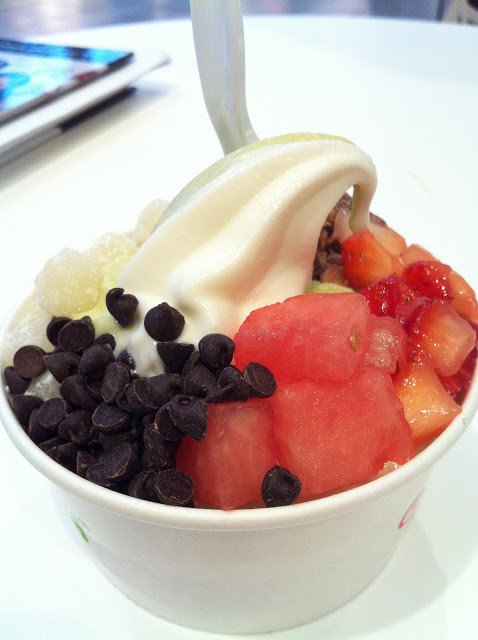 We chose a
green tea
and original swirl
for the flavour and
mochi,
chocolate chips, "health bar"(tastes like Skor), fresh strawberry, and fresh
watermelon
. We both enjoyed it but did not think it was any
better than Qoola in terms of taste. As for the prices, Qoola is definitely
cheaper and you get to do-it-yourself which is always fun too as you can adjust
everything to your taste.
pretty much the same as Qoola

a great variety of toppings and fresh fruit

prices are a bit steep (unless you get the Mini size!)

nothing particularly special


Service Rating: 4/5
Food Rating: 3/5
Price: $
Overall Rating: 3/5