Osa Tako Hero- Pretty Good Takoyaki
Osa Tako Hero is a new food cart that opened not too long ago and they specialize in only one thing. Takoyaki. The food cart is quite cute and has a bunch of signs with cartoon animation on it.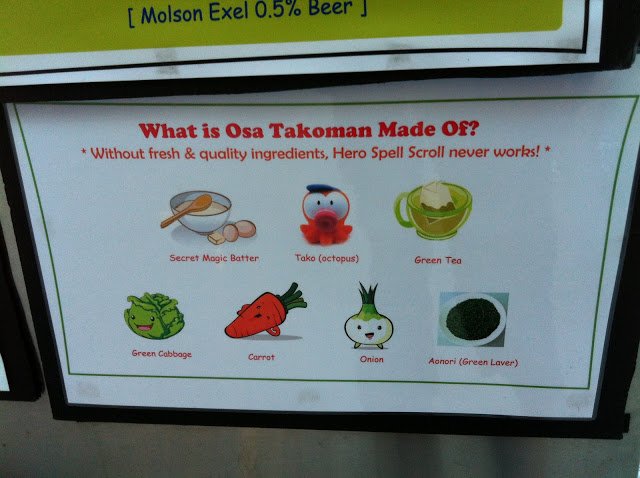 Their Takoyaki is made of: Secret Magic Batter, Tako (Octopus), Green Tea, Green Cabbage, Carrot, Onion, and Aonori.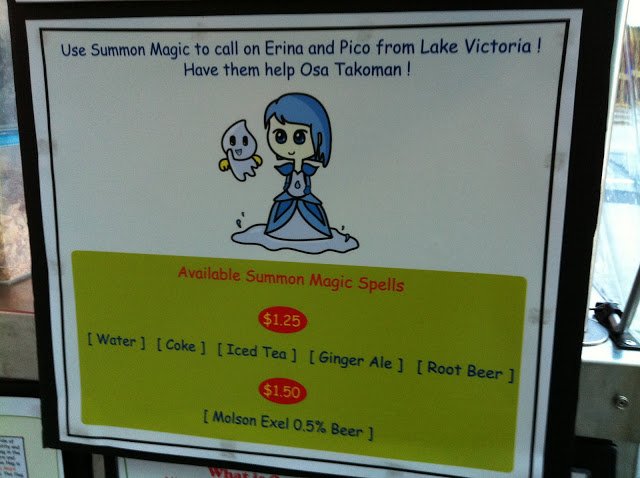 I found it unique that the concept for their food cart is like a Super Mario Game (or something like that), however, it can get a bit confusing. It actually took us a while to find out how the ordering process worked.
Rae, Yoshi, and I ordered 7 "Heroes" aka Takoyaki for $4.75. What a deal! I remember Richmond Night Market selling them for much more and it wasn't particularly outstanding. We chose Spicy Takoyaki Sauce and Osa Mayo and the Dried Shredded Seaweed as the topping.
They were very generous with their nori (seaweed). 🙂 However, all three of us expected the 'nori' to be Aonori which is seaweed in powdered form, not strips. I know they already sprinkled some Aonori on top of the takoyaki, but I think I would have liked it better if they put more and used Aonori as an actual topping.
The takoyaki was cooked perfectly and the spicy sauce had a nice kick to it. Actually, I take that back. It was a nice kick to Rae and Yoshi (since they love spicy stuff), but it was more like a smack in the face for me.
Overall, I enjoyed the Takoyaki and I would come back to Osa Tako Hero again. I think this would make for a great snack or a light lunch.


Based on these reasons:
affordable

tastes very authentic

located outside the Tim Horton's at Pacific Center
Service Rating: N/A
Food Rating: 3/5
Price: $
Overall Rating: 3/5