Roaming Dragon Food Truck- Korean Short Rib Taco!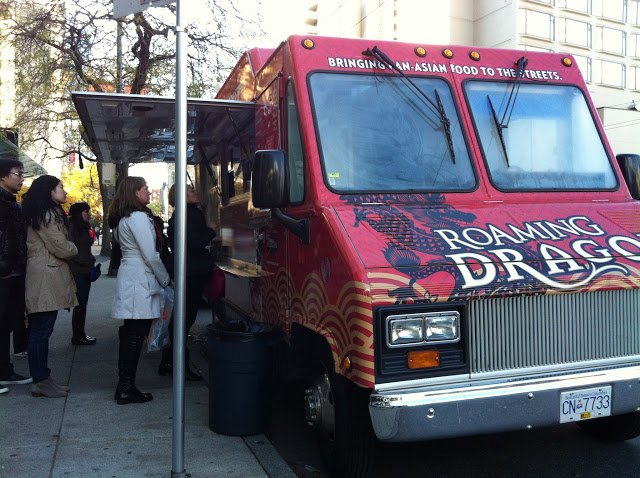 I remember hearing of Roaming Dragon ever since the food
cart craze hit Vancouver because there was so much hype and every food blogger reviewed it. Heck, they were even
featured on the Eat St. program on the Food Network! However, even with all that hype, I never cared
to try it out, until last week with Rae and Yoshi.
I wasn't sure what to
expect from their menu because I didn't know if the food was Asian fusion or "authentic"
Asian. They have a few interesting items like Fried Rice Balls, Roaming Dragon
Sub, Chinese Pork Slider, and Lychee and Basil Lemonade.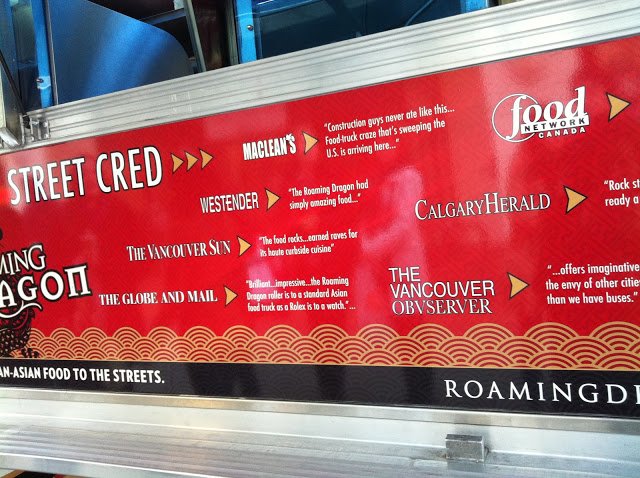 They have quite a bit of street cred and reading that made
my expectations even higher lol.
We decided to share the
Chinese Pork Slider (2 for $5.00),
and
Korean Short Rib Taco ($3.00).
For about nine dollars with tax, we were a bit underwhelmed
with the amount of food we received. However, once we actually tasted the food,
we didn't feel as bad.
The pork sliders were puny but the steamed bun was
incredibly soft and pillowy and the braised pork was very flavourful. I especially
liked the contrast between the refreshing pickled cucumber and the strong hoisin sauce.
The Korean short rib taco was definitely a winner. There was
tons of great flavour in every bite and all of the components (bean sprouts,
carrots, shitake mushrooms, sauted spinach, seaweed…etc) worked every well together. I enjoyed this
very much.
Overall, their food is unique and it is definitely worth
trying out when in the Vancouver area. However, it's a bit pricey so if you want
to have a filling lunch, I'd recommend spending your 9 dollars at Mom's Grilled Cheese Truck instead.
near Granville and Burrard Skytrain station

interesting Asian fusion items

their Korean Short Rib Taco is a must!
Service Rating: N/A
Food Rating: 3.5/5
Price: $
Overall Rating: 3.5/5
<– yummyyyyy!