Re-Up BBQ Foodcart- This Is The Famous Pulled Pork Sandwich?
Continuing on the food cart binge that Rae, Yoshi, and I had
a few weeks earlier, we stopped by The
Re-Up BBQ. I told them this cart was famous for their pulled pork
sandwiches (from what I heard and read online). I had never
actually
tried their pulled pork, but because it was highly reviewed and talked about, it expected it to be a for-sure-win. Oh
how wrong was I.
There was only one person running the truck and she was in
charge of collecting money and making the food. I wasn't surprised that
everything was pre-made because it IS a very
small truck with limited cooking space. However, seeing pulled pork come out of a container didn't really
wet my appetite.
They sell only three items at this food cart, Pulled Pork
sandwich, Beef Brisket sandwich, and Sweet Tea. We opted for 2 Pulled Pork sandwiches ($7.00). One for
Yoshi, and one for Rae and I to share.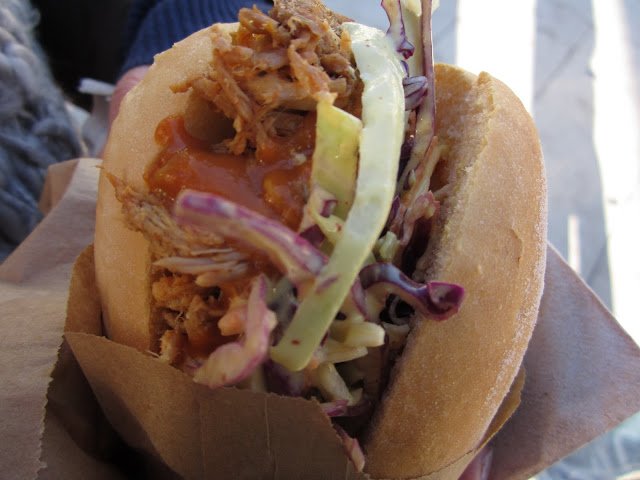 So, where do I begin? Let's start on the bread. Rae, Yoshi,
and I all thought the bread was tough, dry, and cold. Just warming or toasting
the bread would have made a world of difference which is a shame. The pulled
pork was honestly quite uninteresting. It wasn't bad, but I have had wayyyy
better pulled pork elsewhere. The pork might have tasted better if there wasn't
so much bread because it dried up all the moistness from the pulled pork and
BBQ sauce when it was in my mouth.
The coleslaw was alright but I found the dressing to be a tiny
bit too sour. Needless to say, all three of us were quite disappointed by this
food cart and we immediately went over to Mom's Grilled
Cheese Truck for something better.
did not live up to the hype of "awesome pulled pork"

bread is too tough and dry

located in the UBC Robson Square

many people raved about this sandwich so my experience could have been the exception
Service Rating: N/A
Food Rating: 2/5
Price: $
Overall Rating: 2/5
<– Memphis Blues has AMAZING pulled pork!