Gyo-O (Re-visit)- Fresh Seafood, Authentic Ramen, Mouth-watering Dons
Ever since G-men closed down, I've been searching for
another great ramen place in Richmond. I know G-men eventually combined with Nan
Chuu, but I've heard from numerous people that the quality of their ramen has
gone down. I remember seeing ramen on Gyo-o's menu and thought I'd give it a
try with Trixie during lunchtime.
We started off with the ever so yummy
Tako Wasabi (~$3.50)
. Both Trixie and I found this to be an
excellent appy to chew on while we wait for our main entrees. 😛
Trixie ordered the Seafood
Yukke Don ($10.00) and it came with a side of miso soup.
The don contained chopped tuna, salmon, squid, fishcake,
Tako Wasabi, a runny poached egg, and sweet soy sauce.
The entire don was huge and absolutely mouthwatering! The egg is barely poached so right when u give the teeniest of pressure, it'll
explode into a lava of gooey eggness.
Once the egg and all the toppings are mixed with the rice,
it will look like this, which isn't much. But your taste buds will differ. 🙂
I ordered the
Seafood
Tonkatsu Ramen ($9.50)
because I was craving a hot bowl of noodles. There
were quite a few squid rings, one clam, two to three shrimp, seaweed, and green
onion.
I have never had seafood ramen before so I was surprised to
taste the shockingly pungent seafood flavour in the broth. The seafood flavour
was so pungent that it can either make you fall in love, or turn you off because
of the so-fresh-you-almost-taste-the-seafood-market type of taste. I personally loved the seafood flavour so I will definitely be returning for this in the future.
I noticed they were also selling pre-packaged
macaroons
(
$4.00)
from Chicco so I grabbed a bag. The bag contained six
macaroons, two of each flavour (strawberry, green tea, and chocolate).
I am so disappointed to say that these macroons were
horrible. They tasted stale, not at all soft on the inside, and very crumbly. Macaroons
are suppose to have a harder shell on the outside and a soft center with a
gooey filling, but I got none of that.
The colour of the green tea macaroon was a little too neon
to look natural, and the tea flavour tasted artificial.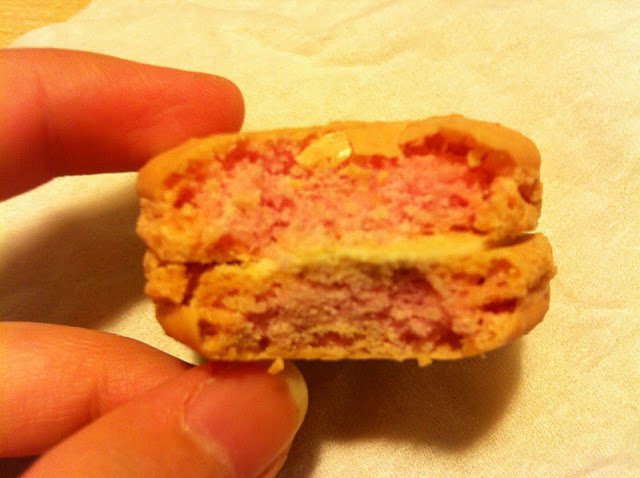 The filling from the strawberry macaroon was like hardened
cream or something. It tasted very off.
authentic, delicious ramen!

everything on the menu is quite reasonably priced

always fresh seafood (as always)

just don't get the macaroons 😛
Service Rating: 4.5/5
Food Rating: 4/5
Price: $-$$
Overall Rating: 4/5

(would have been 4.5 if not for the macaroon!)
Happy Eating!