Red House- Another Average HK Style Cafe
Red House is located on Hazelbridge road in Richmond, and is the
replacement of the previous "Boston Steakhouse". Their decor and menu seemed
pretty much the same so I don't know what was improved or different except
their name.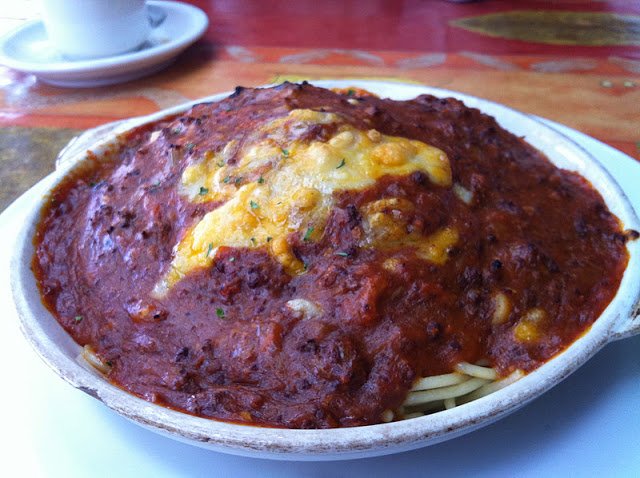 Kirbro had their

Baked

Spaghetti Bolognese ($7.95)

and he said it wasn't that good.
His standards are pretty low already so if he said it's not good, it probably
is pretty bad.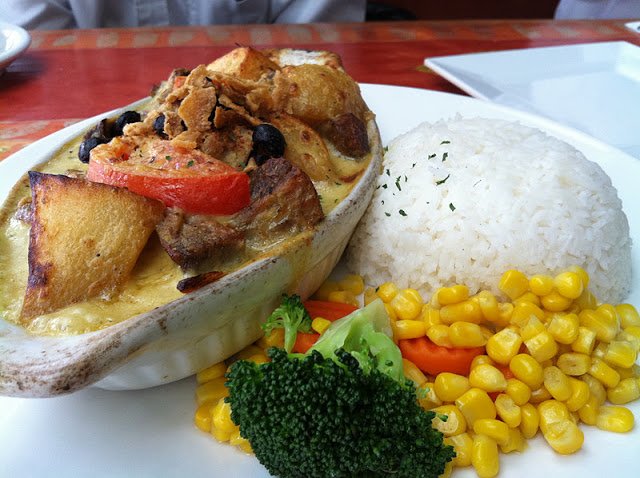 I had their

Baked
Portuguese Style Lamb with Rice ($7.95)

and
it was surprisingly very tasty! I particularly liked the tenderness of the lamb
and the fact that it wasn't gamey. The one thing I didn't like, or wish they
could improve on, were the raisins they sprinkled on top of the dish. They got
burnt in the oven (since this dish is baked) so they taste like little blobs of
charcoal. Other than that, I'd recommend this dish. 😛
This is the Baked
Portuguese Style Chicken with Rice ($7.95). It's essentially the same dish
as one above except the meat is chicken. Again, you can see the little 'blobs
of charcoal'. LOL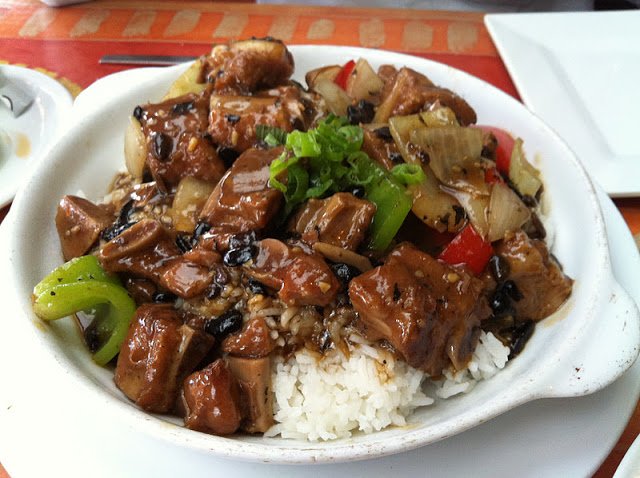 Another dish that exceeded my expectations was the Spare Rib w/ Black Bean Sauce on Rice.
I am not 100% sure if that's the exact name, but it's probably close to it.
This dish was very flavourful and not overly salty.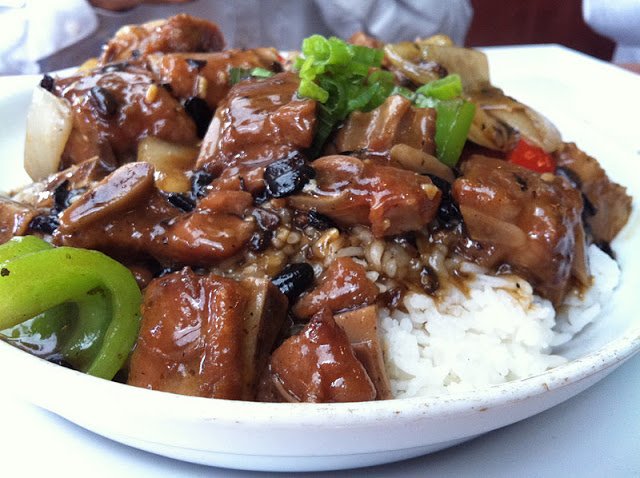 The spare ribs were
plentiful and very tender (same as the lamb).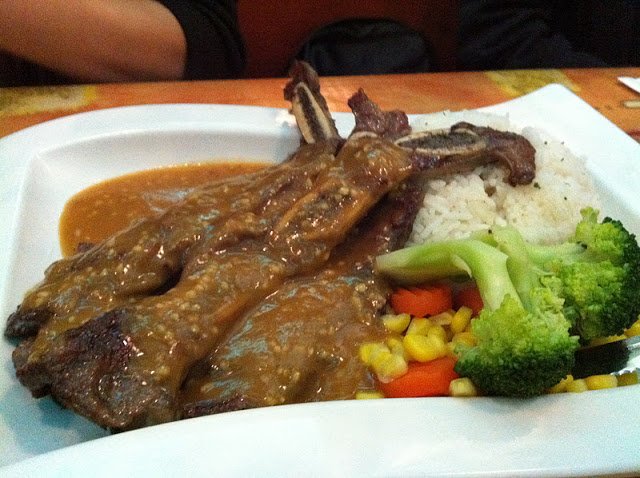 I gotta say, if you want a
lot of meat for cheap, come here. When I saw Kirma's order of Barbequed Garlic Short Ribs on Rice ($7.95),
we were both surprised at the amount of meat they gave for a 7.95 dollar dish.
She had three full 'strips' of the short rib which resulted in her eating half
and giving the rest of them to my brother and I.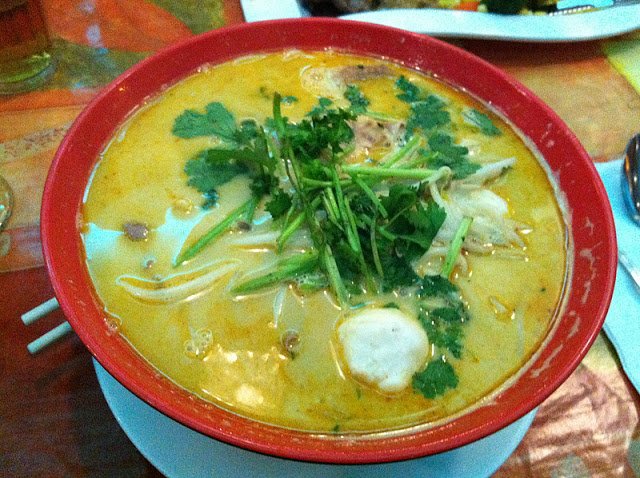 At Red House, they have the ever-so-popular, Choose Your Own Noodle Combo (~$8.95)
(started by
Deer Garden
) where
you get to choose three toppings, a soup base, and a type of noodle. I chose
Laksa as my soup base, rice noodle as my carbs, and taro, squid balls, and beef
tendon.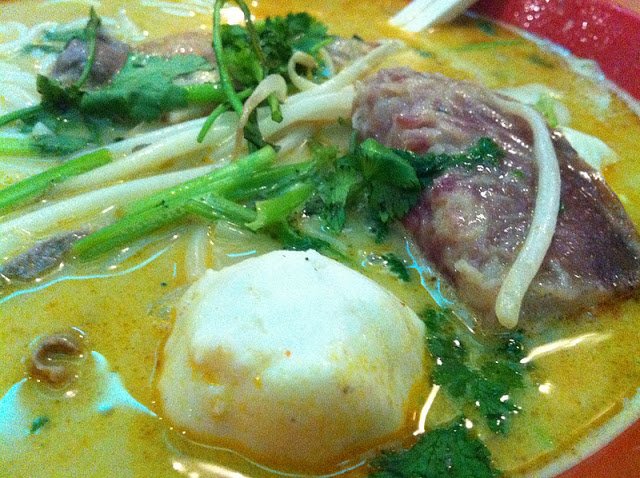 The Laksa broth was not overly spicy and had nice hints of coconut
in it. I was glad to see that the taro was not too mushy and that the squid
balls were pretty fresh which gave them a bouncy, chewy texture.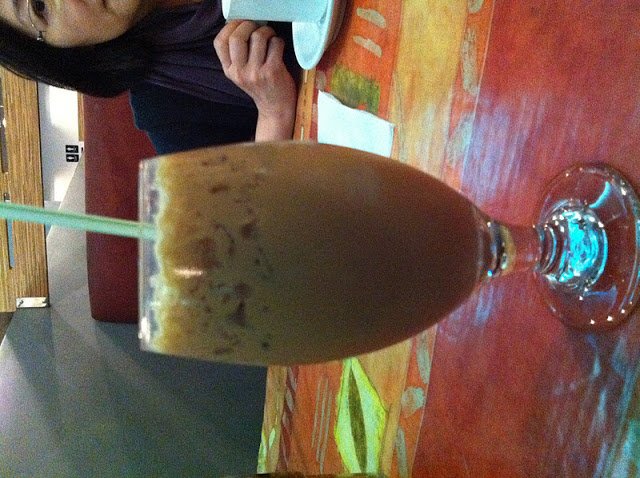 It comes with a drink so I got Iced Milk Tea. It tasted nice, pretty average.
Kirbro ordered this crazy "Red
House Meat Platter (~$16)" or something like that which consisted of a
sausage, fried fish cutlet, beef steak, two chicken wings, a pork chop, and
a chicken fillet on a hot iron platter. This is definitely for the true
carnivore out there.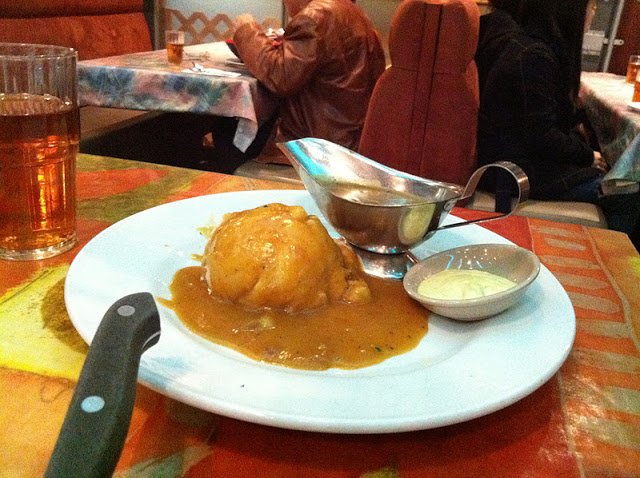 And of course, the meaty meal would not be complete without mashed
potatoes and gravy. It also comes with a free drink.
affordable prices

give you bang for your buck (in terms of meat at least)

they have enormous booths which make them super comfy to dine in 😛

average HK style cafe
Service Rating: 3/5
Food Rating: 3/5
Price: $-$$ (less than $20)
Overall Rating: 3/5
<– so much meat =.=