My Take on Ddukbokkie (Korean Spicy Rice Cake)
I have been a little obsessed with watching Korean dramas lately and therefore have been craving Korean food every time I see it on screen! 'You know you are a glutton when..' lol 😛
One Korean snack I found particularly interesting was the Ddukkbokkie which is rice cake in a hot and spicy sauce. It is typically eaten as a snack but if you add more fillers such as vegetables, fish puffs, tofu skin, etc, it can also become a meal… which is what I have done.
Trixie and I followed the recipe from Maangchi but modified it a bit to fit what I had in my fridge. I wanted to use traditional Korean rice cakes which are shaped in long tubes, but since I had the sliced ones in my freezer already, I reluctantly substituted them for the tubes. So yeah… that's why it doesn't look very authentic 😛
I first took out some frozen fish puff and oyster mushrooms.
Then, I soaked the fish puff along with the frozen rice cake and fish cake in water to thaw it out a bit.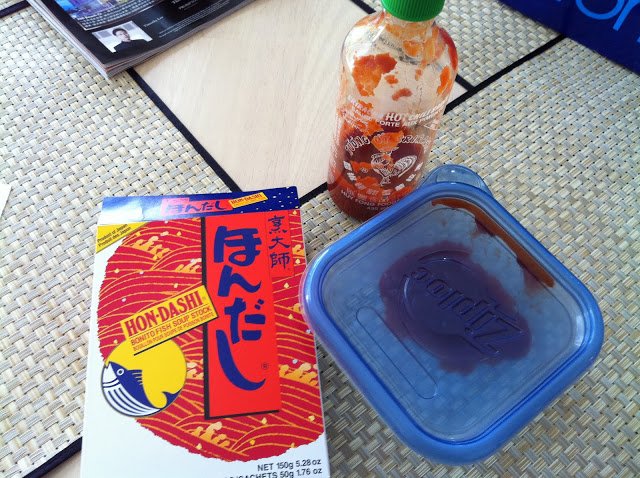 My version of Ddukbokkie did not have the vibrant red colour you normally see in authentic Ddukbokkie because I didn't use the Korean red pepper paste. I
nstead,
I used the Chinese hot chili paste (as shown in the picture). I also used Hon-Dashi to make the broth because I didn't have any dried anchovies, which is what you are suppose to use. If you are wondering what is inside the Ziploc container, it's just ketchup. But uh..don't ask me why it was in there 😛
I garnished it with a little bit of green onion and Ta-Da! Ddukbokkie makes great comfort food and it always warms you up inside. 🙂 Because this version wasn't as authentic as I'd like it to be, I won't post up the instructions for how I did mine. You can follow Maangchi's recipe! When I get better at making Ddukbokkie, I will post up a better recipe for ya'll!