Mazazu Crepe- Not Very Impressive
I don't know why, but Aberdeen Center food court is always my go to
place whenever I want a snack, quick lunch, or when I can't think of where to
eat. On one particular day, Trixie and I headed over to Aberdeen food court
(once again) to get a snack at Mazazu Crepe.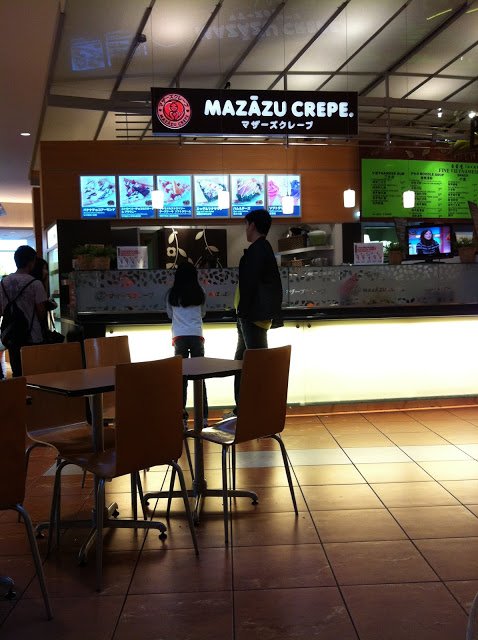 Mazazu Crepe is known for their unique Japanese style
"cheesecake" and "brownie" crepes. I've had them before and
I didn't find them amazing to be honest, so I just normally stick with their
normal crepes.
No matter how many times I've seen this display, I always take a second
glance whenever I walk by. 😛 It's just so captivating!
After a while of standing there debating on which crepe to share, we
decided on the Double Strawberry Soft Ice Cream Crepe ($4.95). We picked the "Milk" flavoured ice-cream (yeah, i know,
MILK flavoured ice-cream!) and asked for the strawberry syrup to be substituted with
chocolate syrup instead.
And… it looks like this! When the employee was making our crepe, we
both thought it was weird that she made and folded the plain crepe first, put
it in the holder, and then squeezed ice-cream into it, instead of putting the
ice-cream on the crepe first when it was flat, and then folding it. You get
what what I'm sayin'? 😛
Anyways, the ice-cream was quite good and you could really taste the
'milk' flavour. The strawberries however, were sooo lacking. Trixie commented
that we could've bought a whole carton of strawberries for the price we paid
for this crepe (which had like.. 1 strawberry sliced up). I could have also
used without the whip as it was not the fresh kind.
Service Rating:
N/A
(since this is at a food court)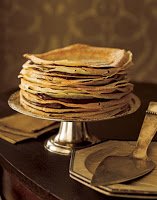 courtesy of https://www.eatingwithkirby.com/wp-content/uploads/2011/09/crepe-cake-de-1.jpg