Chez Meme- You Gotta Check This Place Out :D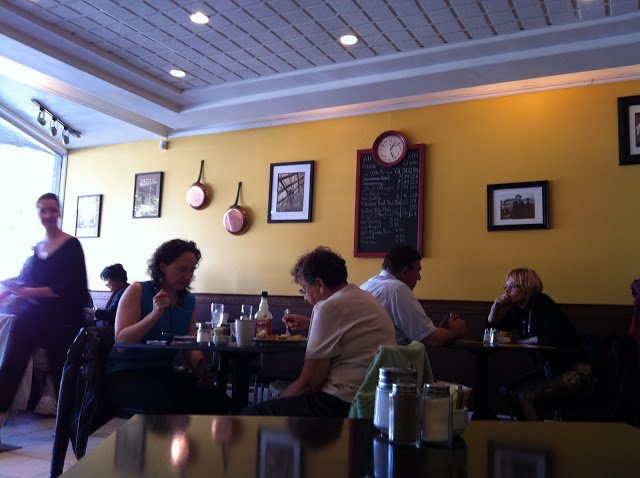 Chez Meme is a tiny little bistro on Hastings in Burnaby and they serve mainly breakfast and baguettes for lunch. Their hours are quite limited (they're only open till 3pm on weekdays) and because the restaurant seats very little, you may have to wait a bit for a table. Their service is also slow but that's because they only have one server.
I ordered the Schnitzel ($8.75) baguette and it comes with either a side salad, fries, or the daily soup. I heard about their famous "Onion Soup" beforehand so I upgraded my daily soup to the onion soup for an extra $3.00.
The Schnitzel baguette consisted of fried pork loin, lemon caper mayo, lettuce, tomatoes, and grainy dijon. The combination of all ingredients made for a delightfully light and fresh sandwich. The grainy dijon mustard gave great flavour to the sandwich and provided a slight "crunch" if you will, to each bite. And the baguette… it tasted like it was fresh out of the oven with it's crusty exterior and soft interior. Probably the best baguette I've ever had!
For those of you who like French Onion Soup, I'll let you salivate for a moment before we continue.. 😉
The Onion Soup
was sinfully delicious!! It puts the French Onion Soup I had at Applebee's (my post on it here) to SHAME. The broth was incredibly flavourful and loaded with onions, while the stringy melted Emmental cheese wrapped it all into a little present waiting to be unwrapped. 😛 Needless to say, this is totally worth the extra 3 bucks.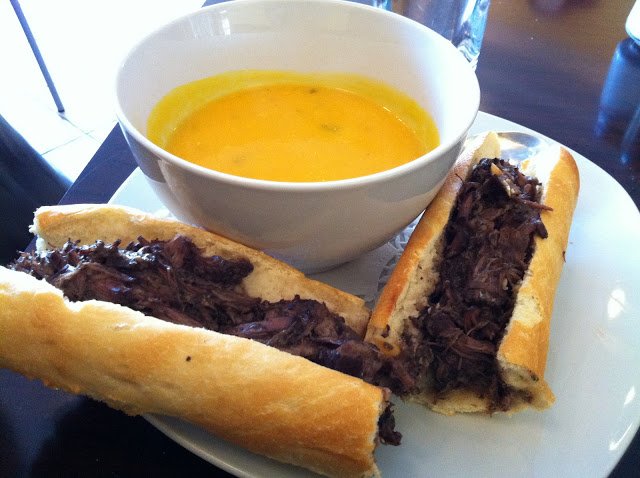 Meta Knight ordered the Bourguignon ($10.25) which consisted of boneless beef short ribs, caramelized onions, and horseradish. He got the daily soup, which was Carrot and Ginger as his side.
The Carrot and Ginger soup was very light, which was a great compliment to his heavy bold short rib baguette. The ginger really stood out but it didn't overshadow the flavour of the carrot.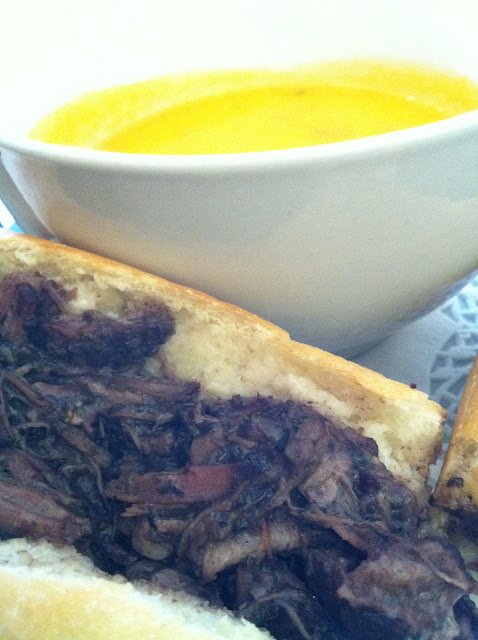 Meta Knight absolutely LOVED this sandwich. He initially tried my sandwich and thought it was great, but once he took a bite out of this, his eyes lit up and said "O.O Move aside, Schnitzel". I agree with him, this sandwich was "da bomb"! Even though I don't normally like the taste of horseradish, it was an amazing complement to the short ribs and gave my palate a little "kick".
slow but good service

amazing baguettes and onion soup

you are greeted with a beautiful "Bonjour!" hehe

free parking at the back
Service Rating: 3.5/5
Food Rating: 5/5
Happy Eating!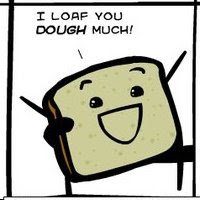 courtesy of http://www.facebook.com/pages/I-Loaf-You-Dough-Much/297357845812