Bubble World- Huge Portions, Great Price
Ever since Bubble World opened up a new location in Richmond, my friends and I have deemed it our go-to bubble tea place! Their food is pretty good and it gives us great value for its price. Therefore, it is no surprise that when Meta Knight, Dup, Cupcake, Tea, and I picked up Dirtygirl from the airport a few weeks ago, she suggested we go there to eat.
Cupcake ordered the Milky Mango Ice Cream Slush ($4.95) and it was delicious! It's creamy, not too sweet, and has great mango flavour. The huge portion (and cute mug) didn't hurt either. 😛 Btw, I have also had the Milky Mango Slush without ice-cream before and I love it just as much!
Meta Knight and I shared the Milky Brown Rice Macha ($4.45). I asked for less sweet but I believe they forgot because it still tasted really sugary. If you normally like the brown rice tea, you will love this milk tea version of it.
Meta Knight and I also shared the Deep Fried Chicken Knee ($4.95). They had a good amount of chicken in there and the chicken-to-cartilage ratio was also pretty good (does that sound gross? lol).
Tea ordered the Shredded Pork and Pickles Noodle in Soup ($4.95) and she liked it a lot! Honestly, I don't know any other bbt place that can give you a giant bowl of noodles for $4.95 so that is why I keep on coming here. It's so cheap it sucks me in.. =.=
Tea and Dirtygirl shared a Milky Green Bean Slush ($4.45). They order this quite often at Bubble World and they enjoyed it again as always. From what I hear, the Milky Red Bean slush is also very good.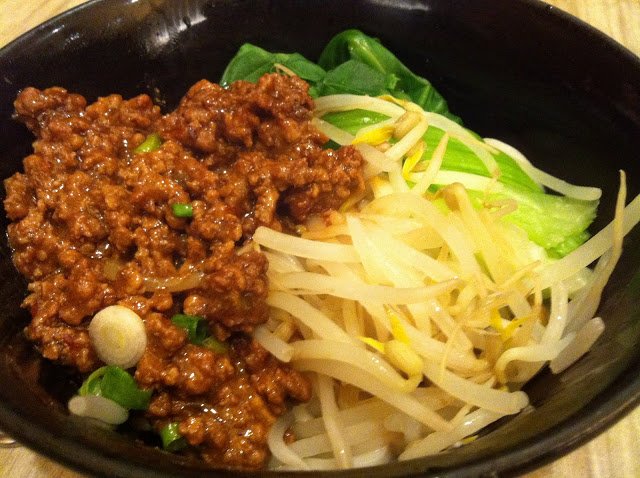 Dirtygirl ordered her favourite entree at Bubble World, the Meat and Marinated Tofu Sauce with Noodle ($4.95). She loves the meat sauce that accompanies the noodles and the portion is just right for her appetite.
their service is always quite prompt

you won't have to break your wallet to eat here

the large portions will fill you up (and for a starving student that's all you need!)

they provide a large array of drink and food selections