Aoyama Cafe- Serves Filipino Dessert?
It was Cupcake's birthday and we decided to celebrate it at Aoyama Cafe, the Japanese restaurant that serves UCC coffee in Aberdeen.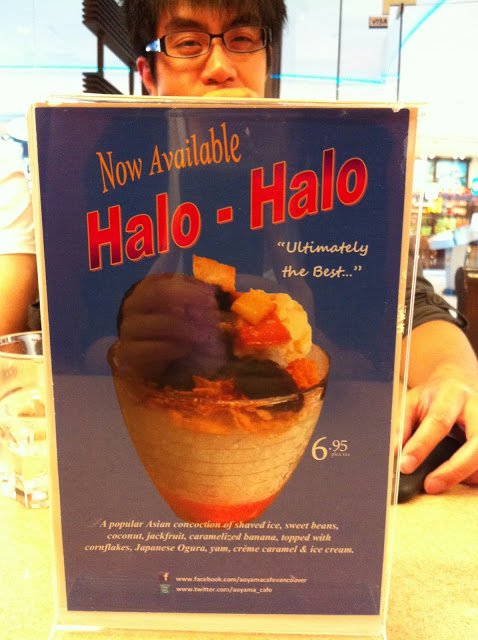 When we arrived, I instantly noticed this advertisement introducing their latest dessert, Halo Halo. I found that weird because Halo Halo is a Filipino dessert and Aoyama specializes in Japanese cuisine. Perhaps the owners of Aoyama are Filipino? Does anyone know? 😛


Meta Knight didn't feel very hungry so he ordered the Seafood Rice Pizza ($9.50). It is a new menu item as I never heard of it before. Sounds pretty interesting right?


The first thing everyone noticed was how small the portion is. The tomato sauce, mozzarella cheese, and seafood (it had squid, scallops, shrimps) laid on top of a bed of flattened crisped up rice. Or so I thought. I tried a bit and the rice was actually not crispy at all. It stayed intact but the rice was very soft, so it didn't feel very pizza-y to me. Meta Knight liked the abundance of seafood on top but overall thought it was average.



Pudding ordered the Tonkatsu Curry Rice ($11.95) and he liked it a lot. The presentation was very attractive and detailed. I personally liked how they lined up the raisins haha.
Cupcake also wanted to get the "Tonkatsu Curry Rice" but he forgot to say the word curry so he got the Tonkatsu Rice ($10.95) instead lol. Surprisingly this type of situation is not rare for Cupcake. 😛 He thought the dish was pretty good but the portion was a bit small.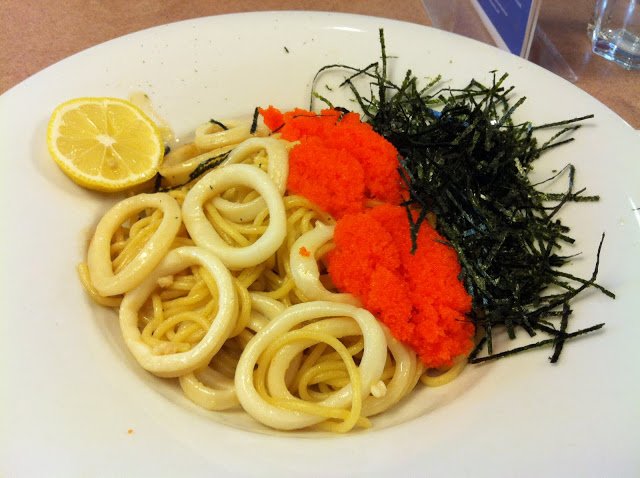 Dirtygirl and I both ordered the Cuttlefish & Cod Roe Spaghetti ($12.95). This is my third or fourth time ordering this dish at Aoyama because I just love it so much!! The presentation was lacking on this particular visit but I cut them slack because it tasted very good. For warning, I would call this a "girl" dish 😛 because it is very light and the portion is perfect for a smaller stomach. There
is practically no 'sauce' except for the toppings of seaweed and cod roe, yet it's not super dry either because I think they do put some infused olive oil of some kind to moisten the spaghetti.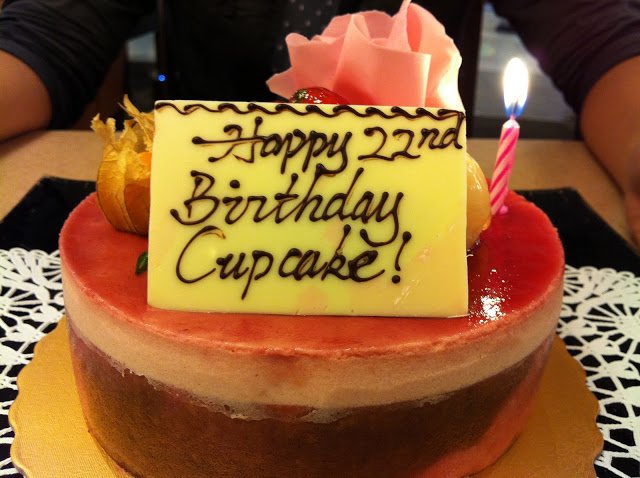 We got Cupcake a Strawberry Lychee Mousse Cake from St.Germain's (the bakery in Aberdeen) and it was pretty delicious! There was even pudding inside the cake! Aside from the fact that it was a bit too sweet, I'd say it's a winner 😀
Based on these reasons:
not too expensive (their prices are similar to White Spot's prices)

unique Japanese fusion entrees

awesome Cuttlefish & Code Roe Spaghetti

they serve cucumber water!
Overall Rating: 3.5/5