What8ver Cafe- Intrigued By The Honey Toast Box Fad
I first heard of 'Toast Box' and What8ver Cafe a while ago through food blogs and I thought it was just the coolest thing ever. It was quite a new concept in Vancouver at the time and no other restaurant served anything like that before. I know Flo in Richmond now has a Honey Toast Box as well so after I try that out, I'll let you guys know whether it is worthwhile 😛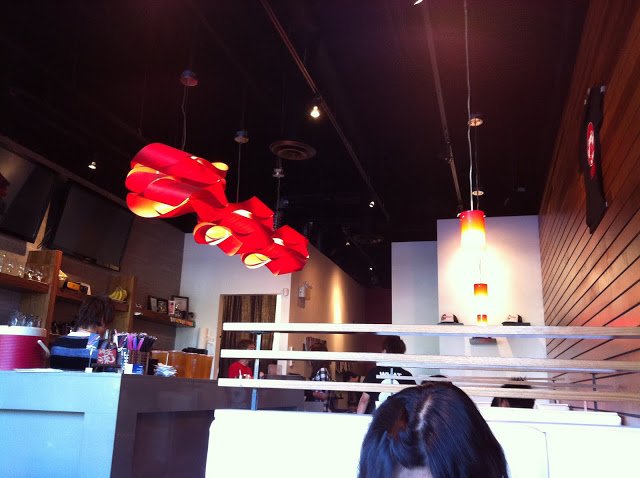 The restaurant itself is very small. It can seat about 5-6 tables max and it fills up super fast during late night hours (8-11pm) so make sure you make reservations beforehand. The interior is quite cozy, especially when you get the booth. In terms of service.. I do have something negative to say about it, because when I was eating here with Trixie, the waitress was incredibly cold and unresponsive. She did not answer my question when I asked her something about the menu, and looked bored when taking our order. The service on my previous visits were not as bad, so maybe it was just this one waitress.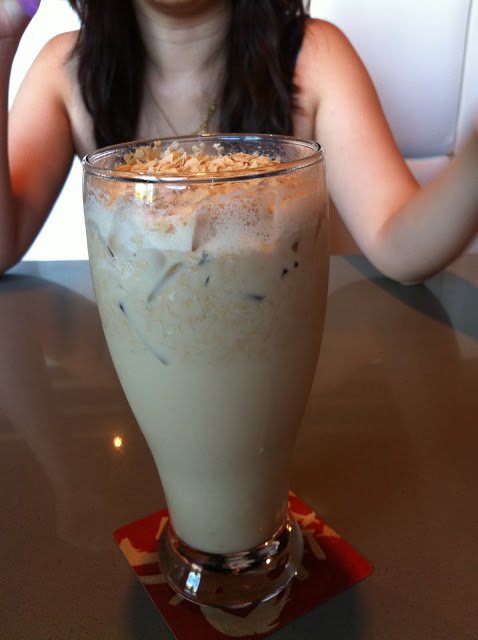 Trixie and I shared the Wheat Germ Milk Tea ($3.50). One thing about What8ver cafe that really stood out to me is the fact that HST is already included in the price you see on the menu. Cheap me says: Score!!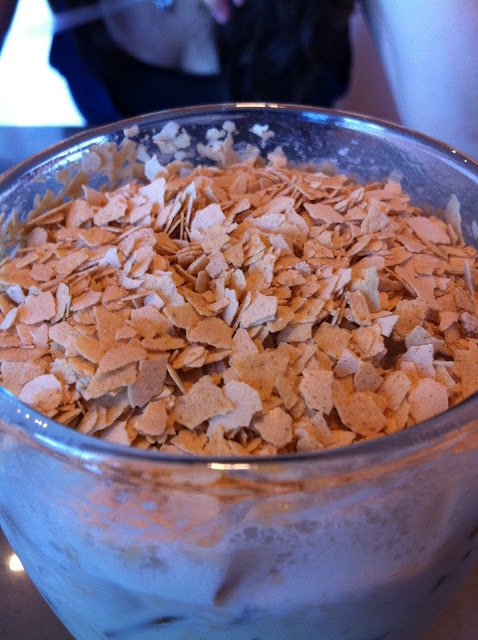 I gotta say, this Wheat Germ Milk Tea is the best I've ever had. The brand of wheat germ/ cereal they use is perfect for this drink and they are not stingy with the amount too. Not too bland or overly sweet, it's perfect.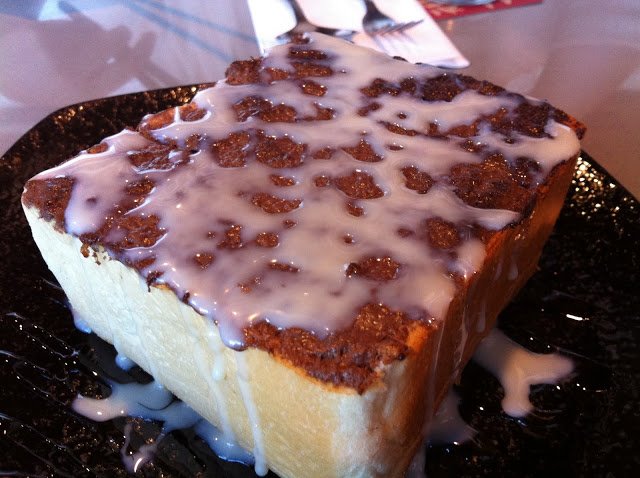 We also ordered the Chocolate & Condensed Milk Thick Toast ($4.25). We were both happy to see that the chocolate was baked because that made it a bit fancier than just spreading some nutella and condense milk on a slab of toast.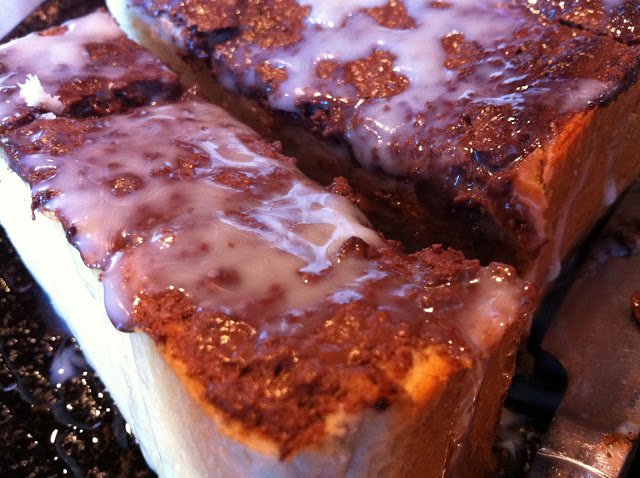 The toast was quite sweet so it will definitely satisfy any sweet tooth. I recommend sharing this with someone though because I can see this becoming overwhelming if you are eating this by yourself.
We also shared a Deep Fried Fish Tofu snack ($4.50) and made it a combo which included a bowl of Minced Pork on Rice ($2.00) = ($6.50). The portions were quite large so you are getting value for your money for sure.
Trixie was afraid they'd taste mediocre because we can technically buy frozen fish tofu at supermarkets but she actually ended up liking it a lot. If I were to be very critical, the fish tofu was tad dry and over seasoned, but it was still quite delicious. Maybe I just have a slight bias with fish tofu cause I LOVEEE them 😀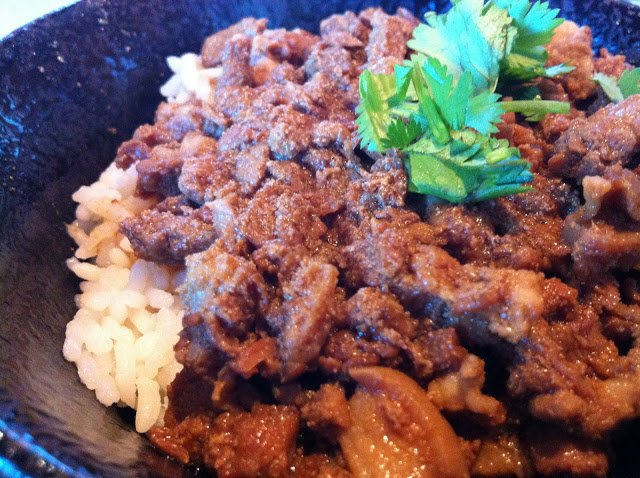 For $2.00, the serving of minced pork on rice was very generous. It had a lot of sauce and the minced pork was really rich and flavourful. I like.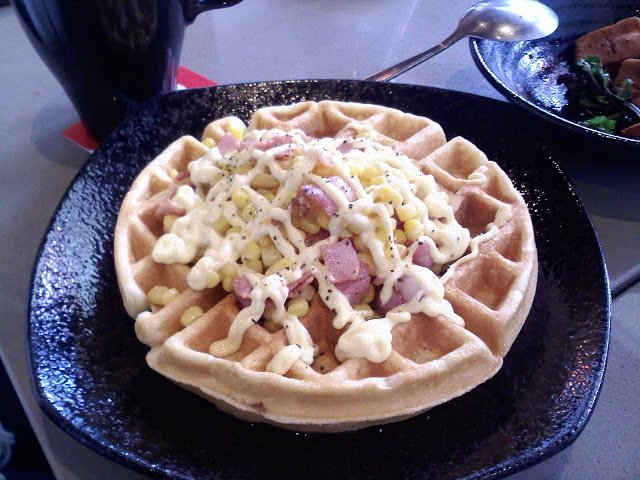 I ordered this Bacon Ham and Corn Waffle ($5.50) on a previous visit to What8ver cafe. They top the savoury ingredients off with Japanese mayo which is a nice touch. The waffle was done quite nicely and had a good balance of crispy exterior and soft interior. I'd recommend getting their waffles (whether it's savory or sweet) if you get bored of the usual "thick toast".
*drumroll*…. introducing… the much talked about Honey Toast Box ($7.99)! It literally looks like they sliced a loaf of bread in half and used it as a base. Inside the box contains fried toast strips and the box is topped with Pocky, whipped cream, fruit, syrup, and a scoop of ice-cream. Honestly, while it looks amazing, it didn't taste incredibly amazing to me. Maybe because it was hyped up so much that I expected it to taste as good as it looks.
The fried bread sticks inside didn't have much taste to it and was too crunchy so the crumbs went flying everywhere whenever you take a bite. The bread box was not fried so it didn't taste that good as well. All in all, even though it didn't taste that great, I'd recommend getting this just once to get the wow factor since it is visually quite unique.
Aside from always having to make reservations and the bad service we received from that one waitress, I'd say What8ver Cafe is a good addition to the numerous bubble tea establishments in Richmond.

courtesy of https://www.eatingwithkirby.com/wp-content/uploads/2011/08/whatever.jpg