Sweet Potato for Dessert? Oh Yes!
So.. I have to admit, I've been secrelty watching these addictive youtube recipe videos from cookingwithdog. FW told me about them because she thought the name, cookingwithdog was funny and the their Japanese accented English sounded cute. I totally agree!! I've watched almost every single one of their recipe videos and I have so far tried two recipes from their channel.
The first one is, TA-DA! Daigakuimo! Which is basically a sweet potato dessert type dish. You can watch the original cookingwithdog recipe video here. The picture above is my version of Daigakuimo with some slight modifications.
Daigakuimo is SO easy to make. It makes a perfect healthy snack or dessert because sweet potatoes/ yams are a rich source of beta-carotene as well as Vitamin C and E. These compounds are powerful natural antioxidants! So eat up guys!
Ingredients (with my modifcations):
1 Sweet Potato, with skin on
Steam the whole sweet potato for a few minutes to soften it up a bit.

Cut the potato on a diagonal into approx 1 inch chunks and rotating your potato to get the"uneven chunky look"

Heat the oil in a skillet on medium-high heat

Put the sweet potato chunks and honey in

Stir constantly to evenly coat each potato chunk with honey

When the potato is cooked throughout, stir in a few (and i mean literally just a few!) drops of soy sauce. This will enhance the sweetness of the potato and honey
(Optional) Sprinkle some black sesame seeds on top (I didn't have any..boo)
And there you have it. Delicious, Healthy,
Daigakuimo!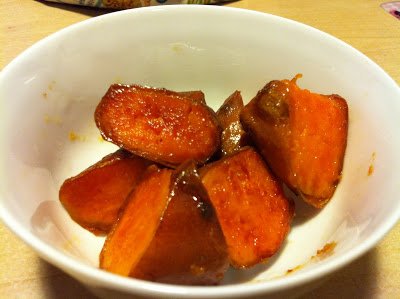 (Daigakuimo Kit Kat?!! Say WHA?!)