One Ingredient Ice-Cream (Sort Of)
I read about this recipe on bodyrock.tv and I just HAD to try it! One ingredient ice-cream? Sounds way too good to be true right?
For this recipe, all you need is….a frozen banana. Apparently, because of the small amount of fat in bananas, when it is blended/pureed, it does not turn crumbly, but smooth and creamy.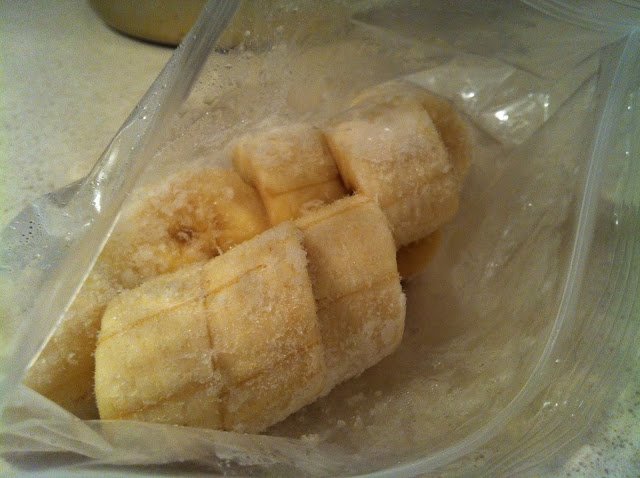 So first off, cut a regular banana into chunks and put them in the freezer. Once it is frozen, put the chunks into a food processor or blender. In my case, I used a blender. Then blend it up until it is smooth and creamy and voila!
The final product will look like this. I added some chocolate chips to give it a bit of crunch. 😀 Plus, who doesn't love chocolate chips in their 'ice-cream'. Haha
One thing to note, I actually found the 'ice-cream' to be a bit too slimy so I looked at other people's comments on bodyrock.tv and came up with a few suggestions if you plan to make this for a hot summer day:
Blend the banana with some skim or regular milk to make it creamier

Add a tablespoon (or two) of peanut butter to make it taste like peanut butter ice cream 😀 yummm

Stir in chocolate chips, nuts, or cookie pieces to make it more like ice-cream

Add in a cup of flavorless protein powder if you want it as a post workout snack

Blend with greek or regular yogurt for an even creamier consistency

Spices such as cinnamon or cocoa powder can give your 'ice-cream' a whole different taste
Hope you enjoy this healthy recipe, and try it now before our (short) summer is gone!