Hart House Restaurant- Patio is a must!
One day, Meta Knight suggested going to Hart House because he saw a Groupon for it and it is located quite close to his house. After checking out their website, it seemed like a great place for brunch, so we bought the Groupon and off we went!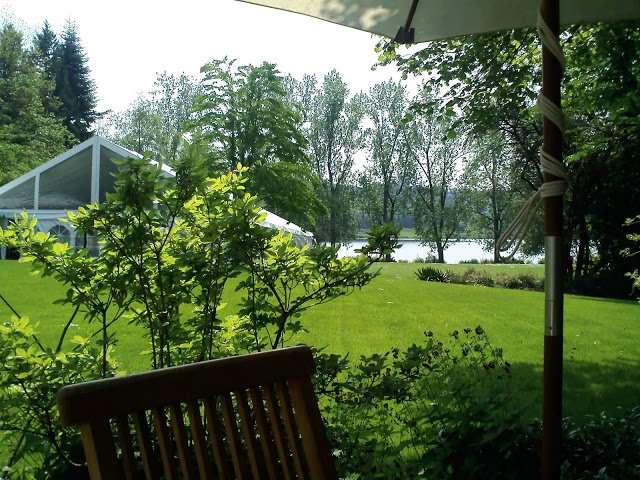 To my surprise, Hart House Restaurant is actually a house! Mansion really…it is HUGE. It has a very rustic authentic feel to it and it makes you feel like you are dining in a cozy home. We were seated on the patio, which is in the backyard overlooking the beautiful deer lake. Take a look at that view! Beeautiful!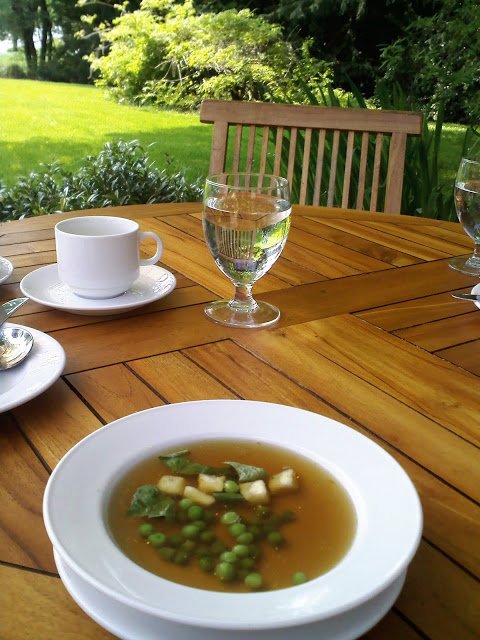 We started off by sharing a bowl of Thai Duck Broth ($8.00) which consisted of duck broth, home made dumplings, basil, and peas. It was very refreshing and they were nice enough to give us each an individual bowl of soup. The picture above is my share of the soup, so that is already a half portion.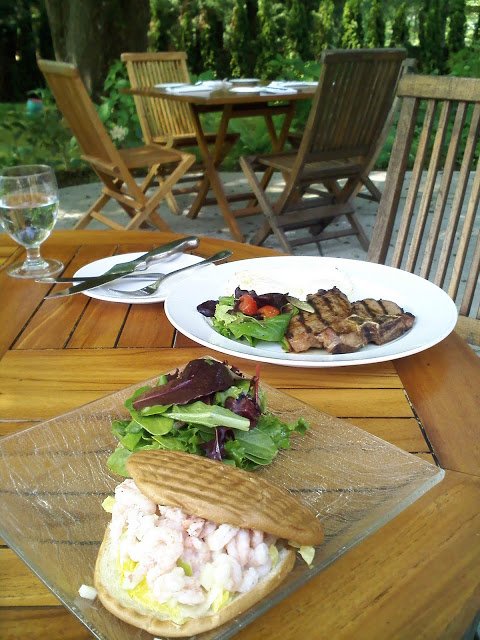 For our entrees, I ordered the Knuckle Sandwich ($18.00) and Meta Knight ordered the Steak' N Eggs ($21.00) My Knuckle Sandwich had Nova Scotia lobster, hand peeled shrimp (super tiny btw), and shaved apple inside a brioche bun. It also came with a side salad.
The salad was okay. The sandwich was quite satisfying and all the ingredients tasted very fresh. The shaved apple also gave the filling great texture because it was crunchy against the soft seafood. Meta Knight enjoyed the steak but found it a bit on the smaller side and not as 'medium rare' as he wanted it to be.
*drum roll*…… now presenting… the best part of the meal… CREME BRULEE ($7.00)!! We shared this dessert and oh my gosh was it fantasmical. Now, I am not an expert on creme brulee, but I gotta say, this is my second favourite creme brulee of all time after Wynn Buffet's creme brulee (located in Las Vegas). The caramelized top was not too thin and had the perfect amount of crunchiness to it. Inside, the custard was soft, velvety, and LOADED (not even exaggerating) with real vanilla specks. Don't leave Hart House until you have tried the creme brulee!
In conclusion, the food was quite good but
more
on the expensive side (I'm a student after all!). But considering the ambiance and the view, I'd say it is worth it for a nice relaxing meal with your loved ones 🙂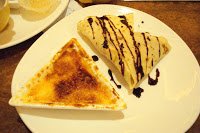 <– Again, best creme brulee EVER!! (Wynn Buffet in Las Vegas)