Gyo-O- Authentic Japanese Restaurant
Gee-Oh. Geyo-Oh-Oh… GeyoO? I honestly have no idea how to properly pronounce their name. But no matter how you want to say it, this little Japanese place has got some seriously awesome food.


Rae, B-Boy, and I decided to hit up Gyo-O one day for an early dinner. Thank goodness we came early (around 6pm?) or else we would have to wait in line once dinner rush hour hits. Before dinner, I was craving some Uni (sea urchin) so I was originally going to order that, however, when I got there, the prices for Uni intimidated me a little bit so I didn't end up getting it 🙁 By the way, do any of you guys also look at the menu and decide what you want to eat BEFORE going to the restaurant?? Because I do.. and I feel like I'm the only one and I'm just weird.


Anyways, first up was the Tako-wasabi ($3.50). I've seen tako-wasabi sold at Osaka Supermarket but I never knew if it tasted good so I've always kept an eye on this dish at Japanese restaurants to give it a test run first. They serve it here, so I shared this with Rae. It was super super yummy!!!!


Tako-wasabi is essentially raw squid (or octopus?) mixed with wasabi and it is suppose to be eaten with a piece of nori like the picture shown above. The raw squid/ octopus was a bit crunchy so it was really lovely to have that crunch against soft seaweed. The wasabi has a nice kick to it as well.
B-Boy ordered the Plum Gyoza and he said they were quite tasty. I tried a bite and the pickled plum sauce that accompanied the gyoza was very interesting. I can't confidently say I like it all that much, but it sure wasn't bad at all.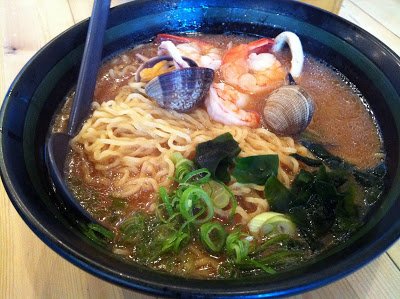 B-Boy had the Garlic Tonkotsu Ramen and he enjoyed it very much. It wasn't filling enough for him though so we went across the street to get some bubble tea after.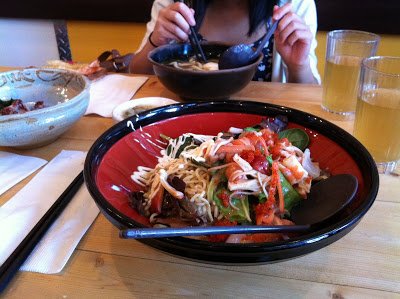 I ordered the Seafood Salad Ramen ($10.75) and it was HUGE! Unfortunately, because there was no sauce accompanying the ramen, it was quite dry. Perhaps they could have served it with a mild soy based sauce to give the ramen a bit more flavour and have it not so dry?
There was also a lot of Japanese mayo and it made my ramen quite fatty and oily. I understand if they put a bit of mayo on the seafood salad, but I'd prefer if they don't put it all over the entire dish.
The Seafood Salad on it's own was quite tasty and had many different ingredients including tobiko, crab meat, salmon chunks, tuna chunks, raw squid chunks, and hokkagai chunks. Overall for this dish, salad yay, ramen nay.
Rae got the Nabeyaki Udon ($10.25). The udon came with a perfectly poached egg (raw yolk), green onions, seaweed, and a slice of kamaboko (the white and pink fish cake).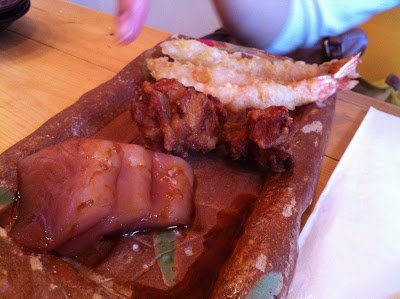 Her dish also came with a side of shrimp tempura, chicken karage, and tuna sashami. For that price, it is pretty darn good! She liked everything about the dish and especially the poached egg 😛
<– Next on my list 😀
courtesy of thedeliciouslife.com