Breakfast with Kirby- Open Face Sprout Sandwich Inspired by Urth Caffe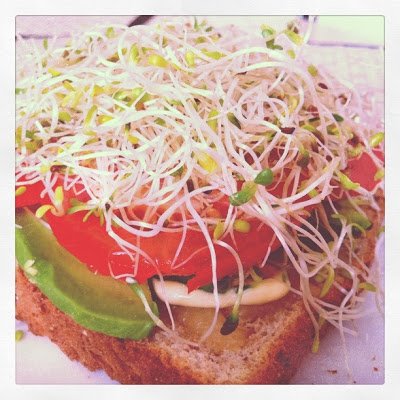 Ever since I read about Urth Caffe on bodyrock.tv, I've been wanting to recreate their "Sprout Sandwich". Their sprout sandwich consists of "Alfalfa sprouts, Jarlsberg Swiss cheese, red onion, roma tomatoes, avocado & hummus on sprouted bread."
My creation looks like the picture above. I did an open face version because I ran out of bread.. not because I wanted it to be all sophisticated and unique. 😛 Mine contains Havarti cheese, avocado, vine tomatoes, mayo, and alfalfa sprouts.
The other variation contained smoked salmon on top. Rae said it gave the sprout sandwich great smokey flavour. Next time, I might add turkey bacon, real bacon, or some deli meat to make this "sandwich" more hearty.
I would suggest toasting the bread first to give it a bit of crunch. If you are like me and love all things with melted cheese, toast your bread with the cheese so it's all melty when you layer all the ingredients on.
Hope you enjoy this simple, healthy, and delicious recipe! And as always, happy eating!