Bistro The Home- Unique Squid Ink Pasta!
This post consists of two visits to Bistro The Home:
After watching The Rise of the Planet of the Apes (could the name GET any longer?), Meta Knight and I decided to revisit a restaurant we both quite enjoy. By the way, the movie was pretty good. The special effects were amazing and I was kept on the edge of my seat for most of the movie.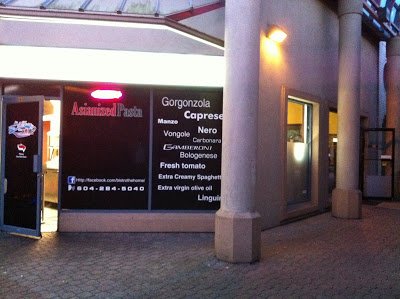 Bistro the Home is a Korean-run restaurant specializing in Asianized Pasta. I first heard about this place in
October of last year
through a post by Chowtimes and my friend's recommendation. I've been back about once a month since my first visit because I love the variety of pastas they serve as well as the reasonable prices.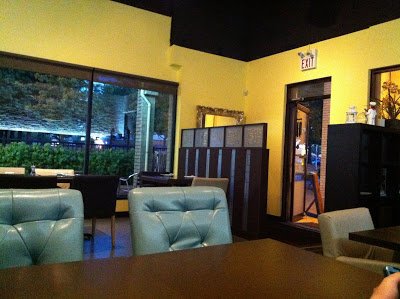 I don't think they have many customers because when Meta Knight and I were dining here, we were the only people in the whole restaurant (bit weird). So please try this place out! I'd hate for them to have to shut down due to lack of customers, like 90% of new restaurants in the food industry.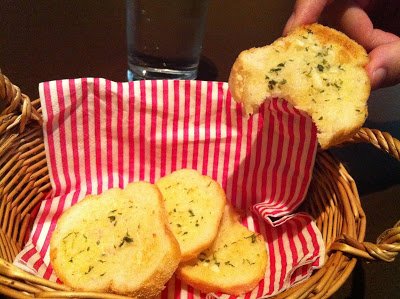 First came the complementary garlic bread. Meta Knight was too hungry so he took a bite before I could get out my camera.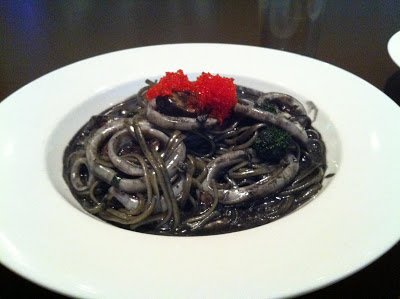 I ordered the Nero ($11.75) which is "fresh calamari with squid-ink sauce topped red flying fish caviar". This is the third time I've had this dish here. I love it!
It might look gross because it's black, but the squid ink flavour is really unique and you rarely see squid ink pasta offered at casual dining restaurants at a good price. They never skimp on the calamari and the pasta is always cooked perfectly al dente. I would recommend this unique dish in a heartbeat 🙂
Meta Knight ordered the Bolognese ($8.50) which is "minced beef with fresh tomato sauce". It was a very healthy dish because of the tomato based sauce and the fresh veggies that accompanied it. He liked it a lot and even though it looked small on the plate, he was full by the time he finished.
During the second visit, we ordered a House Salad ($4.50) to start. I felt we didn't have enough veggies throughout the day so I made us share it. 😛 The salad consisted of romaine lettuce, olives, tomatoes, corn, and a mandarin orange dressing. The lettuce were crisp and all of the ingredients worked very well together. The only negative thing would be the dressing tasted a bit too acidic.
Meta Knight ordered the Mare ($9.50) pasta with olive oil sauce. It has assorted seafood on top such as large pieces of shrimp, mussels, clams, and one or two large scallops. Meta Knight loved it but he prefers the Mare with cream sauce. Guys and their cream sauce. 😛
I ordered the Vongole ($10.50) with olive oil sauce. It consists of daily fresh clams and I love how they give you so many of them! This place honestly gives you your bang for your buck. My dish alone has about 10-15 fresh large plump clams.