Applebee's Neighbourhood Bar & Grill- Not Coming Back To This Location Again
 After a great camping trip at Golden Ears, my friends and I decided to hit up Applebee's in Port Coquitlam for a quick breakfast. Too bad none of us knew that Applebee's stopped serving breakfast many years ago. 🙁 We reluctantly agreed to order from the lunch menu.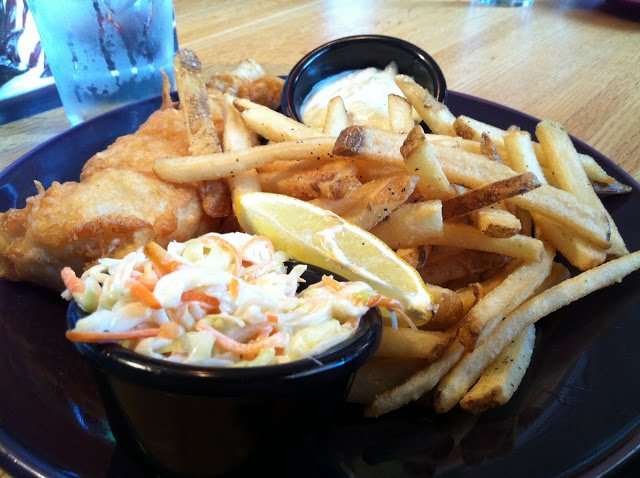 Meta Knight ordered the Hand-Battered Fish & Chips ($11.99) and it was not very impressive. It came with one piece of fried haddock, cole slaw, fries, and tartar sauce. The fish was over battered, the fries were average, and the cole slaw tasted pre-made. Definitely not worth $11.99. I'd rather get fish and chips from Pajo's in Steveston.


This came from the "Pick 'N Pair Lunch Combo" in which you choose a soup and salad, soup and sandwich, or salad and pasta. You can check out the menu here. I ordered the French Onion Soup and Spicy Shrimp Rollup for about $7.99 (can't totally remember).
This French Onion Soup was by far the worst onion soup I've ever had! On the bottom of the soup bowl was one slice of circular bread which I thought was weird. I could barely find any onion in the soup and the broth was way too salty. The only thing I liked about it was the melted cheese on top. Although, it's not very hard to melt cheese :P. I had a few sips of the soup and I couldn't bare it anymore.
The Spicy Shrimp Rollup was a bit better. The shrimp had good crisp batter on them and the spicy slaw that it was mixed with was not bad as well. However, the wrap was still not good enough to compensate for the inedible soup.
Everyone at the table thought the food was mediocre and none of us were satisfied with our visit to Applebee's. This was interesting to me because I remember visiting Applebee's in Portland and the food was pretty great. Maybe it is just this certain location that is below par.